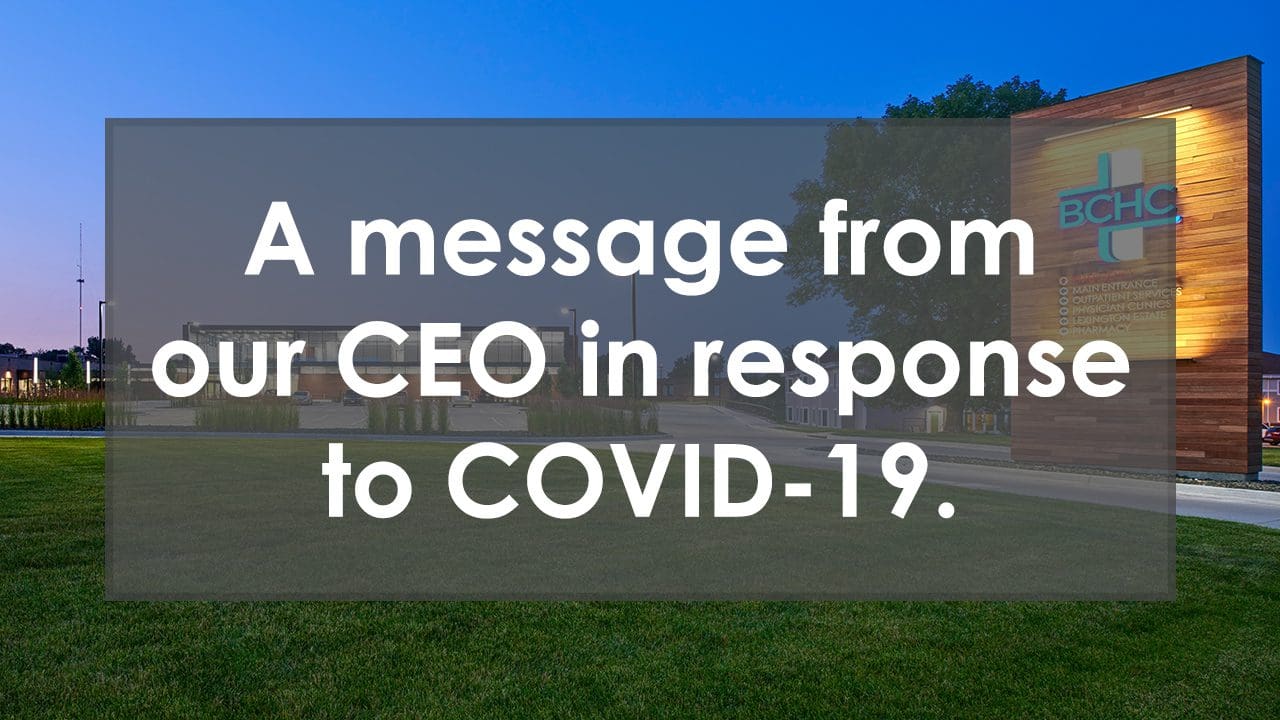 A message from our CEO in response to COVID-19 11/4/20
It is hard to believe that we were introduced to the threat of COVID roughly eight months ago and all that has followed that has changed our lives.  Eight months is a long time for Iowans to fundamentally have their lives changed.  At the beginning, we did see huge changes in our society that resulted in relatively low numbers of cases and hospitalizations throughout the summer, but things have unfortunately changed.
Currently, hospitalizations across the state are at an all-time record.  In our region of the state alone, 216 COVID-19 patients are currently hospitalized. (11/4/20)  This is nearly double the hospitalization numbers when many businesses were required to shut down in April and May by Governor Reynolds.  Inpatient bed availability across the state is becoming strained from this recent influx.  Iowa as a whole is now 4th in the nation for cases per capita.  Things are not in good shape right now and are likely to only get worse as the weather forces more activity indoors and people continue or begin to suffer from pandemic fatigue.
There is some good news on the COVID fight.  Doctors and hospitals have learned more about how to best treat COVID-19 patients.  There are therapeutics that have enhanced treatment and reduced mortality.  There are also promising trials for effective vaccines that will help make an eventual return to normalcy a likely reality.  It also appears to be the case that schools, especially for grade school aged children, have not been huge sources of spread.  This is great news for children and their parents who need the routine, education, and development that schools provide.
Today, I am asking everyone to continue to take precautions against the spread of COVID-19.  I know the feelings on COVID-based restrictions are significant and at times have become unfortunately politicized.  Yes, you don't need to wear a mask by yourself in your car to show how virtuous you are, but even more importantly, you don't need to refuse to wear a mask in a crowd of people to show how tough you are.  Remember, masking isn't about protecting you, it is about protecting others.  We can all make reasonable accommodations to protect the health of all community members, especially the vulnerable population. Continue to socially distance, continue to mask when unable to socially distance order carryout from your favorite local restaurants instead of dining in every time, wash your hands frequently, stay home when ill or exposed, etc.  This is going to be a rough winter.  I am not asking you to stop doing everything in your lives.  I am not taking that stance personally.  There are still mental health, financial, and social tradeoffs that are meaningful.  I am asking though for you to make incremental changes in your current activities to help slow the dramatic spread we are seeing right now in our local communities and across the state.
Steve Slessor
Chief Executive Officer
Buchanan County Health Center