Growing with Our Communities' Healthcare Needs
Buchanan County's first hospital was founded in 1917 in the one-time mansion of Civil War Captain D.S. Lee, to provide care for up to 12 patients at a time. Dr. J.H. McGrady and Dr. F.F. Agnew formed the first medical staff. They hired Minnie Chapman to act as head nurse and superintendent for $60 a month. Together, they provided a private room, board, and "general nursing" to a patient for approximately $8 a day.
From this modest beginning, after almost a century of service, Buchanan County Health Center has emerged. BCHC is a full-service, primary care community hospital with more than 3,000 patient visits each month.
The History Of Our Mission Statement
According to its mission statement, "Buchanan County Health Center will provide the best local care while leading the advancement of healthier communities." The staff of 225 medical professionals strives to provide quality care to all Buchanan County residents while best managing the changing currents and future trends in healthcare industry.
This forward-looking philosophy has guided hospital leaders through the years. For example, in 1923, when the first elevator was installed – eliminating the need for surgical or obstetric patients to be "strapped on a litter … and carried by hand up and down the open stairway." Or in 1968, when People's Memorial Hospital first opened its doors in its current location, on the east-side of Independence. The 1970s were a decade of innovation and specialization in healthcare and the hospital responded opening physical therapy, pharmacy, respiratory therapy and ambulance service departments.
A Journey of Growth and Innovation
Change continued to arrive in the 1980s as more healthcare became focused on outpatient services. Soon, even surgery did not require a long hospital stay. To better meet these needs, People's Memorial Hospital completed $1.25 million dollar project to improve emergency, specialty clinic, ambulance, registration, business office and medical records services.
By 1992, the hospital had completed a new long-term care center attached to the current standing building. Radiology services expanded to include mammography, CT and ultrasound and the number of physicians from Waterloo and Cedar Rapids offering services in the specialty clinic continued to grow. In 1996, the 24-unit Oak View Independent Senior Living Community was added.
Buchanan County Health Center began the 21st century by opening a Dialysis Center, expending the specialty clinic and becoming a Critical Access Hospital in 2002. In 2004, the $2.5 million dollar project Therapy & Wellness Center opened, bringing state-of-the-art fitness services including a gym, lap pool, and fitness class studio to the community and equipment investment allowed Radiology Services became 100 percent digital.  Soon after, BCHC added a digital MRI and MRI suite to its list of in-house Radiology Services.
To continue to provide high quality care to its patients, in 2008, BCHC undertook it largest construction project to date, an $8 million addition and renovation to the Emergency and Surgery Departments. This project was completed in March 2010.  In 2013, BCHC opened its first in-house MRI suite, allowing community members to opportunity to have additional state-of-the-art services completed locally.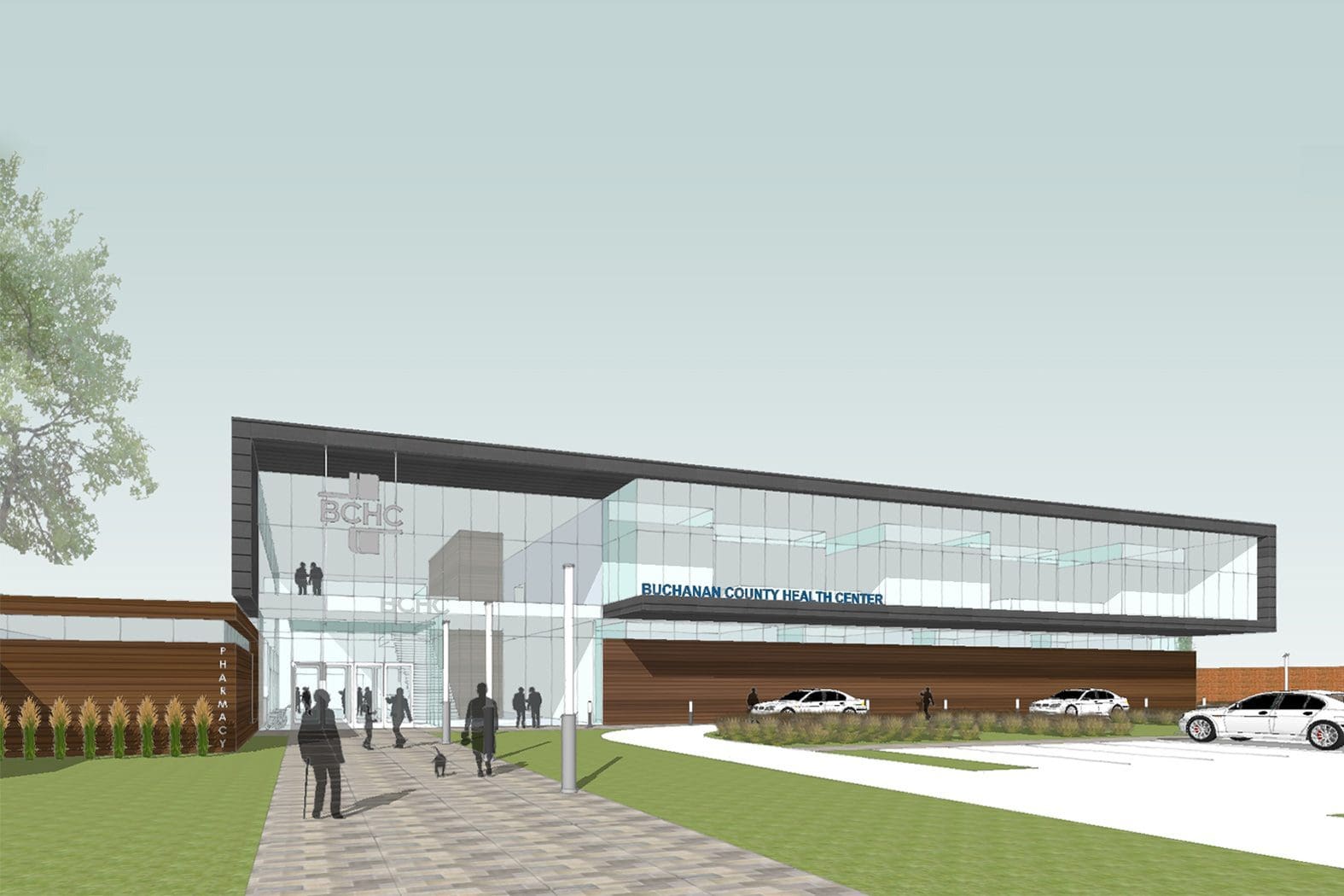 Expanding Horizons: Renovation and Expansion
In March of 2016, BCHC embarked on a 74,000 sq. ft. expansion and remodel.  Funded through local and USDA loans, the expansion project features
Expansion and remodel of the Wellness and Therapy Department by enlarging the gym and studio space to allow for additional equipment and classes, renovated locker rooms, new and private therapy rooms for physical therapy, speech therapy, occupational therapy, and cardiac rehab, along with a new entrance and updated registration area.
A two-story medical office building, serving as the home to the specialty clinic, primary care offices, Ryan Pharmacy, Auxiliary Gift Shop, and sleep study rooms, along with new front entrance and registration area, and remodeled kitchen and cafeteria for public dining.
Remodel and expansion of the surgical center to allow for continued surgical growth with new procedure rooms and create pre and post-operative surgical rooms, providing more privacy and comfort to patients and their families
Forever Expanding to New Heights
In January of 2017, Medical Associates of Independence (Primary Care) signed an agreement to join the BCHC organization and will move to the campus of BCHC in the fall of 2017. BCHC celebrated 100 years of healthcare in 2017.
In September of 2019, BCHC acquired a family practice in Oelwein, now BCHC Family Medicine – Oelwein.  Around the same time, BCHC broke ground in Jesup to open a new family practice location, BCHC Family Medicine – Jesup which opened in January of 2020.  In October of 2020, BCHC opened its first retail pharmacy location out of the Oelwein medical building; BCHC Oelwein Pharmacy.
BCHC's commitment to providing the highest quality of health and wellness services to the communities of Buchanan County, Oelwein, and surrounding areas has never been stronger amidst growing healthcare needs.