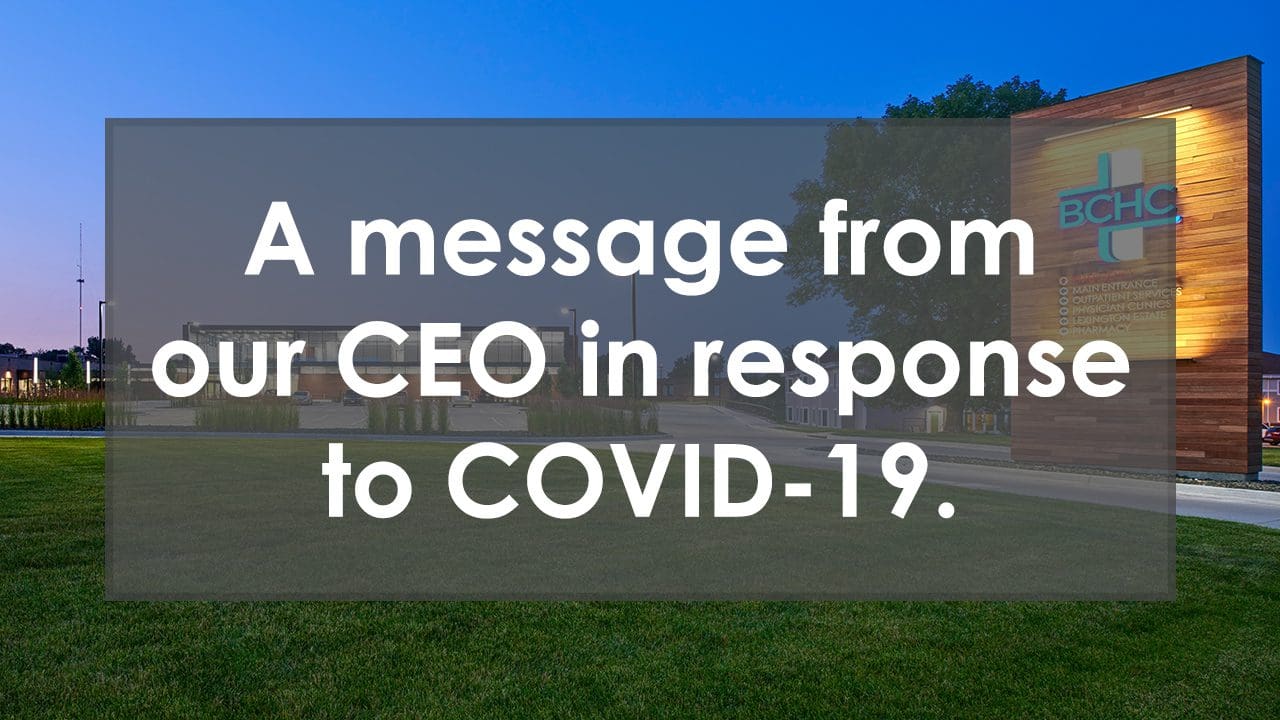 A message from our CEO in response to COVID-19 5/8/20
Iowa has begun the process of opening back up many of the businesses that were shuttered due to COVID-19.  To say there are mixed emotions to that decision is an understatement.  I have spoken with individuals who are relieved to get back to more of a normal life and individuals who believe this decision was made far too hastily when our confirmed cases are on the rise.  I understand both of these positions.  Businesses in our local area have made differing decisions on when to open, how to open, and what precautions they are taking.  I encourage our local businesses choosing to re-open and the patrons of those local businesses take all the necessary precautions to not let a positive story of getting back to more normalcy turn negative due to a spike in hospitalizations.
Local businesses should be viewing their safety precautions and infection control procedures as a competitive advantage.  If I run a restaurant, I want to be viewed as the safest place to come eat or get takeout.  If I run a hair salon, I want the community to know the new processes I am doing to ensure their safety along with giving them the first good haircut they have received in two months.  Likewise, I want you to know our commitment to make BCHC the safest place you could come to if you are leaving your house.
At times, safety precautions against an infectious disease like COVID-19 can seem frightening.  The use of masks, face shields, door screeners, etc. can make it appear like you are walking into a dangerous place.  The exact opposite is true.  These measures along with the many other items we have put into place at BCHC and our clinics should provide you with more comfort, not less.  We are doing this not because COVID is rampant in our organization.  We are doing this to ensure it is not.  I can tell you I feel safer coming to BCHC than other places I go when running essential errands.  I know how we are keeping our patients, staff and residents safe and applaud our team's efforts in this regard.
As our state and individual communities find a balance between virus suppression and getting back to business, BCHC is doing the same.  Healthcare issues that once could wait cannot wait forever.  We are currently working on plans for each department to either reopen or ramp back up services as needed.  Each department is developing a plan to keep patients as safe as possible.  Currently, we have begun to phase elective surgeries, pain clinic, additional imaging exams, and scheduling more well patients in primary care.  We anticipate our services will continue to grow in the upcoming weeks.  As you come to our hospital and/or clinics, do expect additional requirements as you enter and move through your care.  This is for your safety along with the safety of our staff and the patients who come after you.  Again, our commitment is to make our BCHC facilities the safest place you can go as you begin to venture outside your home.
As a final note, this week is Nurse's Week.  There is seemingly no better time to recognize and honor this profession and the wonderful people who work in it.  I am grateful to our nursing team and have been impressed with how they have stepped up to meet this difficult situation.
We know the toll this has taken on all our communities; socially, economically, physically, and psychologically.  We are here for you, and we are all in this together.
-Steve Slessor, CEO