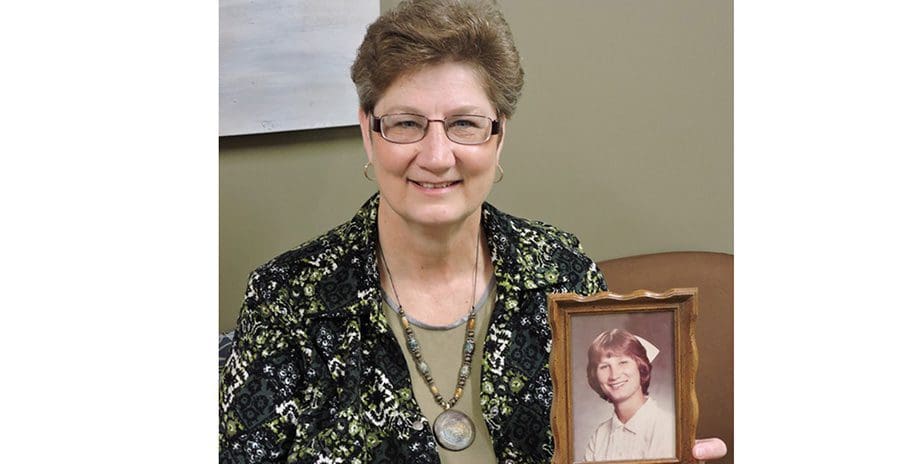 BCHC Celebrates Nurses Week
According to the American Nurses Association, there are over 3.1 million registered nurses and practical nurses within the United States.  National Nurses Week, observed on May 6th through the 12th, serves as a time to show gratitude and appreciation to the largest occupation in healthcare.  Buchanan County Health Center is proud to employee over 90 nurses and certified nursing assistants.
"They may forget your name, but they will never forget how you made them feel" is a quote that rings true to Kathy Post, RN BSN.  A veteran employee of Buchanan County Health Center, Kathy began her career in nursing in 1978. "I became interested in nursing when I was in high school and volunteered as a Candy Striper at the Oelwein Hospital.  By seeing what the nurses did, along with the care and compassion they had for their patients, I thought that this was something I might like to do," commented Kathy.  After high school graduation, Kathy enrolled in the nursing program at Marycrest College in Davenport and worked as a CNA during her summers at People's Memorial Hospital, now Buchanan County Health Center.  "I enjoyed the people that I worked with and admired the nurses.  Before I graduated, the Director of Nursing called me and asked if I would like to work as a full-time RN, and I said yes!  I was a nurse in the Med/Surg Department and within the first year I became an OB nurse and also helped in the ER," Kathy explained.  "I expanded my role as our hospital educator in the late 80's when then educator, Julie Sproull, became the Director of Nursing.  I believe my nursing background has carried with me in my educator role, because to me, a core component of being a nurse is to be compassionate and "other-centered" and not self-centered.  Another aspect of nursing that is very important is to be an advocate for your patients and co-workers.    It doesn't matter if you are an active nurse or teaching hospital-wide orientation; being other-centered and trying to help others appreciate that they should also be this way in this type of environment is important to me."
An every changing and complex profession, the dedication to nursing excellence remains constant.  To Kathy, caring for others can be stimulating, rewarding, and fun.  "I love being in a profession where people appreciate what you do and thank you for the simplest of things to larger issues that have been lifesaving," Kathy commented.  "Being able to listen and communicate with patients, their families, and physicians is a top quality for nurses to possess.  It's important to be well-rounded to care for your patients physically, mentally, and spiritually."
To Kathy, nursing has been more rewarding than she ever hoped for it to be.  "I've been able to support my family with this career.  The trust that has been placed in nurses speaks volumes for the quality of professionals we have within our field."
According to the American Association of Colleges of Nursing, the United States is projected to experience a shortage of nurses that is expected to intensify as baby-boomers age and the need for health care grows as they live longer and more active lives.  Growing much faster than the average for all other occupations, the field of nursing is projected to grow by 16% within the next ten years.  Other factors that contribute to the increased need of nursing professionals include an increased emphasis on preventative care and growing rates of chronic conditions such as diabetes, heart disease, and obesity.
For those interested in the field of nursing, Kathy suggests becoming involved early on.  "Getting young men and women active early on in learning about healthcare careers through our junior program and internships is a great resource.  They should seek learning opportunities through volunteering and hands-on experience.  Practicing professionals should seek learning opportunities by always staying up-to-date on the latest trends through continued education and research.  Being adaptable and recognizing areas of growth is very important."
When reflecting on the past thirty-eight years, Kathy attributes much of her success to her mentors Nancy Brewer, Julie Sproull, Judy Malget, and Hazel Merrill.  "You impact individual lives and make memories for people.  We see so many, but they only see us.  How do you want them to remember you?  It is burned into their minds how you make them feel."
Buchanan County Health Center is proud to support the needs of their employees and nurses by offering attractive benefits, including, but not limited to, IPERS, 403b retirement planning, medical, dental, and vision insurance, tuition assistance, and employee discounted services.  Actively hiring for nursing professionals, interested individuals may view open positions at BChealth.org/Careers.  Students interested in learning more about professions in healthcare may inquire about volunteering or interning by contacting (319) 332-0914.  For all other information, please visit www.BChealth.org or follow Buchanan County Health Center on Facebook.