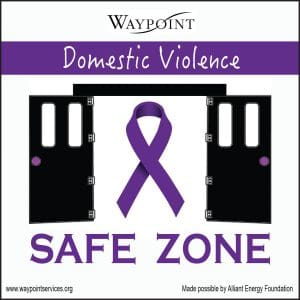 BCHC Designated Safe Zone for Domestic Violence Victims
According to the Centers for Disease Control and Prevention, 1 in 4 women will experience domestic violence in their lifetime.  Buchanan County Health Center has joined efforts with Waypoint Services to create an access point for individuals needing support for domestic violence issues through Project Safe Zone.  Project Safe Zone is designed to increase the availability of support and resources to individuals coping with relationship violence, especially in rural communities.
Providing services for over 30 years, Waypoint is the designated Domestic Violence Victim Services Program for seven counties in Northeast Iowa.  In the fiscal year 2014, Waypoint served 2,583 domestic violence victims.  Waypoint's state accredited program provides the following to victims/survivors of domestic violence, community members and professionals:
Free, confidential information
Support and advocacy for navigating the legal, medical, and social services systems
Referrals to other services to benefit client
24-hour crisis and support line
Individual counseling
Support groups
Ongoing training for allied professionals
Should an individual need assistance in contacting Waypoint for services, they may visit BCHC's Emergency Room Safe Zone to contact the 24-hour crisis and support line.  During the phone call, Waypoint will create a service-delivery and safety plan with the individuals experiencing domestic violence.
For additional information, or to reach out to the Waypoint Domestic Violence Crisis and Support Line, please call 800-208-0388 or visit www.WaypointServices.org.  For all other information on BCHC services, please visit www.BCHealth.org or follow Buchanan County Health Center on Facebook.