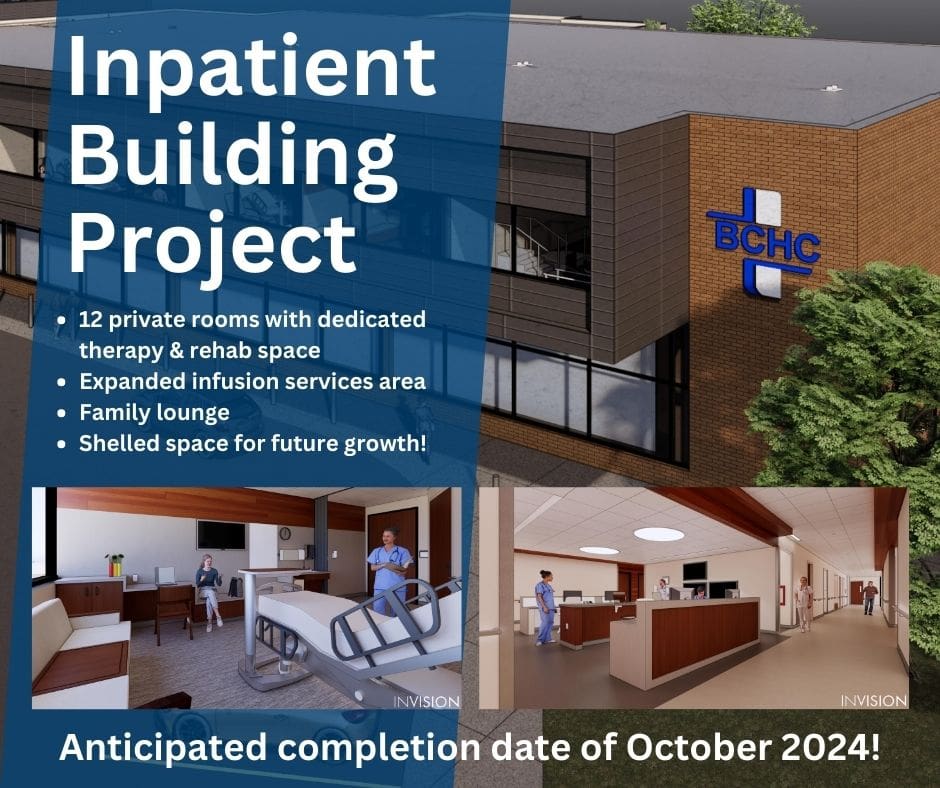 BCHC Embarks on Two-Story Building Project for Inpatient Services & Future Growth
n Thursday, July 6th, the Buchanan County Health Center Board of Trustees approved the final proposal to construct a new, two-story building onto BCHC's existing facility for inpatient services, infusion services, and future growth.  This 37,000 square foot expansion instills BCHC's ongoing commitment to provide the highest quality of health services to the communities of Buchanan County and surrounding areas amidst growing healthcare needs.
Set to begin construction on July 17th of 2023, this expansion is projected to be completed by December of 2024.  The major phases are as follows:
Partial demolition of existing facilities on the west side of BCHC's campus, which includes the former dialysis center. BCHC remains committed to bringing dialysis services back to the community in a new location with updated technology and infrastructure.
Construction of the two-story building, which will include inpatient rooms on the second floor allowing a more private and comfortable stay for patients. Infusion services will expand on the first floor.
Renovation of a portion of the existing facility to allow for continued service growth and expansion.
"The existing inpatient unit, dating back to the 1960s, has faithfully served our community for decades; however, as medical technology rapidly advances, it has become imperative to modernize our facilities to meet these changing requirements," commented Wade Weis, CEO.  "By renovating and replacing the outdated unit, we aim to ensure that our patients receive the highest quality of care in an environment that is equipped with the latest advancements designed to foster healing and well-being close to home."
BCHC has worked with INVISION Architecture, based out of Waterloo, to develop a comprehensive plan to begin construction.  Contracted through Larson Construction, based out of Independence, this project will be funded by 50% of cash reserves that have been set aside for this project over the past several years of planning, in addition to local loans.
For more information, or to stay up-to-date on the progress of the building project, please visit BCHealth.org, or follow Buchanan County Health Center on Facebook.