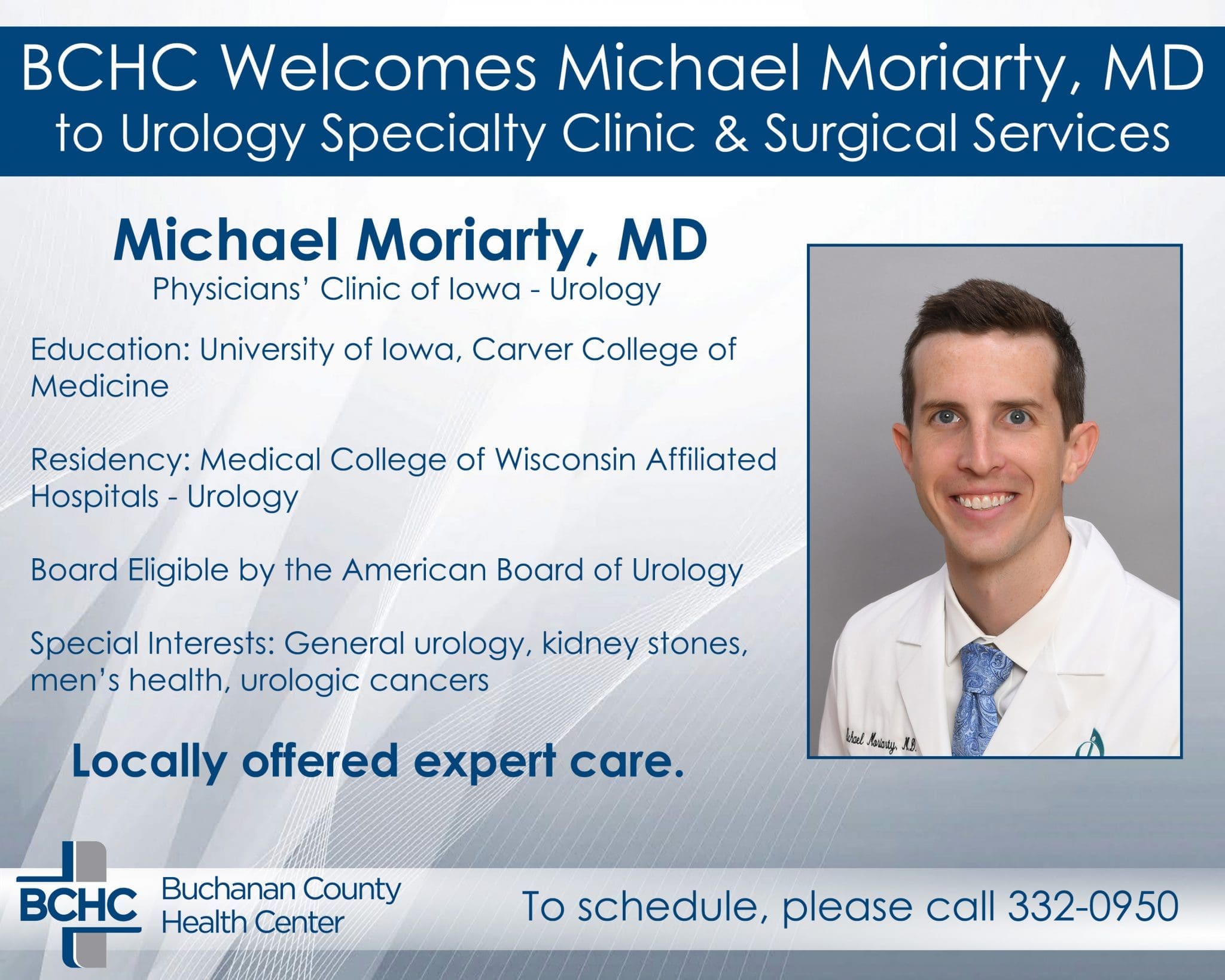 BCHC Expands Local Access to Specialty Services by Welcoming Michael Moriarty, MD to the Urology Clinic
Buchanan County Health Center is pleased to welcome Michael Moriarty, MD, to the team of physician specialists visiting from Physicians Clinic of Iowa – Urology. The addition of Dr. Moritary will provide patients with an additional option of choice in specialist at the Urology specialty clinic at BCHC.
Dr. Moriarty comes to BCHC with special interests in general urology, kidney stones, men's health, and urologic cancers. A graduate of the University of Iowa, Carver College of Medicine, Dr. Moriarty completed his residency in urology at the Medical College of Wisconsin Affiliated Hospitals in Milwaukee, WI. Dr. Moritary is board eligible with the American Board of Urology. Dr. Moriarty joins his fellow colleagues; Thomas Richardson, MD, Steven Mindrup, MD, and Jonathan Rippentrop, MD. The urology clinic visits the BCHC Specialty Clinic and surgery department every Tuesday, with a rotating physician schedule.
To schedule an appointment with a specialist from Physicians' Clinic of Iowa – Urology, please call the BCHC Specialty Clinic at (319) 332-0950. To learn more about all services provided at BCHC, visit BCHealth.org, or follow "Buchanan County Health Center" on Facebook to stay up-to-date with the latest news and announcements from BCHC.