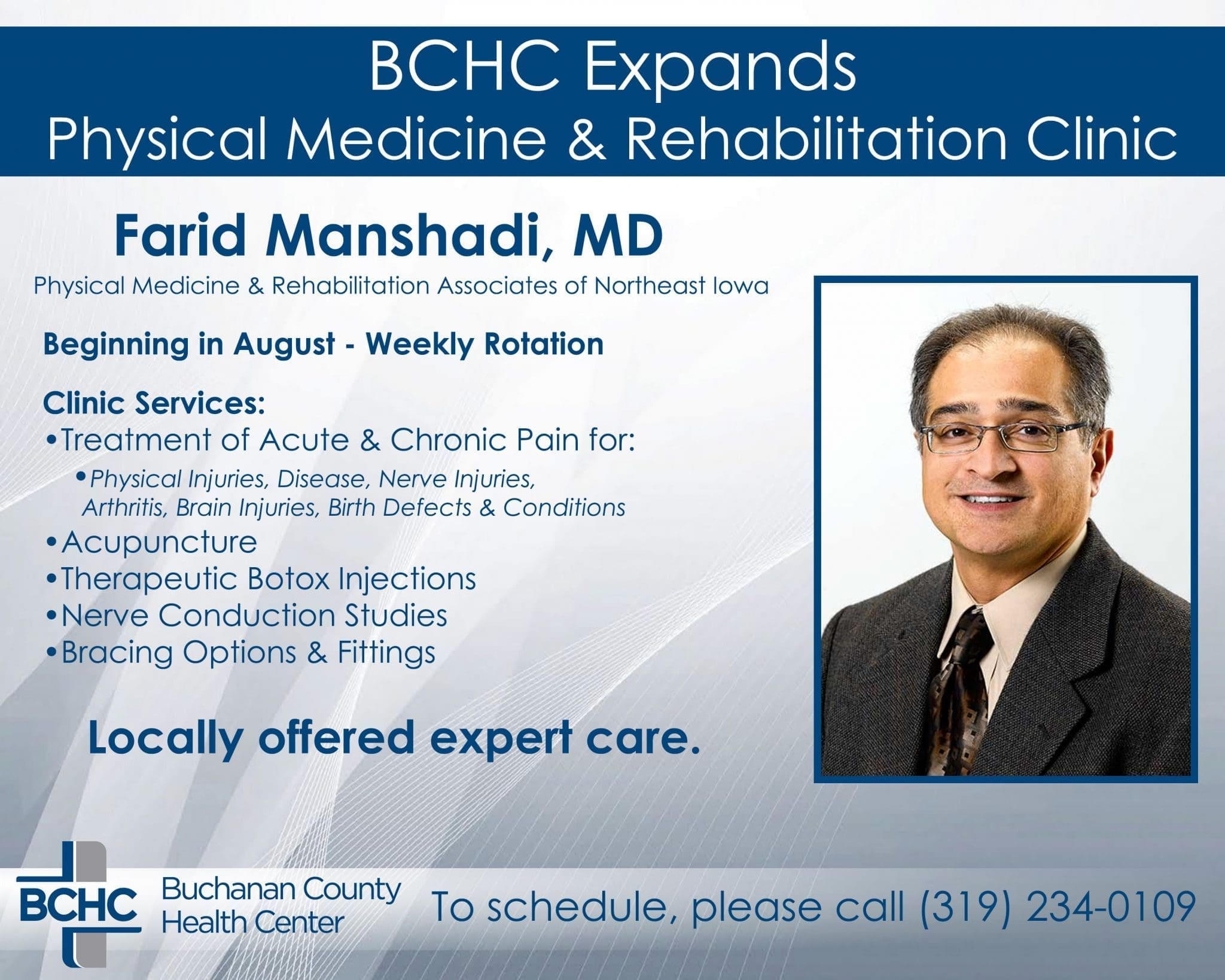 BCHC Expands Physical Medicine & Rehabilitation Clinic – Dr. Manshadi to Increase Clinic Hours
The Physical Medicine & Rehabilitation clinic at Buchanan County Health Center is pleased to announce its clinic expansion.  Beginning in August, Farid Manshadi, MD will increase his clinic hours to a weekly rotation, visiting the BCHC Specialty Clinic each Monday afternoon.
Visiting from Physical Medicine & Rehabilitation Associates of Northeast Iowa, Dr. Manshadi has been seeing patients locally at the BCHC Specialty Clinic since 2006.  Board certified in Internal Medicine, Dr. Mansahdi attended Spartan Health Sciences in Saint Lucia and completed his residency at the State University of New York at Buffalo.
The Physical Medicine & Rehabilitation clinic provides patients with treatment plans for acute and chronic pain caused by physical injuries, disease, nerve injuries, arthritis, brain injuries, birth defects and conditions, and more.  Seeing patients of all ages, treatments include EMG and nerve conduction studies, conservative pain management including Acupuncture, therapeutic Botox injections, cortisone injections, prolotherapy injections, Medtronic intrathecal pump management, and bracing options and  fittings.
To schedule an appointment with a Dr. Manshadi, please call 319-234-0109.  For all other inquiries, please contact the BCHC Specialty Clinic at 319-332-0950, or visit BCHealth.org for more information.