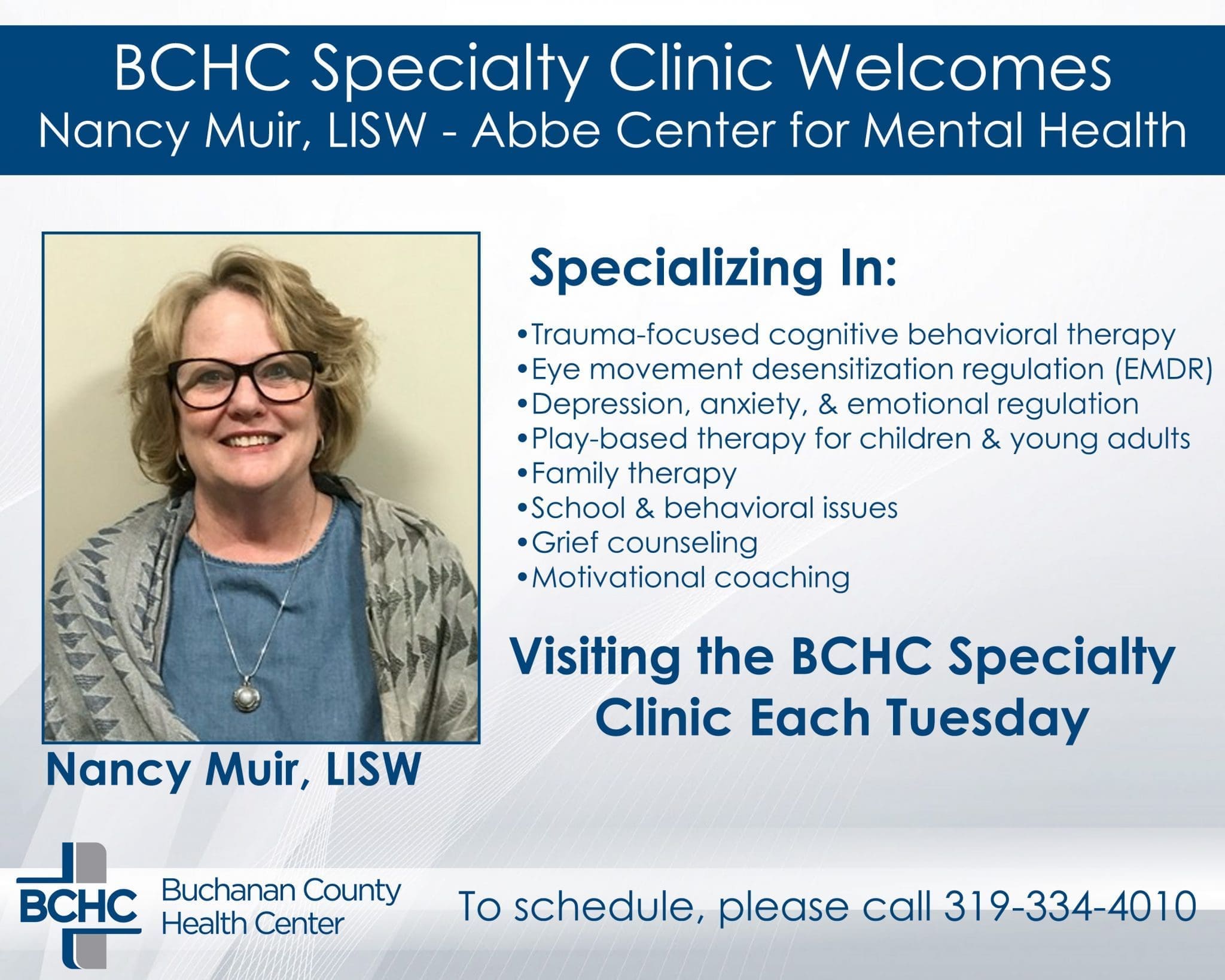 BCHC Mental Health Specialty Clinic Welcomes Nancy Muir, LISW
Buchanan County Health Center (BCHC) is pleased to welcome Nancy Muir, LISW to the Mental Health Specialty Clinic. Nancy provides mental health services and counseling through AbbeHealth. Affiliated with UnityPoint Health – Cedar Rapids with two Independence locations, AbbeHealth is a state-accredited community mental health center serving individuals of all ages.
A native of Independence, Nancy Muir, LISW visits the BCHC Mental Health Specialty Clinic with a master's degree in social work from the University of Northern Iowa and has been providing counseling and therapy services to patients for the past ten years. Muir is a behavioral health intervention provider who specializes in trauma-focused cognitive behavioral therapy, eye movement desensitization reprocessing (EMDR), play therapy, and sexual assault and domestic violence treatment. Other therapeutic interventions include cognitive behavioral therapy, family therapy, solution focused therapy and motivational interviewing, and acceptance and commitment therapy approaches to assist patients with depression, anxiety, trauma, emotional regulation, behavioral and school issues, relational issues, and grief. Muir sees pediatric through geriatric patients, beginning at the age of three. Muir visits the BCHC Specialty Clinic each Tuesday.
AbbeHealth has been visiting the BCHC Mental Health Specialty Clinic since April of 2018. Muir will join Karen Schmitz, ARNP who specializes in psychiatric mental health, diagnosis, and medication management. The addition of Muir and Schmitz to the BCHC Specialty Clinic has allowed patients to receive counselling and therapy services along with evaluation for and prescription of psychiatric medication in a hospital based setting in addition to the Abbe Community Mental Health location in Independence.
To schedule an appointment with the BCHC Mental Health Specialty Clinic, call the Abbe Community Mental Health at (319) 334-4010. To learn about all other services and clinics offered at BCHC, please visit bchealth.org or follow "Buchanan County Health Center" on Facebook.