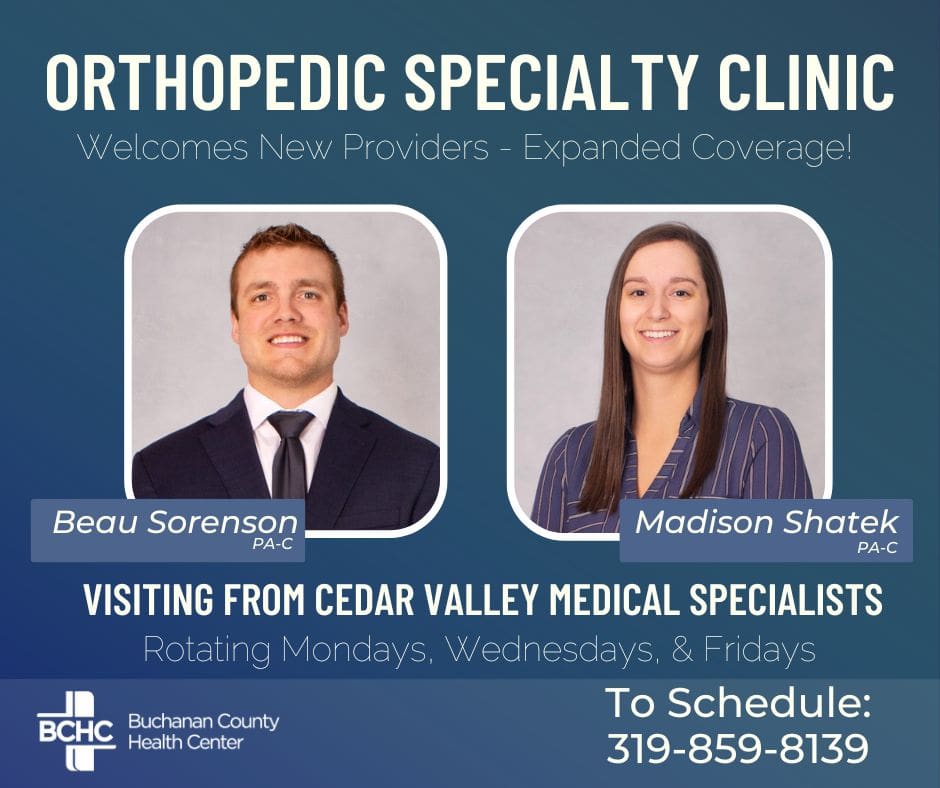 BCHC Orthopedic Clinic Welcomes New Providers, Expands Coverage
BCHC is pleased to welcome Beau Sorenson, PA and Madison Shatek, PA the Orthopedic Specialty Clinic. Affiliated with Cedar Valley Medical Specialists, Sorenson and Shatek joins orthopedic surgeon, Dr. Benjamin Torrez and Amber Toenyes, PA in delivering total orthopedic care, locally at Buchanan County Health Center.  The addition of Sorenson and Shatek will allow for continued growth and additional appointment options for patients.
Sorenson received his graduate degree from the University of Nebraska Medical Center, and Shatek received her graduate degree from St. Ambrose University in Dubuque.  Sorenson and Shatek have been PA Certified by the National Commission on Certification of Physician Assistants since early 2023. Sorenson and Shatek will visit BCHC rotating every Monday, Wednesday, and Friday, in addition to partner Amber Toenyes, PA, and Dr. Torrez who visits the BCHC Specialty Clinic and performs surgical procedures on the 1st, 3rd, and 4th Wednesday of each month.
To make an appointment with a visiting orthopedic specialist from Cedar Valley Medical Specialists, please call 319-859-8139.  For more information about the specialty services offered locally at BCHC, please visit BCHealth.org or follow "Buchanan County Health Center" on Facebook.