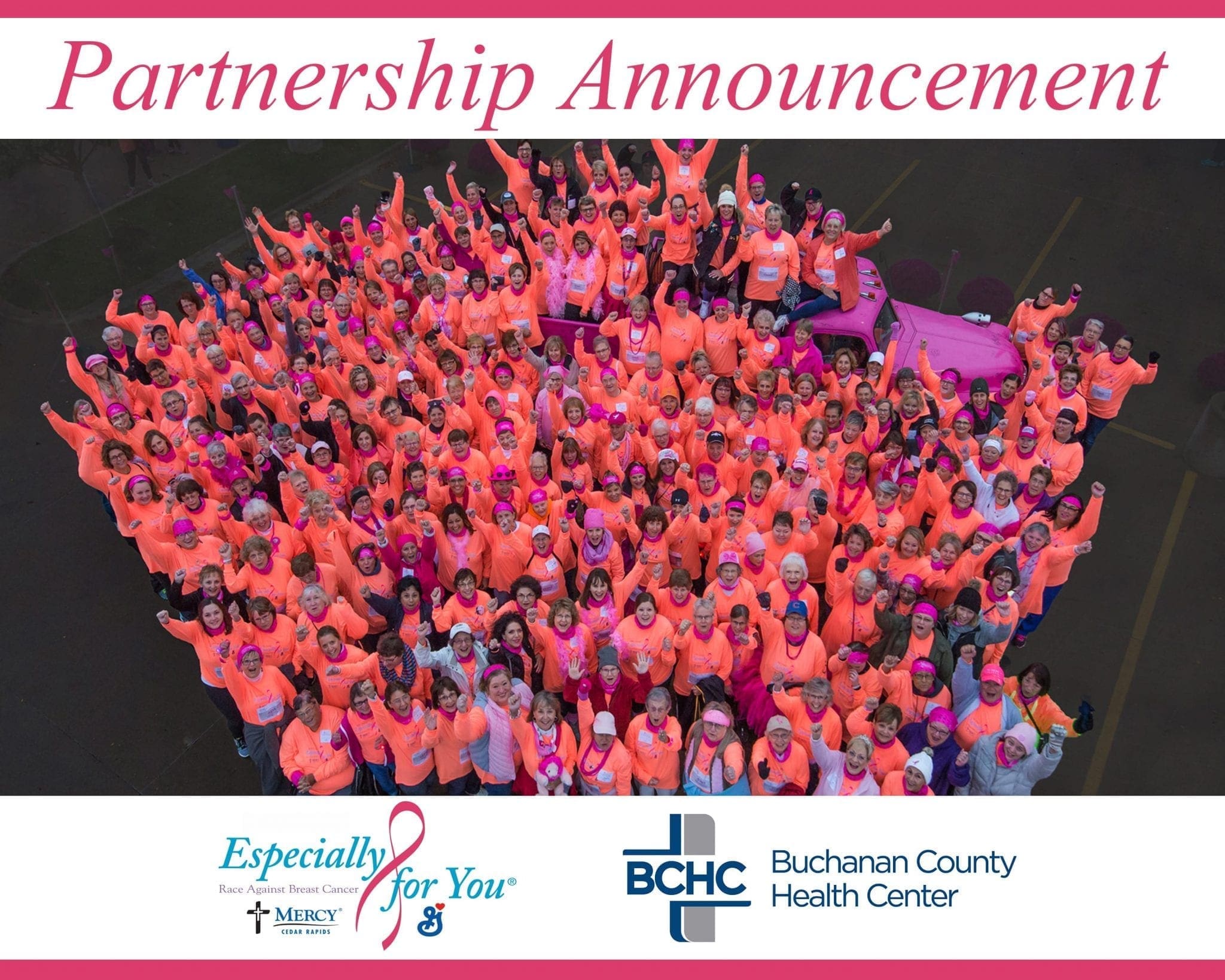 BCHC Partners with the Especially For You® Fund
Buchanan County Health Center is pleased to announce its newest partnership with the Especially for You ® (EFY) Fund.  The EFY Fund provides assistance to area individuals seeking preventative breast and gynecological cancer screenings, diagnostic exams and procedures, and more.
The EFY Fund and EFY Race Against Breast Cancer were founded by Mercy Medical Center and General Mills in October of 1991 in memory of Sandy Knight, a General Mills employee who lost her fight against breast cancer in July of 1991.  Sandy's dream was to establish a race to raise funds for breast cancer awareness, screenings, and education.  Since its establishment, the EFY Fund has expanded to not only include the support of early detection and prevention of breast cancer, but has also been able to assist with other female-specific cancers including cervical, ovarian, uterine, vulvar, and vaginal cancers.  The 28th Annual EFY Race Against Breast Cancer was held on October 7th and raised over $452,000 for the EFY Fund alone.
Because of BCHC's partnership with the EFY Fund, many of its women's health services including 2D and 3D mammography, breast and endometrial biopsies, diagnostic exams, and doctor's office visits for cancer screenings and annual office visits may be eligible for financial assistance for those who qualify.  Patients may access the fund by applying for assistance online at www.especiallyforyourace.org/efy/fund/fund-application/,  by picking up an application at BCHC, or by calling the EFY office at (319) 221-8889 to request an application via email.
For more information about the Especially for You® Race Against Breast Cancer and Fund, please visit especiallyforyourace.org.  To learn more about the locally offered women's health services at BCHC, please visit bchealth.org.  To stay up-to-date on the latest news and announcements from BCHC, please follow "Buchanan County Health Center" on Facebook.