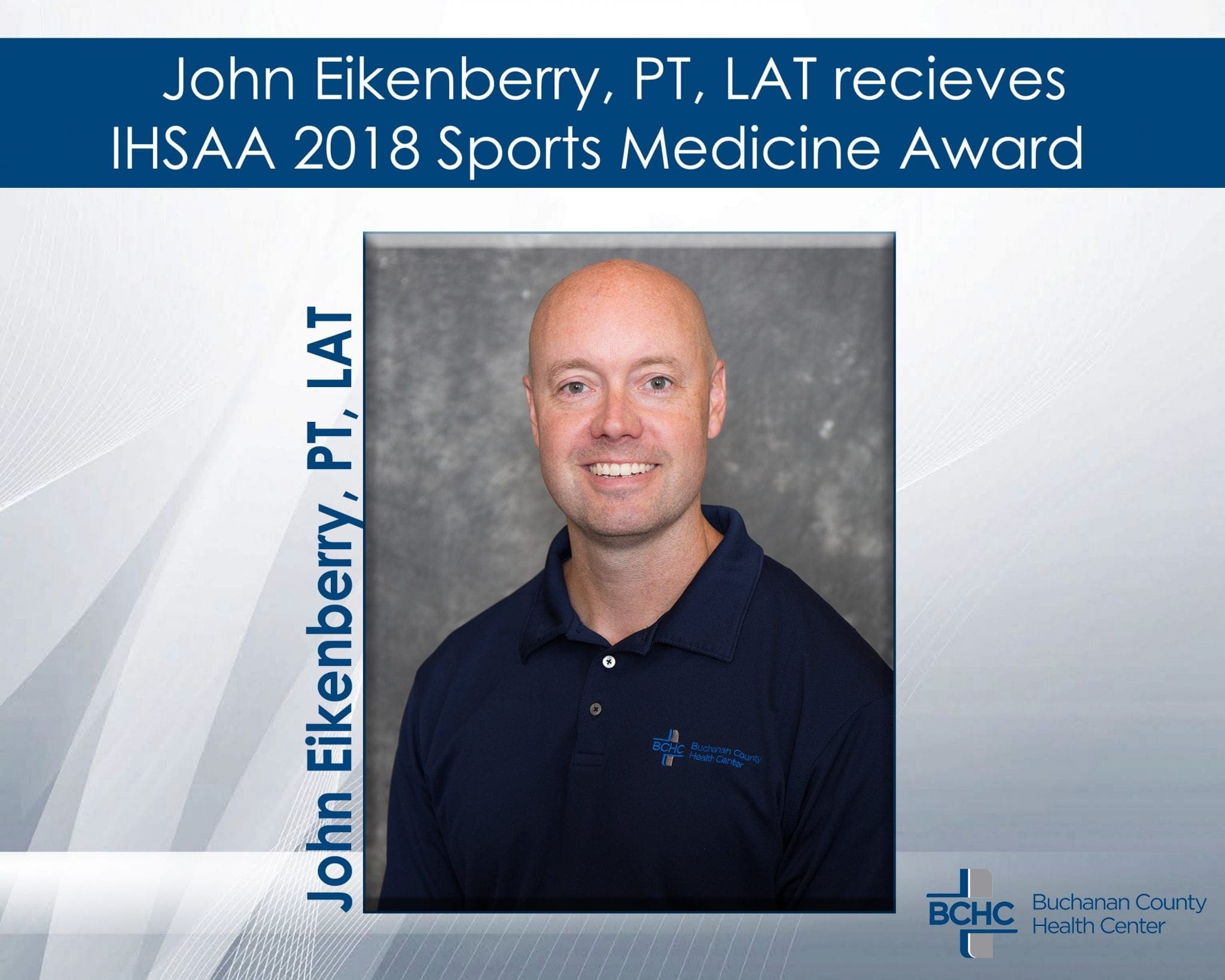 BCHC Physical Therapist & Athletic Trainer for East Buchanan Schools receives IHSAA 2018 Sports Medicine Award
Buchanan County Health Center (BCHC) is proud to announce that John Eikenberry, physical therapist at BCHC and athletic trainer for the East Buchanan Community School District, has been named recipient of the 2018 Sports Medicine Award from the Iowa High School Athletic Association (IHSAA).  For more than five decades, this honor has been bestowed to individuals who play an invaluable role for the health and safety of high school sports and activities within the state of Iowa.
Being a recipient of the Sports Medicine Award is based on the services and support John provides to high school student-athletes and the athletic programs he has served over the years.  John has served as the athletic trainer for the East Buchanan Community School District since 2004.
"John has gone well above and beyond in helping our students and coaches.  He knows each one of our students which helps with working on injuries and rehabilitation.  Having John around has taken that burden off our coaches for any issues medically.  His services are irreplaceable," commented Dan Fox, Superintendent for the East Buchanan Community School District.
"My work at East Buchanan for the past 14 years has been a wonderful addition to my work as a physical therapist.  It is a joy and sometimes a challenge to work with high school student athletes, but it is a passion that I enjoy.  I am proud to help those students and families, along with the coaching staff to recognize and care for athletic injuries," commented award recipient, John Eikenberry, PT, LAT.
John will be recognized for his service at the halftime of the Class 3A football championship game on Thursday, November 15th at the UNI-Dome in Cedar Falls.  John resides in Center Point with his wife Sarah and their two daughters; Julia and Elizabeth.