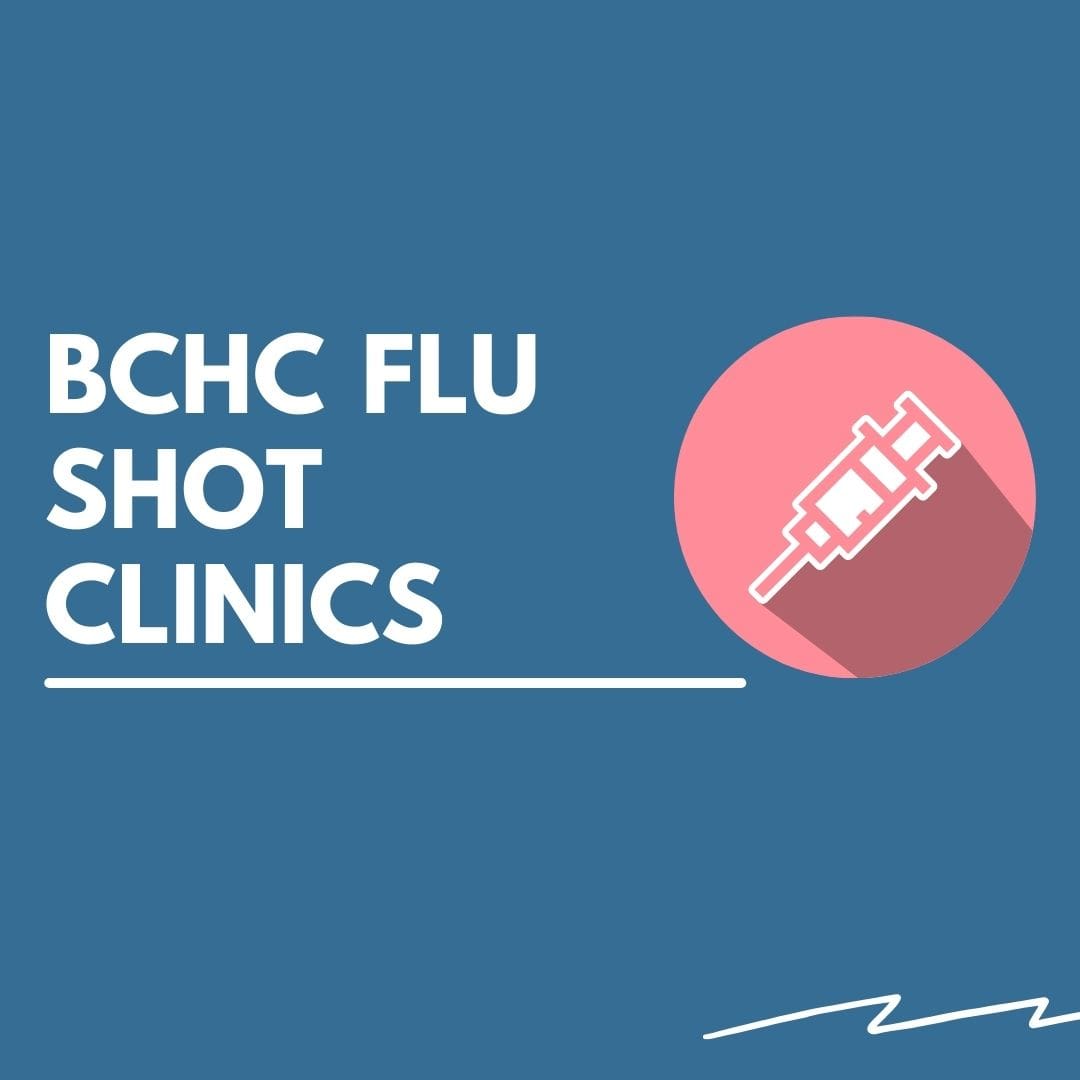 BCHC Recommends Flu Vaccine for All Community Members Six Months & Older | After-Hours Flu Clinics Offered in Independence & Jesup
According to the Center for Disease Control, the winter season is when the flu virus most commonly hits.  Although it is common for seasonal outbreaks, most flu activity peaks between the months of December and February.
Carried by germs spread through coughing and sneezing, shaking hands, or simply talking, an individual with the flu can spread up to 20,000 flu germs into the air, making others in close proximity susceptible to catching the virus.  Those carrying the flu virus may infect others one day before symptoms develop and up to five to seven days after becoming sick.
The CDC recommends a yearly flu vaccination as the most important step in protecting against flu viruses beginning at six months of age.  Among the most important candidates for receiving an influenza vaccination are young children, pregnant women, and adults 65 and older.  To help protect the community against the flu and severe flu symptoms, BCHC is offering appointment only after-hours flu shot clinics at Medical Associates of BCHC on October 3rd and 5th from 5-7pm and BCHC Family Medicine – Jesup on October 2nd and 5th from 4:30-7pm for established patients. Patients of BCHC Family Medicine – Oelwein are encouraged to call the office during regular office hours to schedule their flu shot.  In addition, the BCHC Oelwein Pharmacy is now offering the flu shot via walk-in basis Monday – Friday from 9am-4pm
Although the vaccine may not completely prevent the flu for all individuals, it may lessen the severity of the illness and the potential of spreading it to others.  It may also lower the risk of serious complications, hospitalizations, and influenza-associated deaths.  BCHC offers both quadrivalent and hi-dose influenza vaccines. The flu vaccine is quick, safe, and covered by most insurances and Medicare policies.
During the flu season, BCHC urges patients, visitors, and volunteers with flu-like symptoms, such as fever, cough, sneezing, runny nose, or sore throat to practice the following when on the BCHC campus:
Patients:
Please wear a mask and sanitize your hands when coming to your appointment.
Reschedule other scheduled appointments or surgery.
If you have not received a flu vaccination for the year, ask your doctor or nurse about receiving the vaccination during your stay.
Visitors/Volunteers:
Do not visit friends and family at BCHC if you have flu-like symptoms; fever, cough sneezing, runny nose and/or sore throat.
If visiting patients with the flu, please wash your hands at the cleaning station and wear provided masks.
In order to prevent flu and other viruses from spreading, remember to practice the three Cs:
Clean your hands frequently with soap and water.
Cover coughs and sneezes with your elbow or upper arm.
Contain germs by staying home when ill.
To schedule your annual flu shot during regular office hours or after-hours flu clinics, please call:
Medical Associates of BCHC: 319.334.2541
BCHC Family Medicine – Jesup: 319.827.2242
BCHC Family Medicine – Oelwein: 319.283.2651
To stay up-to-date with the latest news and announcements from BCHC, please visit BCHealth.org, or follow Buchanan County Health Center on Facebook.