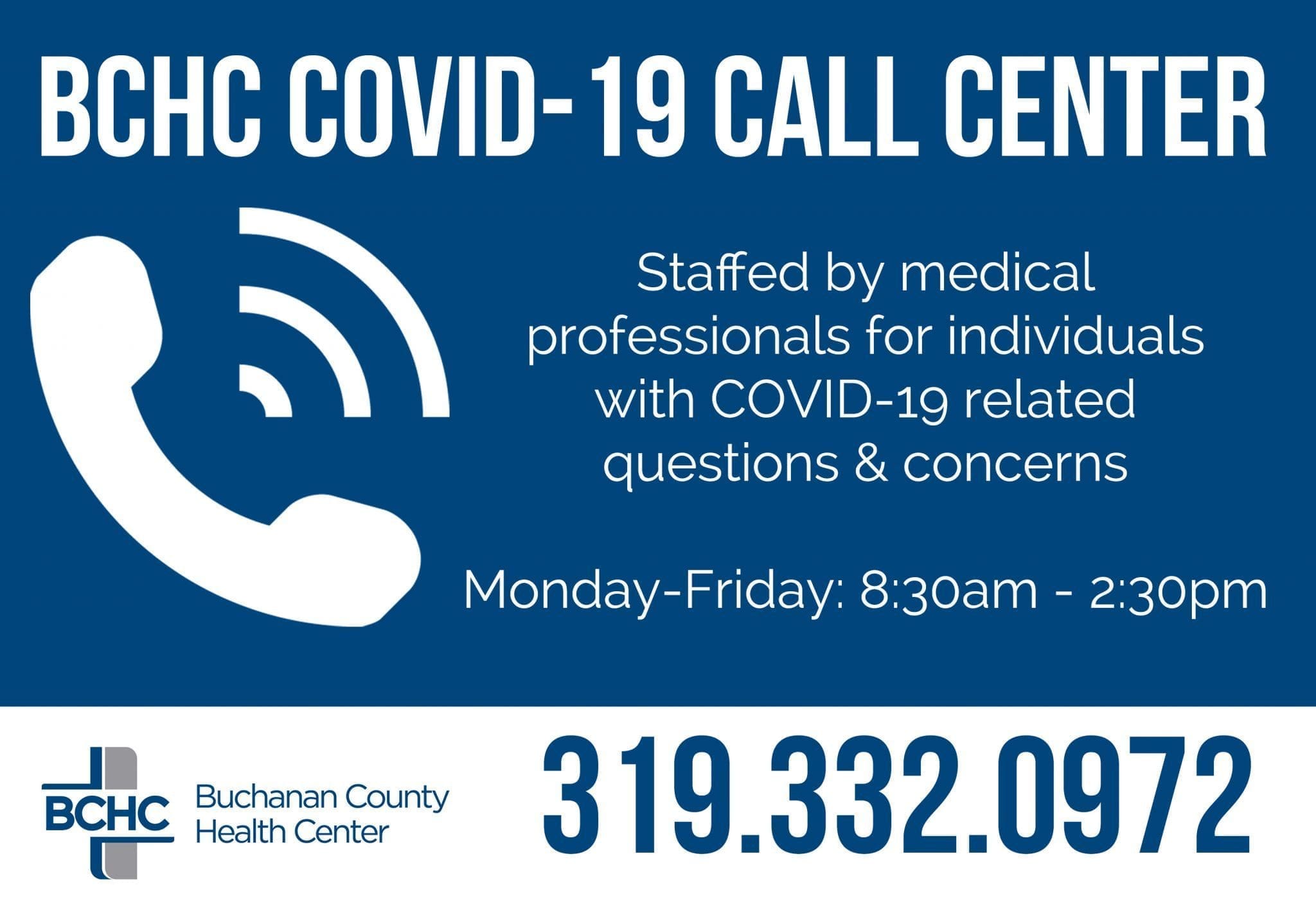 BCHC Reopens COVID Call Center
Due to the increased number in COVID-19 cases and exposures in the Buchanan County and Oelwein area, BCHC has reopened its COVID-19 Call Center to help triage COVID-19 related questions and concerns related to the caller's symptoms, exposure concerns, testing, and quarantine directions.  Open Monday-Friday from 8:30am-2:30pm, the COVID-19 Call Center is staffed by a medical provider who will clinically advise and triage callers in response to their questions and concerns regarding symptoms, exposures, testing, and quarantine directions.  To reach the COVID-19 Call Center, please call 319-332-0972.
If you have reason to suspect you are ill with or have been exposed to COVID-19 and do not need emergency medical care, please utilize the call center to receive proper guidance before presenting onsite.  If you seek emergency care, please inform staff of symptoms prior to arrival.
It is important for all to follow the guidance that has been provided by the Iowa Department of Public Health to help slow the spread of COVID-19:
Become vaccinated against COVID-19 if eligible and able
Practice social distancing
Wear a mask in public and when you cannot socially distance
Avoid large gatherings, closed spaces with poor ventilation, and close-contact with others outside of your immediate household
Wash hands frequently with soap and water for at least 20-seconds each time.
Cover coughs and sneezes with a tissue or elbow/upper arm.
Stay home when ill
Routinely clean frequently touched surfaces.
To stay up-to-date with the latest news and announcements from BCHC regarding COVID-19, please follow "Buchanan County Health Center" on Facebook, or visit BCHealth.org/covid19.