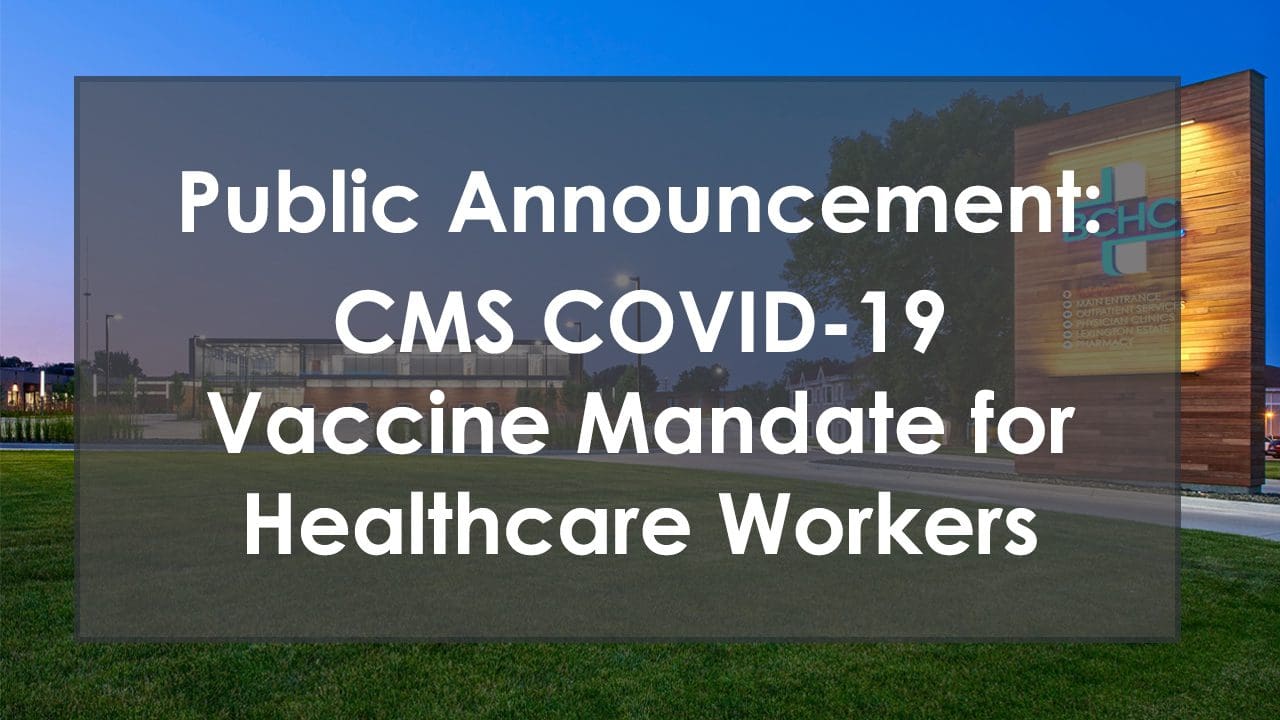 BCHC to comply with CMS Guidelines Regarding Employee Vaccination against COVID-19
In compliance with the Centers for Medicare and Medicaid Services (CMS) guidelines regarding the COVID-19 vaccine mandate, all eligible employees at Buchanan County Health Center (BCHC) who do not meet medical and/or religious exemption status will be required to become fully vaccinated against COVID-19 by early 2022.  While CMS and OSHA regulations were released the same day, all Critical Access Hospitals (CAHs), Long Term Care (LTC) Facilities, and Rural Health Clinics (RHCs) that are paid through a governmental revenue stream (Medicare and Medicaid) must comply to CMS requirements in addition to OSHA requirements.  Unvaccinated employees must receive their first dose of vaccine by December 5th, 2021 and be fully vaccinated (2nd dose) by January 4th, 2022.  Employees who do not meet exemption criteria and choose not to receive the COVID-19 vaccine will be subject to voluntary resignation or termination.
Currently, 82% of BCHC associates have been fully vaccinated against COVID-19.  Due to the fact that the employee response was highly favorable to the vaccine, BCHC had chosen as an organization to not mandate the vaccine; however, CMS guidelines no longer allow organizations like BCHC to have their own mandate guidelines should they wish to continue to receive funding through CMS, which accounts for 61% of BCHC's annual revenue.
"BCHC is extremely proud of its employees and all that they have endured over the past two years.  Each and every associate plays a vital role in contributing to the success of the organization and care of our patients, residents, and community," commented Interim CEO and CFO, Ben Stevens.  "Although BCHC has no control over this recent mandate, we do hope that those currently unvaccinated will consider becoming fully vaccinated against COVID-19 and continue their partnership with BCHC."
BCHC strongly encourages all employees and all eligible individuals to receive the COVID-19 vaccine, due to the validity of the vaccine through research.  Weekly Iowa COVID-19 data retrieved from cornonavirus.iowa.gov identifies that 71.3% of patients hospitalized due to COVID-19 are not fully vaccinated and 83.5% of COVID-19 patients in intensive care units (ICUs) are not fully vaccinated.  A study provided by the Centers for Disease Control and Prevention (CDC) recently released information stating that unvaccinated individuals are 11 times more likely to die if acquiring the virus than those vaccinated.
Vaccines continue to be available through BCHC clinics via appointment and through BCHC Oelwein Pharmacy via walk-in.  Pediatric vaccines for children 5-11 years of age are now available at Medical Associates of BCHC, BCHC Family Medicine – Jesup, and BCHC Oelwein Pharmacy, along with other local primary care facilities and pharmacies.
To stay up-to-date with the latest news and announcements from BCHC, please visit bchealth.org, or follow Buchanan County Health Center on Facebook.