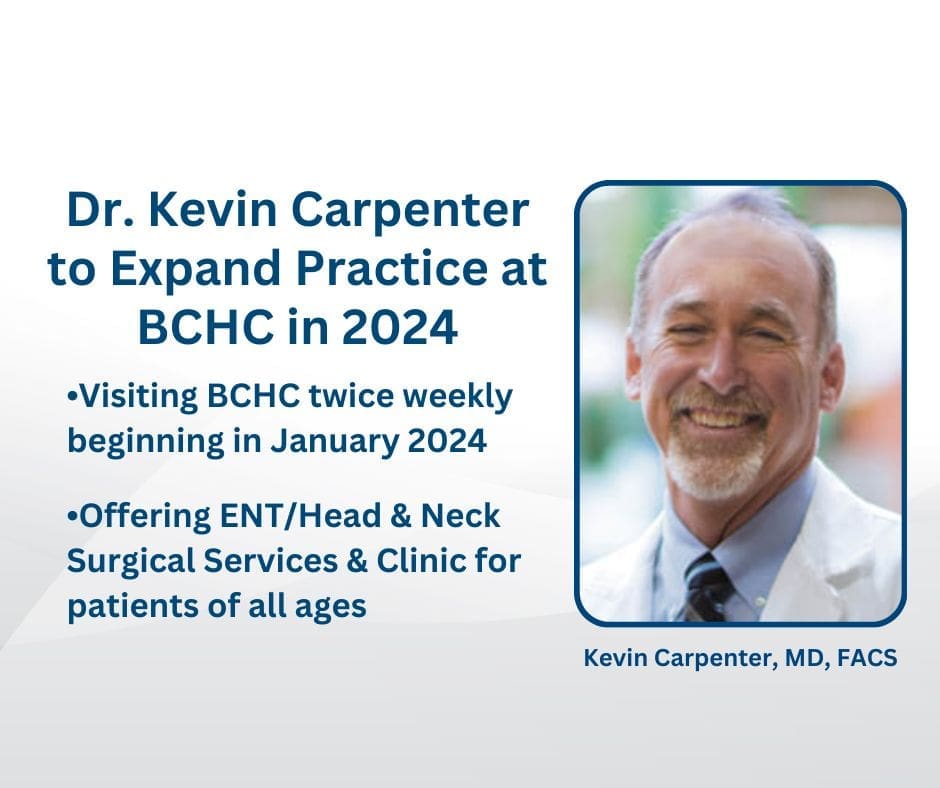 BCHC to Expand Local Access to Ear, Nose & Throat/Head & Neck Surgery Services | Dr. Kevin Carpenter to Expand Clinic & Surgery at BCHC
Buchanan County Health Center (BCHC) is pleased to announce the expansion of Ear, Nose and Throat/Head & Neck Surgery services provided by Kevin Carpenter, MD, FACS.  Dr. Carpenter will expand his practice at BCHC beginning in January 2024 by visiting the BCHC Specialty Clinic and surgical department two full days a week.
Visiting BCHC since 2014, Dr. Carpenter specializes in ear, nose and throat (ENT) conditions, audiology and hearing aids, allergy management, surgical cancer care, and facial plastic surgery with special interests in pediatric ENT conditions, and head and neck oncology.
Providing specialty and surgical care for patients of all ages, Dr. Carpenter received his medical degree from the University of Iowa, Carver College of Medicine and completed his residency in otolaryngology and head and neck surgery at the University of Iowa Hospital & Clinics.  Dr. Carpenter is board certified by the American Board of Otolaryngology.
Scheduling for Dr. Carpenter will begin in December by calling BCHC Specialty clinic at 319-332-0950.  For more information on visiting specialists and surgical services, please visit www.bchealth.org or follow Buchanan County Health Center on Facebook to stay up to date with the latest news and announcements.