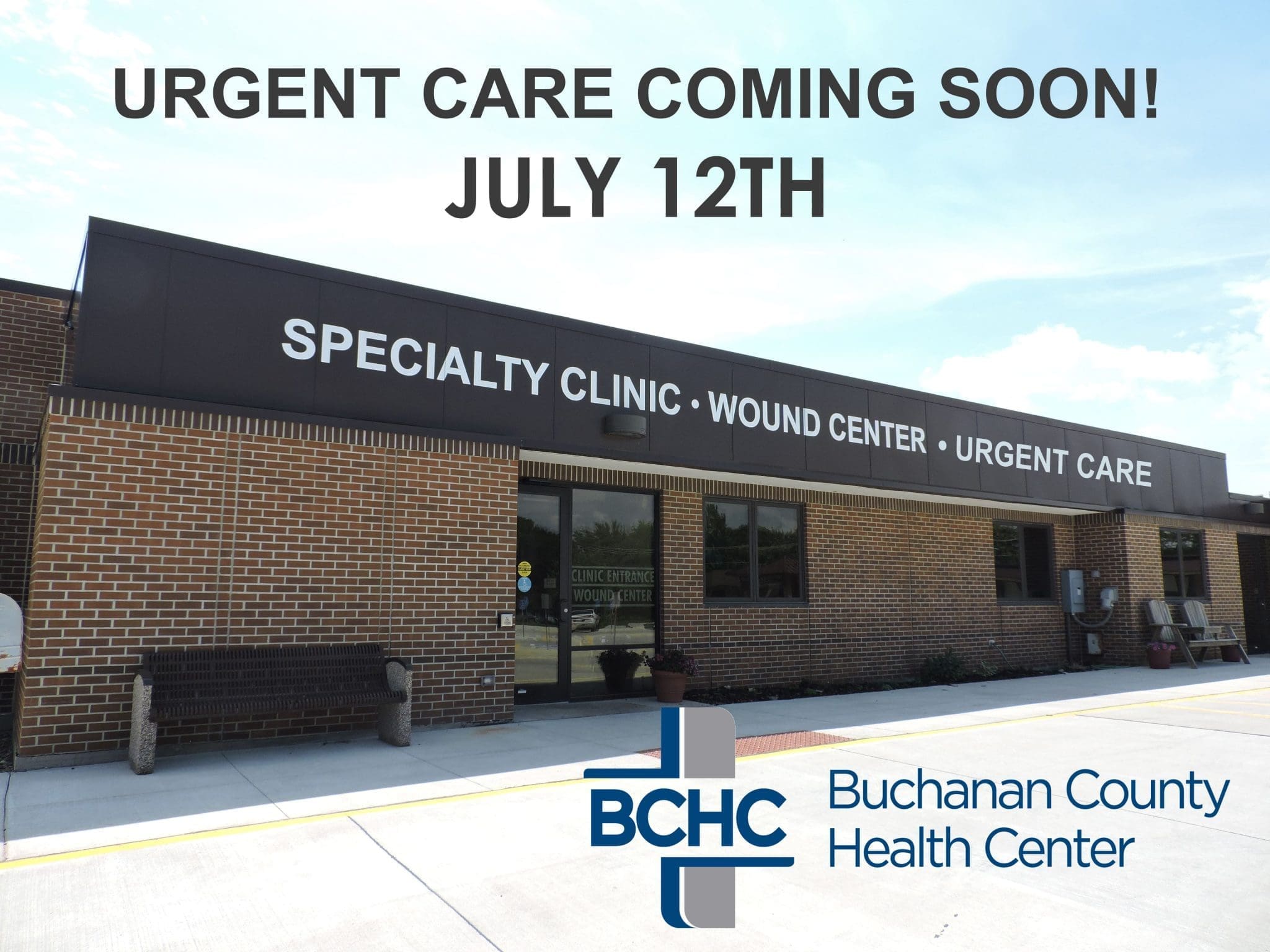 BCHC Urgent Care to Open July 12th
Buchanan County Health Center is pleased to announce the opening of an on-campus Urgent Care clinic to better accommodate the health care needs of the residents of Buchanan County and surrounding communities.  After months of planning, BCHC Urgent Care is set to open to the public on Tuesday, July 12th.
An affordable alternative for non-life-threatening, but still urgent illnesses and injuries, BCHC Urgent Care will see patients on a walk-in basis on Monday – Friday from 5:30-8:30pm and Saturday – Sunday from 10am-4pm.  Staffed by providers from Buchanan County and surrounding areas, Dr. Kurt House will serve as the Medical Director with office and personnel management conducted by Amy Van Scoyoc of BCHC.
"The community has been asking for this service for years, and we are excited to finally be able to provide it, commented Steve Slessor, CEO.  Urgent care access will help keep more people local for healthcare and avoid some unnecessarily utilization of emergency department services.  Everyone here is very excited to get this up and running."
Different from office visits or emergency room care, appropriate urgent care visits include those suffering from the following, non-life-threatening ailments and are unable to schedule an office visit with their primary care provider, or if the ailment arises after regular office hours:
Colds/Flu/Fever/Cough
Sore throat
Ear aches
Sprains/Strains/Simple fractures
Scrapes/Minor Cuts
Minor burns
Rashes/Insect bites & stings/Sunburn
  Nausea
UTI's
Minor allergic reactions/Seasonal allergy relief
Upper Respiratory Infections
Those with life-threatening illnesses or injuries, such as chest pain, shortness of breath, signs of a stroke, traumatic head injuries, change in mental status, and/or severe vomiting should seek emergency care immediately by calling 9-1-1 or by visiting BCHC's Emergency Department.
Closed on holidays, BCHC Urgent Care is located near the Specialty Clinic entrance on the northwest side of the hospital.  Rotating providers will include the following:
Dr. Kurt House
Janny Budzine, ARNP
Jane Deets, ARNP
Bridget Paris, ARNP
Jane Baker, ARNP
Angie DeVries, ARNP
Tara McEnany, ARNP
Ann Reid, PA
Jeff Ashline, PA
The insurance companies of patients receiving urgent care services will be billed as a hospital outpatient and co-insurance and deductibles will be applied to the final billing statement.  Patients should contact their insurance company to determine their coverage for hospital-based facility charges.
For more information about BCHC Urgent Care, or to learn about other services offered at BCHC, please call 319-332-099, visit www.bchealth.org or follow 'Buchanan County Health Center' on Facebook.