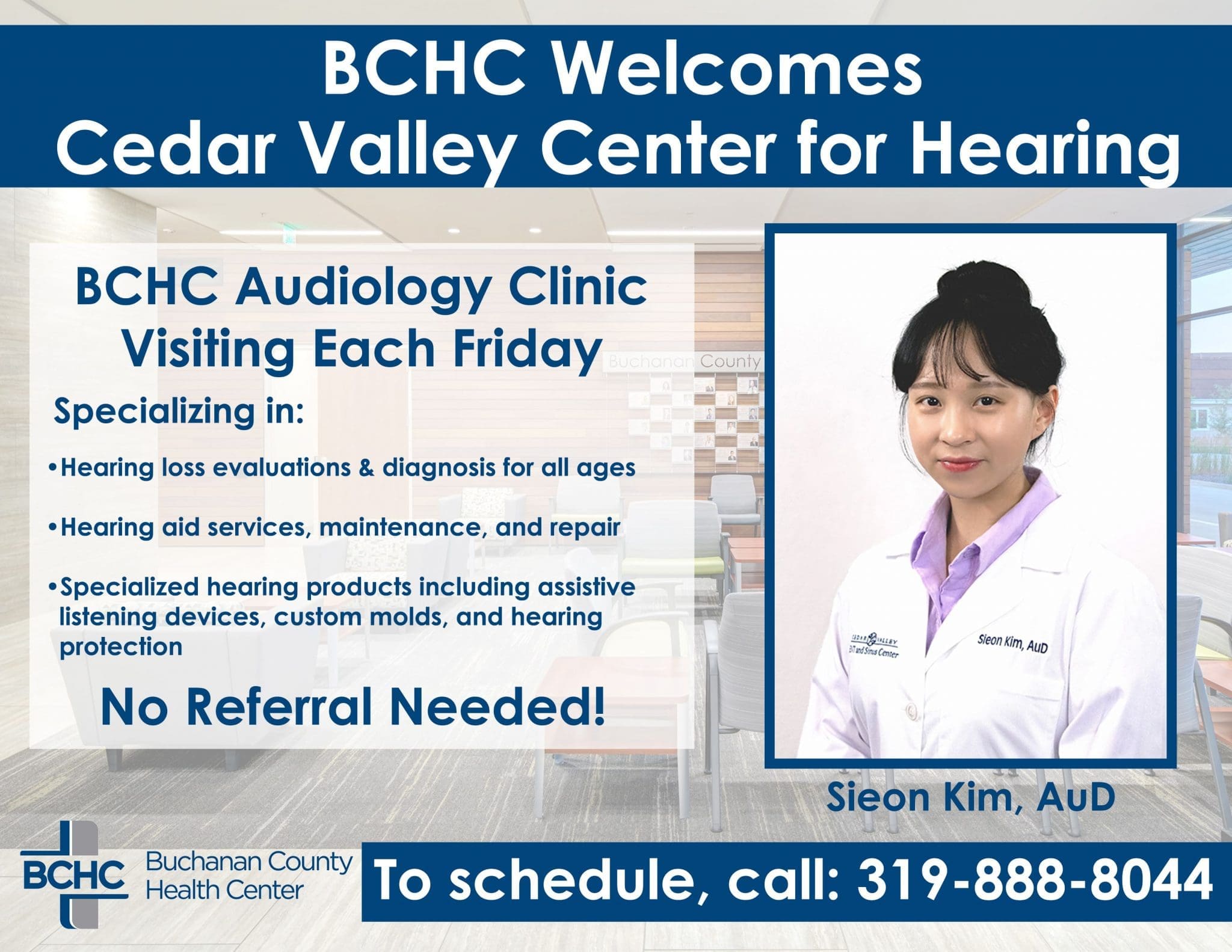 BCHC Welcomes Cedar Valley Center for Hearing to Specialty Services
Buchanan County Health Center is pleased to welcome Sieon Kim, AuD with Cedar Valley Center for Hearing to the BCHC Audiology Specialty Clinic.  The Cedar Valley Center for Hearing provides comprehensive care in the identification, diagnosis, and treatment of hearing disorders through evaluation and specific lifestyle needs.
Visiting the BCHC Specialty Clinic in Independence each Friday morning, the clinic offers hearing loss evaluations for all ages with specialized testing for young children, hearing aid services including free consultations, individualized hearing aid selection, and hearing aid service and repair, and specialized products including assistive listening devices, custom swim molds and hearing protection, and hearing aid supplies. No referral is needed to visit the clinic.
The Cedar Valley Center for Hearing is led by hearing specialist, Sieon Kim, AuD.  A graduate from the University of Iowa, Kim received her BA in Speech & Hearing Science in 2014 and Doctorate in Audiology in 2019.  During her education, Kim held externships with the Department of Otolaryngology at the University of Iowa Hospitals and Clinics, and Center for Disabilities and Development at the University of Iowa Stead Family Children's Hospital.  Kim is certified by the American Speech-Language-Hearing Association, Iowa State Board of Speech Pathology and Audiology Examiners, Iowa State Board of Examiners for the Licensing and Regulation of Hearing Aid Dispensers, and Iowa's Leadership Education in Neurodevelopmental and Related Disabilities Program.
To schedule an appointment with Sieon Kim, AuD at the BCHC Audiology Clinic, please call 319-888-8044. No referral is needed to make an appointment.  Cedar Valley Center for Hearing is part of Cedar Valley Centers for ENT, Sinus & Allergy, Facial Plastic Surgery, and Skin Cancer.  For more information about the specialty clinics at BCHC and BCHC Family Medicine – Oelwein, please visit BCHealth.org.  To stay up-to-date with the latest news and announcements from BCHC, please follow Buchanan County Health Center on Facebook.