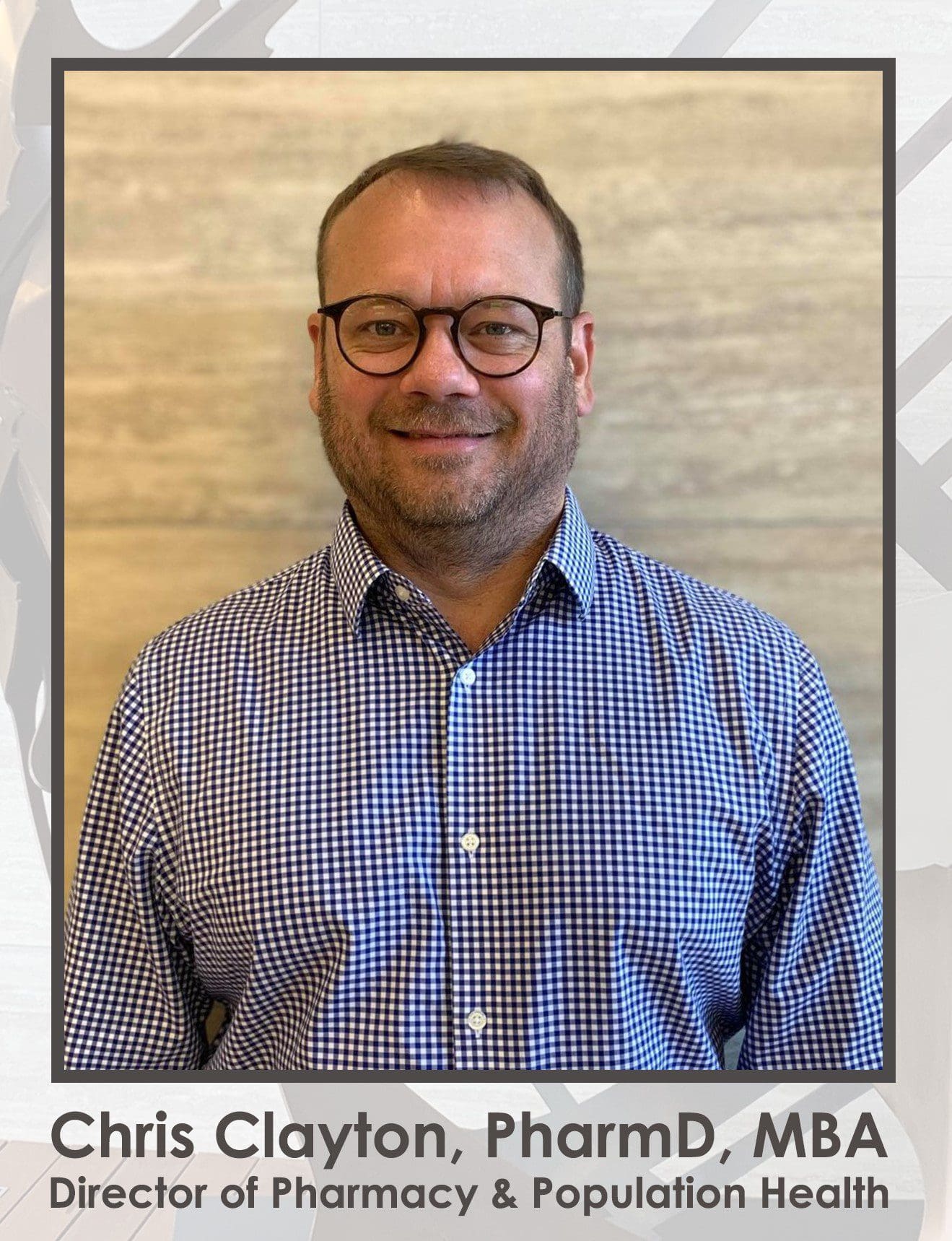 BCHC Welcomes Director of Pharmacy & Population Health
Buchanan County Health Center (BCHC) is pleased to welcome Chris Clayton, PharmD, MBA as its Director of Pharmacy and Population Health. Chris comes with over 20 years of experience in inpatient and retail pharmacy, along with population health initiatives including occupational health.
Chris has spent the past 20 years at UnityPoint Health serving as the Director of Pharmacy Services and Regional Director of Retail Services. In this role, Chris has had oversight of inpatient hospital pharmacies, retail pharmacies, outpatient medication therapy management clinics, and pharmacy residency programs. Chris has led many projects including lean and adaptive design initiatives, building expansion projects, new business openings, and computer system implementations. Chris has also held oversight of other department areas including home medical equipment, digestive health, and occupational health. In 2012, Chris and his wife Jennifer Clayton, PharmD opened Clayton Drug with locations in Strawberry Point, Sumner, and Elkader. Chris is the current president elect on the Iowa Pharmacy Association Board of Trustees.
In his new role as Director of Pharmacy and Population Health, Chris will have oversight of inpatient and retail pharmacy, integration of pharmacist and provider care collaboration in primary care settings, employer relations, investigate the development of an occupational health program, oversight of Accountable Care Organization contracts, and oversight of the Wellness Department.
"Chris brings with him to BCHC an enormous amount of experience in both pharmacy leadership and healthcare leadership as a whole," commented Steve Slessor, CEO. "Chris is a strategic thinker that will help progress our whole organization forward. Chris will certainly be busy early on opening up our new retail pharmacy in Oelwein, but will also focus on our service to employers in our area and work on the development of new offerings to help those employers and employees here locally. Potentially most exciting though, is for Chris to help pharmacists integrate their expertise more into our primary care clinics and to collaborate with providers to help patients achieve the best possible outcomes. Chris has done this work before, and I look forward to him replicating that success here."
In this new role, Chris looks most forward to building new programs at BCHC and working with the community to bring new and needed services to the area. Chris resides with his wife, Jennifer and their five boys. In his free time, Chris enjoys spending time with family, traveling, listening to music, all things cars and motorcycles, and spending time outdoors.
For more information, or to stay up-to-date on the latest news and announcements from BCHC, please follow "Buchanan County Health Center" on Facebook, or visit BCHealth.org.