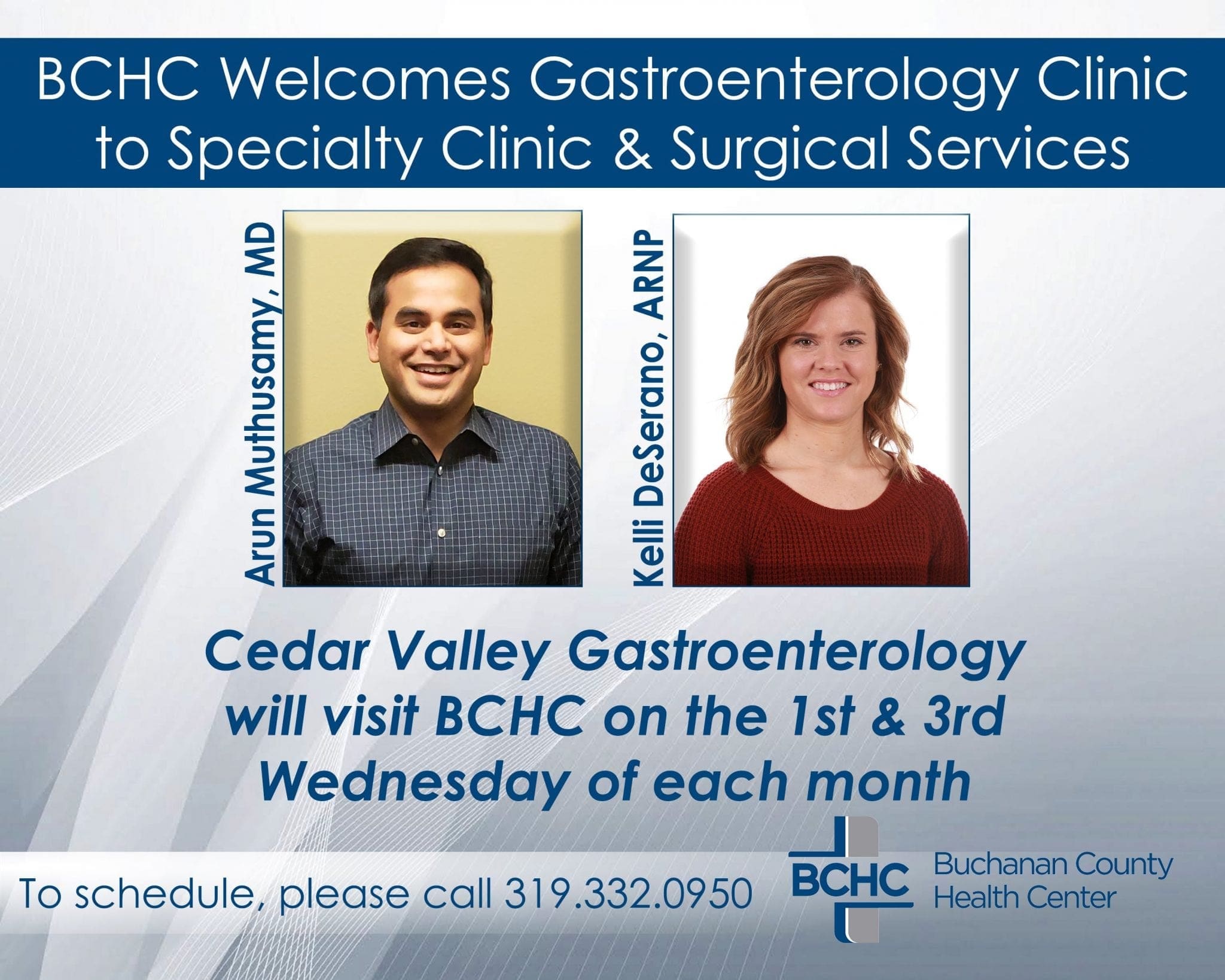 BCHC Welcomes Gastroenterology Clinic from Cedar Valley Medical Specialists to its Specialty Clinic and Surgical Services
Buchanan County Health Center is pleased to announce the return of locally offered gastroenterology services. Beginning September 5th, Arun K. Muthusamy, MD and Kelli DeSerano, ARNP from Cedar Valley Medical Specialists will be providing services at BCHC's Specialty and Surgery Clinics on the first and third Wednesday of every month.
A 2006 graduate from Stanley Medical College in India, Dr. Muthusamy completed his residency at Detroit Medical Center, Wayne State University School of Medicine, and is board certified by the American Board of Internal Medicine.   Kelli DeSerano, ARNP received her Master of Science in Nursing from the University of Cincinnati in 2016 and is board certified by the American Academy of Nurse Practitioners.
In addition to holding clinic hours, Dr. Muthusamy will join the team of highly trained physicians performing GI procedures, including colonoscopies and endoscopies; Brian Gerrelts, MD, FACS and Jason Kasenberg, DO from Cedar Valley Medical Specialists, Anthony Leo, MD, FACS, general surgeon, and William Schmitt, DO, ABFM family practice physician from Medical Associates of BCHC.  With the addition of Dr. Muthusamy, GI screenings will be performed at BCHC nearly every morning of the week, providing patients with more opportunities to receive their health screenings and services close to home.
Not only does this growing service serve as a way to increase patient access, but it also continues to stress the importance of colon cancer screenings for the aging population of Buchanan County and surrounding areas.  Individuals ages 50 and older should be screened for colon cancer every five years.  With certain types of screening, including colonoscopies, colon cancer can be prevented by removing polyps before they become cancerous.  With five physicians performing screenings throughout the week, BCHC can help patients with their preventative measures against colon cancer local and close to home.
To schedule an appointment with a GI specialist, please call the BCHC Specialty Clinic at (319) 332-0950.  To schedule a routine colonoscopy, consult with your primary care provider to see if you are a candidate for screening.  To learn more about the specialty and surgical services offered at Buchanan County Health Center, please visit bchealth.org or follow "Buchanan County Health Center" on Facebook.