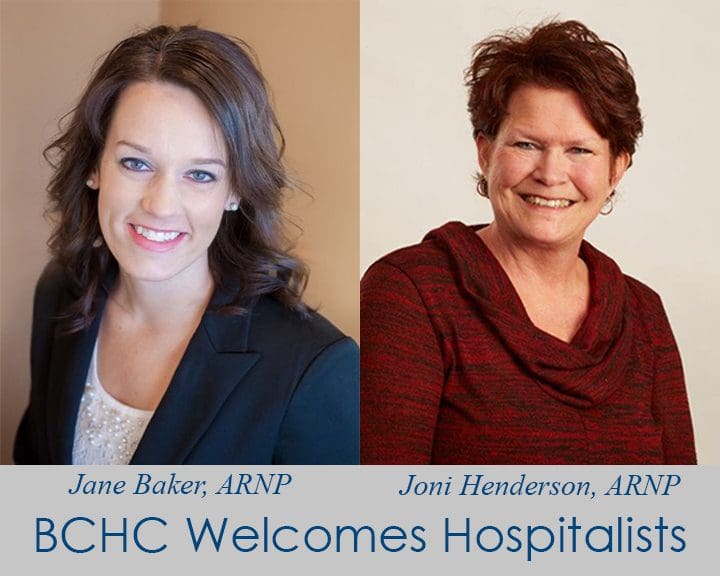 BCHC Welcomes Hospitalists to Team of Providers
Buchanan County Health Center is expanding its team of providers by welcoming Jane Baker, ARNP and Joni Henderson, ARNP. Assuming the role of Hospitalist, Baker and Henderson will attend to hospital patients in the inpatient setting. In partnership with BCHC Primary Care physicians, Baker and Henderson will provide coverage during the daytime hours of Monday through Friday. Primary care physicians will continue to see patients during the evening hours and on weekends.
"BCHC and Medical Associates share excitement in being able to add these two great nurse practitioners to provide care in our inpatient environment.  While the physicians will still be very engaged in direct patient care and oversee the inpatient unit, these two providers will offer a much needed resource. This will allow for greater time spent with patients and their families along with continuing growing the clinical skills of our nurses on the unit," commented Steve Slessor, CEO.
"We also intend to expand the services that we are able to provide in the inpatient unit to reduce transfers from our emergency department, along with the associated stress and ambulance charges that occur as a result, Slessor remarked. We have grown our outpatient services tremendously over the past few years and intend to begin that same work now on the inpatient side."
Jane Baker, ARNP comes to BCHC with a vast amount of experience nursing and family medicine. Most recently employed by UnityPoint Family Medicine Clinic in Oelwein, Baker attended Allen College of Nursing and has participated in the Allen Hospitalist program. A BCHC Urgent Care provider, Jane also has prior experience in digestive health, primary care, emergency and inpatient services. In addition to her role as Hospitalist, Jane will continue to provide coverage at BCHC's Urgent Care. Jane is board certified by the American Academy of Nurse Practitioners. Jane resides in Oelwein with her husband Blake and their four children.
A lifelong resident of Independence, Joni Henderson, ARNP has been employed by Mercy Medical Center in Cedar Rapids for the past twenty-five years. With an extensive background in rehab, memory disorder, palliative care, and hospice, Henderson will utilize her unique skill in both inpatient and outpatient settings. Joni attended the University of Iowa and Allen College of Nursing and is board certified by the American Academy of Nurse Practitioners and has advanced certification in hospice and palliative care and rehab nursing. Joni resides in Independence with her husband Ernie. Joni and Ernie are parents to two adult daughters.
Jane Baker will begin her role at BCHC on November 27th, followed by Joni Henderson on January 5th. For more information about Buchanan County Health Center and its services, please visit bchealth.org, or follow 'Buchanan County Health Center' on Facebook.