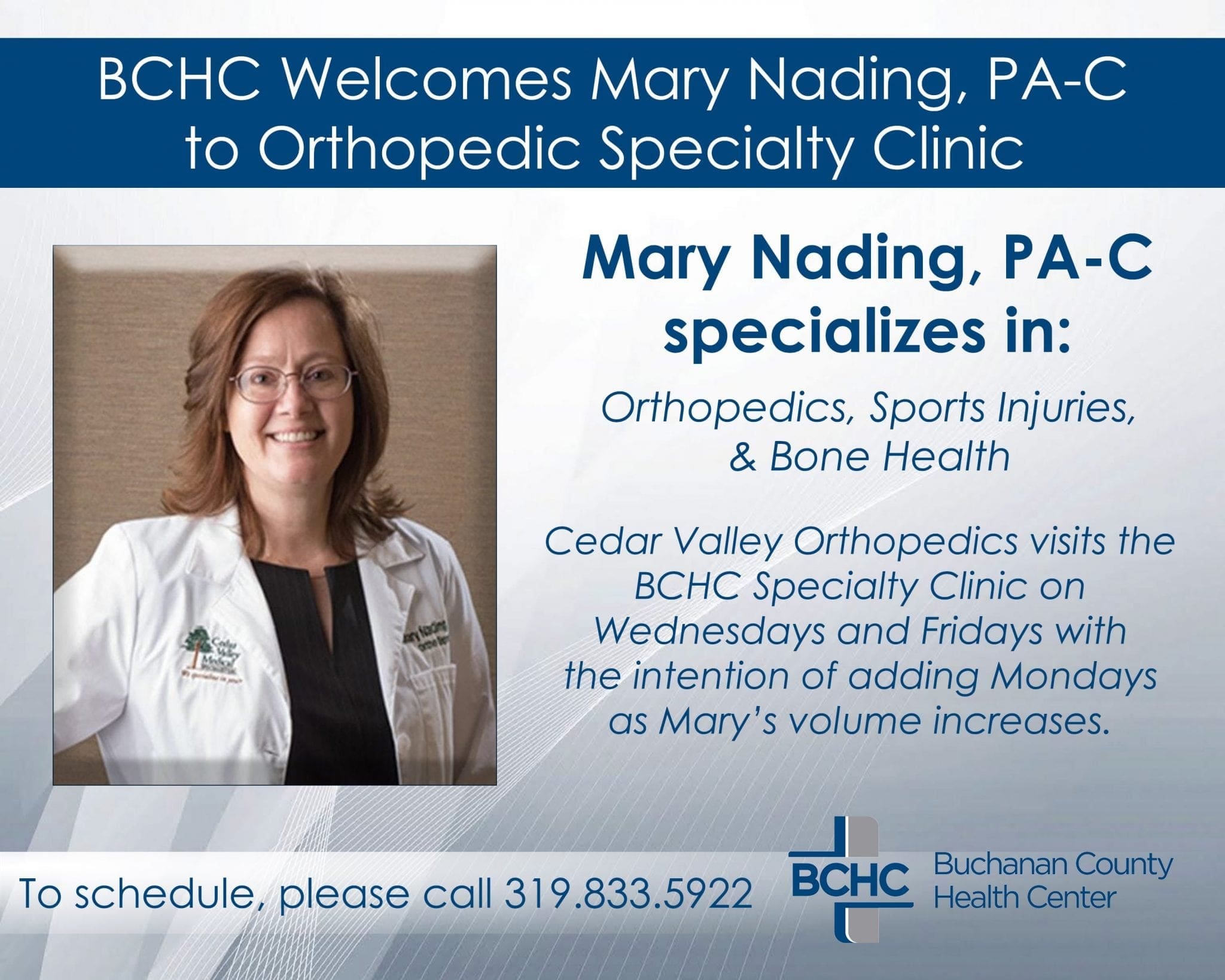 BCHC Welcomes Mary Nading, PA-C, MPAs, CCD to the Orthopedic Specialty Clinic
BCHC is pleased to welcome Mary Nading, PA-C, MPAS, CCD to the Orthopedic Specialty Clinic. Affiliated with Cedar Valley Medical Specialists, Nading joins orthopedic surgeon, Dr. Benjamin Torrez in delivering total orthopedic care, locally at Buchanan County Health Center.
"Orthopedics has been a significant area of growth for us both in the clinic and the operating room.  The addition of Mary providing orthopedic clinic every Wednesday and Friday will allow for continued growth and additional appointment options for patients, commented BCHC CEO, Steve Slessor.  We are getting closer to being the market leader in orthopedic volume at BCHC and believe with the additional provider coverage, we can get there in the next year or two."
Nading received her graduate degree in PA studies from the University Of Iowa Carver College of Medicine in 2015 and is board certified by the National Commission on Certification of Physician Assistants.  A member of the American Academy of Physician Assistants, Nading treated patients with sprains, strains, fractures and sports injuries at Cedar Valley Medical Specialists' walk-in clinic, OrthoExpress, from 2016 to 2018.  Mary will visit BCHC every Wednesday and Friday with the intention of adding Mondays to her schedule as her patient volume increases.
With the addition of Nading, BCHC's Specialty Clinic now offers orthopedic twice a week from highly-trained and experienced providers from both Cedar Valley Medical Specialists and Physicians' Clinic of Iowa.  For more information about the specialty services offered locally at BCHC, please visit BCHealth.org or follow "Buchanan County Health Center" on Facebook.