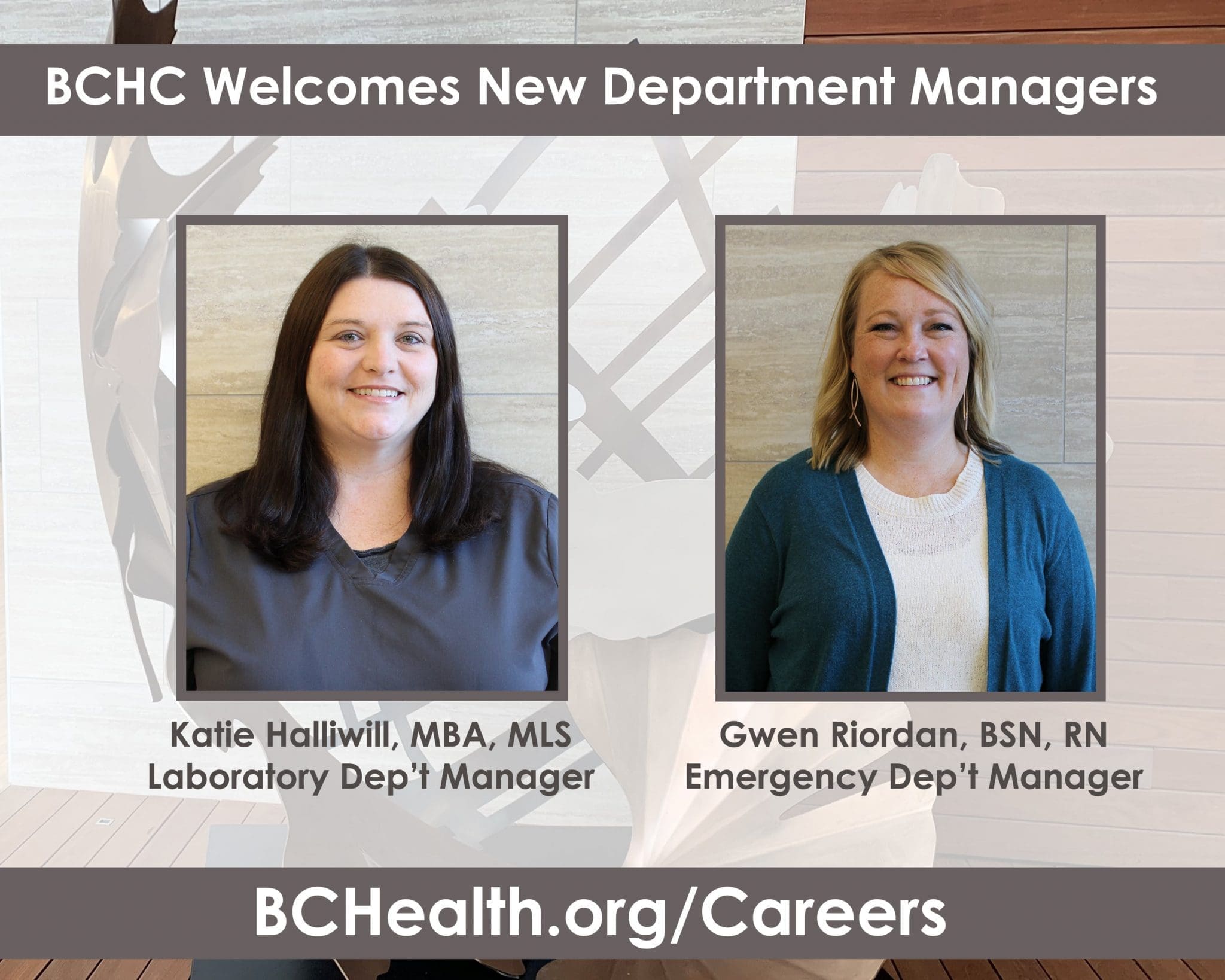 BCHC Welcomes New Leadership for Emergency & Laboratory Departments
Buchanan County Health Center is pleased to welcome two new department managers to the organization; Gwen Riordan, BSN, RN, Emergency Department Manager, and Katie Halliwill, MBA, MLS, Laboratory Department Manager.  Gwen and Katie will be responsible for providing department leadership and quality assurance.
Gwen Riordan, BSN, RN, comes to BCHC with 17 years of experience in the emergency department setting.  Most recently employed with MercyOne Medical Center as the trauma coordinator for the emergency department, Gwen has also provided care in the emergency department at UnityPoint Health – Allen.  Gwen received her ADN from Hawkeye Community College and BSN from Allen College.  Gwen resides in Fairbank with her husband and children.
Katie Halliwill, MBA, MLS comes to BCHC with 10 years of experience in the laboratory and quality assurance settings.  Receiving her BS in Medical Laboratory Science from Allen College in 2010, and MBA from Southeastern Oklahoma State University in 2019, Katie has held positions Marengo Memorial Hospital, University of Iowa Hospital & Clinics, Mercy Cedar Rapids, and was most recently employed at O'Fallon Medical Center in Springfield Illinois before moving back to Iowa.  Katie resides in Cedar Rapids with her husband and two young daughters.
For more information about BCHC, including employment opportunities, please visit www.bchealth.org/careers or follow "Buchanan County Health Center" on Facebook.