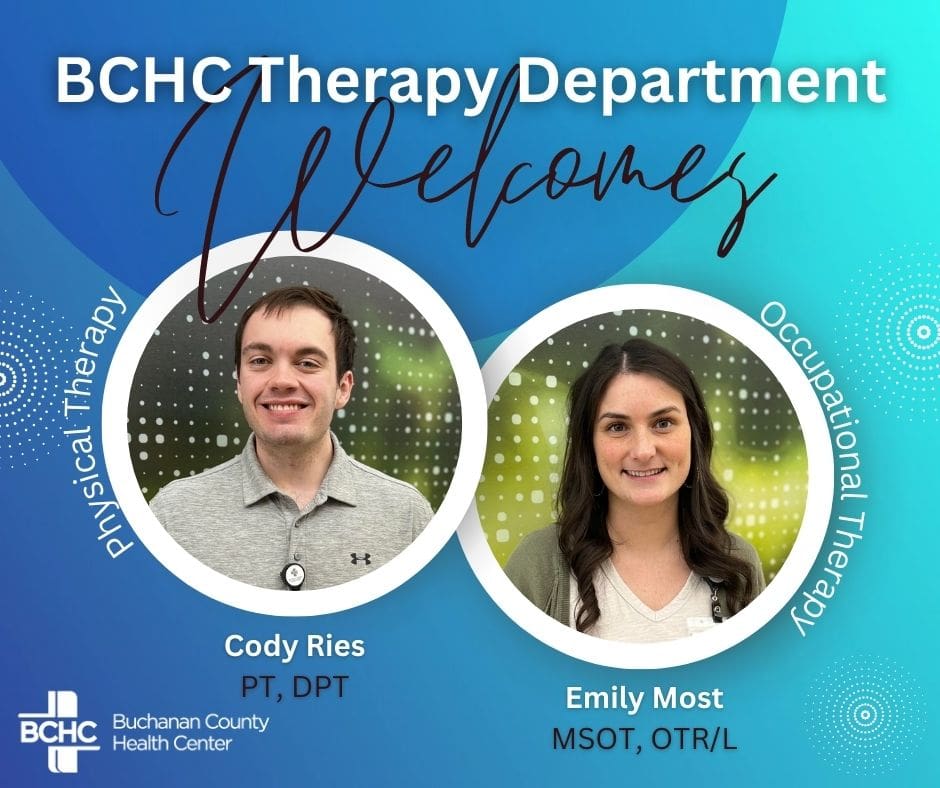 BCHC Welcomes New Physical Therapist & Occupational Therapist – Expanding local access to therapy and rehabilitation
BCHC is pleased to welcome Cody Ries, PT, DPT to the team of physical therapists and Emily Most, MSOT, OTR/L to the team of occupational therapists offering inpatient and outpatient services through the BCHC Therapy & Rehabilitation Department.
A former physical therapy intern at BCHC, Cody Ries received his undergraduate and doctorate degree from Clarke University.  Originally from the Delaware County area, in his spare time Cody enjoys hunting, fishing, and golfing, and spending time with his family and friends.
Conditions treated through physical therapy include, but are not limited to, patients healing from strains and sprains, post-operative rehabilitation, sport injuries, balance deficits, women's health, tendonitis, and more.
Emily Most comes to the BCHC occupational therapy team from Allen College where she recently received her graduate degree in occupational therapy.  Receiving her undergraduate degree from the University of Iowa, Emily is originally from Jefferson, Iowa, and currently resides in Cedar Falls.  In her spare time, Emily enjoys spending time with her fiance and their Weimaraner, going on walks, and spending time at the lake in the summer.
Conditions treated through occupational therapy include, but are not limited to, developmental delays, cognitive and physical disabilities, stroke and head injury rehabilitation, hand traumas, total joint replacement, and lymphedema.  Adult and pediatric patients alike can benefit from occupational therapy services.
Physical and occupational therapy is available through referral from a primary care provider or specialist. To learn more about the services offered through the Therapy & Rehabilitation Department, please visit BCHealth.org.  To stay up-to-date on the latest news and announcements from BCHC, please follow "Buchanan County Health Center" on Facebook.