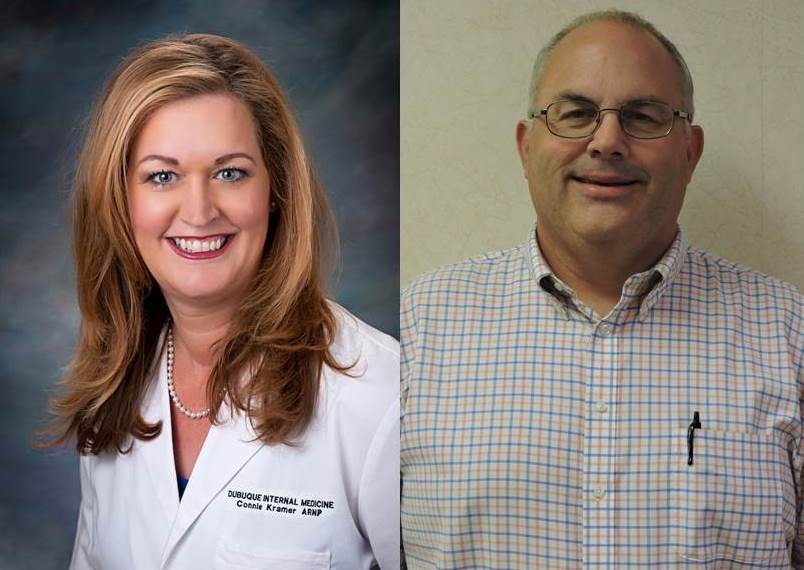 BCHC Welcomes New Providers to Urgent Care
Buchanan County Health Center is pleased to welcome two new providers to its new Urgent Care Department.  Since opening its doors in July, BCHC's Urgent Care has seen over 500 patients.
Visiting BCHC's Urgent Care from Dubuque, Connie Kramer, ARNP currently practices at Grand River Medical Group and specializes in nephrology.  Connie attended Northeast Iowa Community College and Clark University and is board certified by the American Nurses Credentialing Center as a certified nephrology nurse and family nurse practitioner.  Joining Connie, Karl Holmes, PA-C currently practices at UnityPoint Clinic Family Medicine in Belle Plaine, specializing in family medicine.  Karl attended St. Louis University and is board certified by the National Commission on Certification of Physician Assistants.  Both coming to BCHC with prior urgent care experience, Connie and Karl will join BCHC's rotating panel of Urgent Care providers including:
Dr. Kurt House •Janny Budzine, DNP, ARNP •Jane Deets, ARNP   •Bridget Paris, ARNP   •Jane Baker, ARNP   •Ann Reid, PA   •Maria Metcalf, ARNP
An affordable alternative for non-life-threatening, but still urgent illnesses and injuries, BCHC Urgent Care sees patients on a walk-in basis on Monday – Friday from 5:30-8:30pm and Saturday – Sunday from 10am-4pm.
Different from office visits or emergency room care, appropriate urgent care visits include those suffering from non-life-threatening injuries and illnesses and are unable to schedule an office visit with their primary care provider.
Closed on holidays, BCHC's Urgent Care is located near the Specialty Clinic entrance on the northwest side of the hospital.  For more information about BCHC Urgent Care, or to learn about other services offered at BCHC, please call 319-332-099, visit www.bchealth.org or follow 'Buchanan County Health Center' on Facebook.