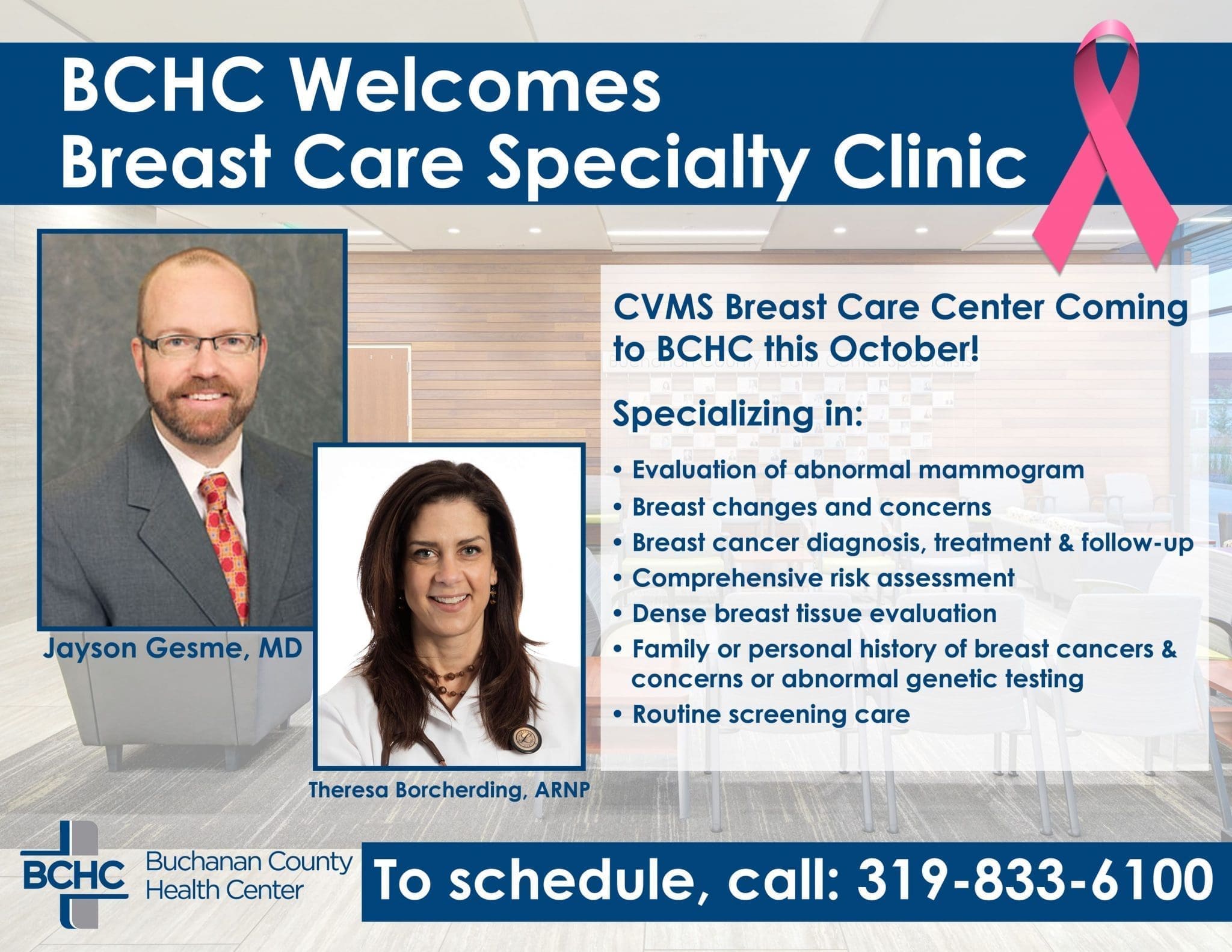 BCHC Welcomes New Service to Specialty Clinics – Breast Care Specialty Clinic to Begin in October
Buchanan County Health Center is pleased to introduce the specialty of breast care to the BCHC Specialty Clinic.  Breast care specialists, Jayson Gesme, MD and Theresa Borcherding, ARNP from the CVMS Breast Care Center will visit BCHC on the 1st and 3rd Wednesday of each month beginning October 7th.
Serving the Cedar Valley since 2003, the CVMS Breast Care Center provides a high level of personalized, comprehensive breast care for both breast cancer patients, as well as those with noncancerous conditions. Specialists Dr. Jayson Gesme and Theresa Borcherding will provide care to their patients at the BCHC Specialty Clinic by diagnosing breast problems early and accurately by determining the best treatment plan for the patient's specific condition, diagnosis, or concerns.  Patients may consider scheduling an appointment with the breast care clinic due to a variety of reasons and concerns including abnormal mammograms, feeling or noticing a change in the breasts or abnormal discharge, or being at a higher risk for breast cancer and seeking ongoing surveillance due to previous concerns or family history.  The breast care clinic will also provide comprehensive risk assessments, dense breast tissue evaluation, and routine screening care.
Jayson Gesme, MD comes to the Breast Care Specialty Clinic with 15 years of experience, obtaining his MD at the University of Iowa – College of Medicine.  Board certified by the American Board of Surgery, Dr. Gesme's counterpart, Theresa Borcherding, ARNP, received her Mast of Science in Nursing from Graceland University and is board certified by the American Academy of Nurse Practitioners.
Patients at a higher risk for breast cancer include those with dense breast tissue, family history of breast cancer, personal history of any breast tissue biopsies, and family or personal history of abnormal genetic testing.  Women ages 40 and older should receive a mammogram yearly, or as instructed by a health care provider.  State-of-the-art imaging equipment, including 3D mammography is available at BCHC and BCHC Family Medicine – Oelwein, offering a local option to preventative services.
To schedule an appointment with the Breast Care Specialty Clinic at BCHC, please call 319-833-6100.  For more information about the specialty clinics at BCHC and BCHC Family Medicine – Oelwein, please visit BCHealth.org.  To stay up-to-date with the latest news and announcements from BCHC, please follow Buchanan County Health Center on Facebook.