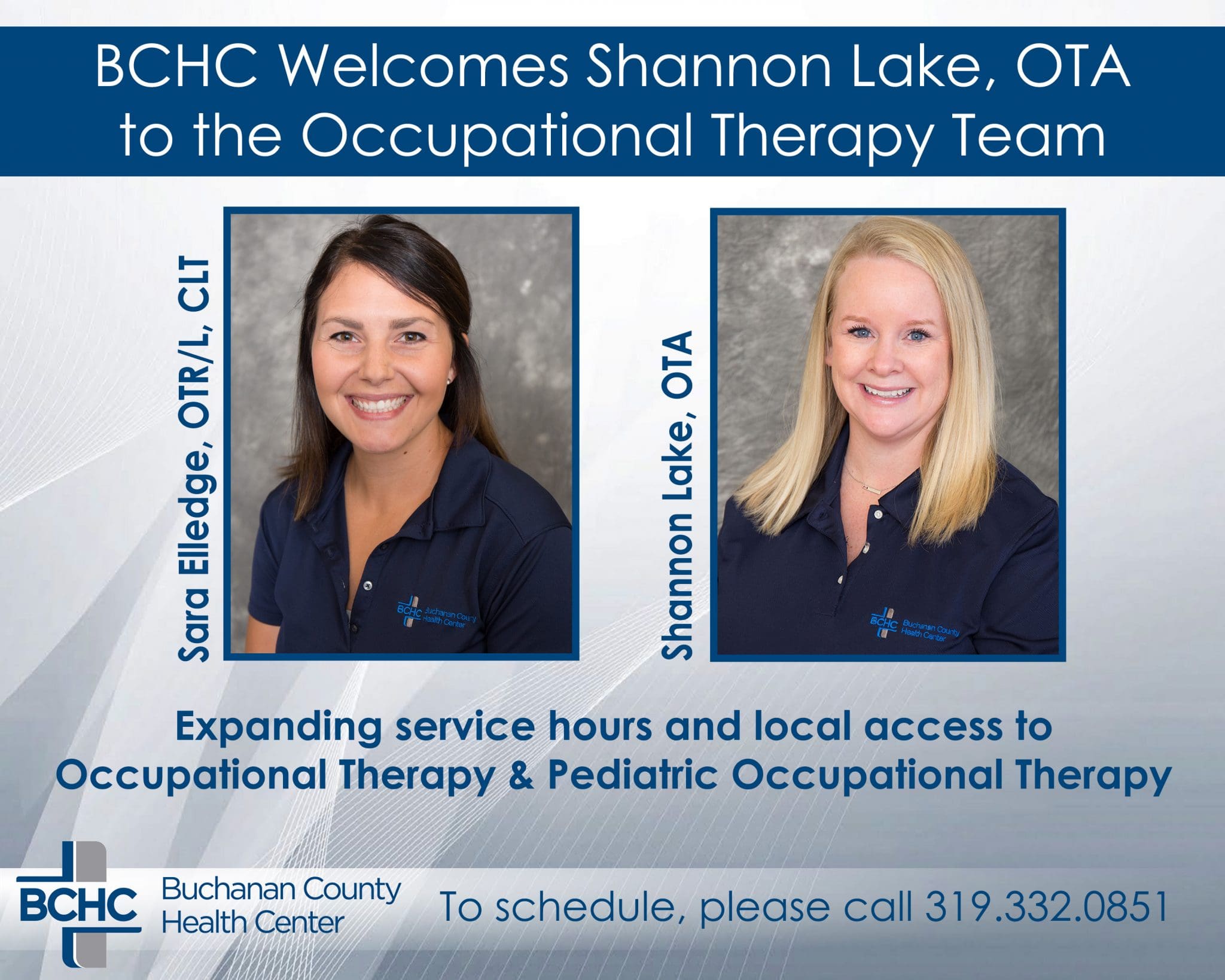 BCHC Welcomes Occupational Therapy Assistant to the Therapy & Rehabilitation Department – Expanding Local Access to Pediatric Occupational Therapy
BCHC is pleased to welcome Shannon Lake, OTA to the Therapy & Rehabilitation Department.  Shannon joins Sara Elledge, OTR/L in providing occupational therapy services to patients of all ages living in Buchanan County and surrounding areas.  Shannon comes to BCHC with six years of experience as an occupational therapy assistant (OTA) in various settings, most recently serving the outpatient pediatric population at MercyOne Waterloo Medical Center.
The addition of Shannon will allow for increased service hours and expanded pediatric therapy services through the occupational therapy branch of the Therapy & Rehabilitation Department at BCHC.  A therapy through play approach, pediatric occupational therapy provides children and their families with the tools to improve their cognitive, physical, sensory and motor skills, and to enhance their self-esteem and sense of accomplishment regardless of disability or developmental delay.
Pediatric occupational therapy may be appropriate for children with developmental delays, ADHD, Autism, Asperger's, Down Syndrome, plexus injuries or other traumatic injuries, sensory processing disorders, chronic illnesses, behavioral problems, or other cognitive disabilities.  Some of the tools and treatments provided through pediatric occupational therapy include self-care and age appropriate skills, sensory processing therapy, aquatic therapy, family and caregiver education, gross and fine motor skills, positive behaviors, and improved focus and social skills.
"I look most forward to helping children become more independent through therapy and educating parents on ways to make their children more independent with their everyday tasks," commented Shannon Lake, OTA.  A Winthrop native, Shannon resides in Independence with her husband, Brad, and two sons.
Pediatric occupational therapy is available through referral from a child's primary provider or specialist.  To learn more about the services offered through the Therapy & Rehabilitation Department, please visit BCHealth.org.  To stay up-to-date on the latest news and announcements from BCHC, follow "Buchanan County Health Center" on Facebook.