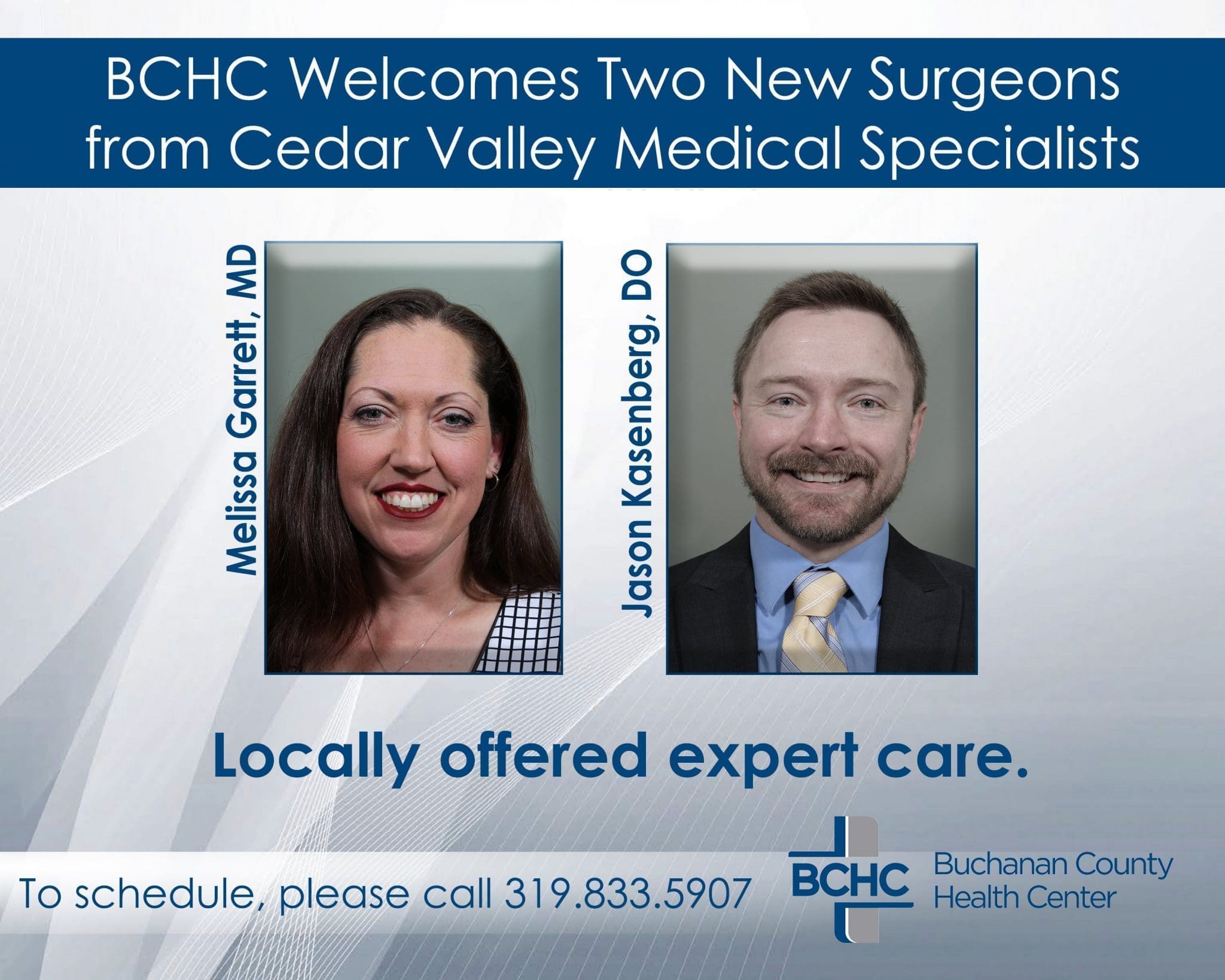 BCHC Welcomes Surgeons from CVMS
BCHC is pleased to announce the addition of two, highly-trained general surgeons from Cedar Valley Medical Specialists to the Outpatient Surgery Department.   The addition of Dr. Melissa Garrett and Dr. Jason Kasenberg will allow for an increased amount of outpatient procedures to be performed locally and close to home at Buchanan County Health Center three days a week.
A graduate of Texas Tech University Health Science Center, Melissa Garrett, MD completed her residency in General Surgery at the University of Iowa Hospitals and Clinics and is board eligible with the American Board of Surgery and the American Board of Surgery/Surgery Critical Care.  Jason Kasenberg, DO, is a graduate of Rocky Vista University College of Osteopathic Medicine and completed his residency at Hackensack University Medical Center.  Dr. Kasenberg is board eligible with the American Osteopathic Board of Surgery.
General surgical procedures performed at BCHC include, but are not limited to, the diagnosis and evaluation of abdominal pain, ulcers, hernia repair, gallbladder disease, colon cancer screenings and treatment, appendectomies, bowel obstructions correction, and diverticulitis. Dr. Garrett and Dr. Kasenberg join their colleague, Brian Gerrelts, MD from Cedar Valley Medical Specialists in performing locally offered general surgery and GI procedures.
To learn more about the many procedures performed locally at BCHC, please visit BCHealth.org.   To schedule an appointment with Dr. Kasenberg or Dr. Garrett, please call 319-833-5907.  For all other information and to stay up-to-date with the latest announcements at BCHC, follow "Buchanan County Health Center" on Facebook.