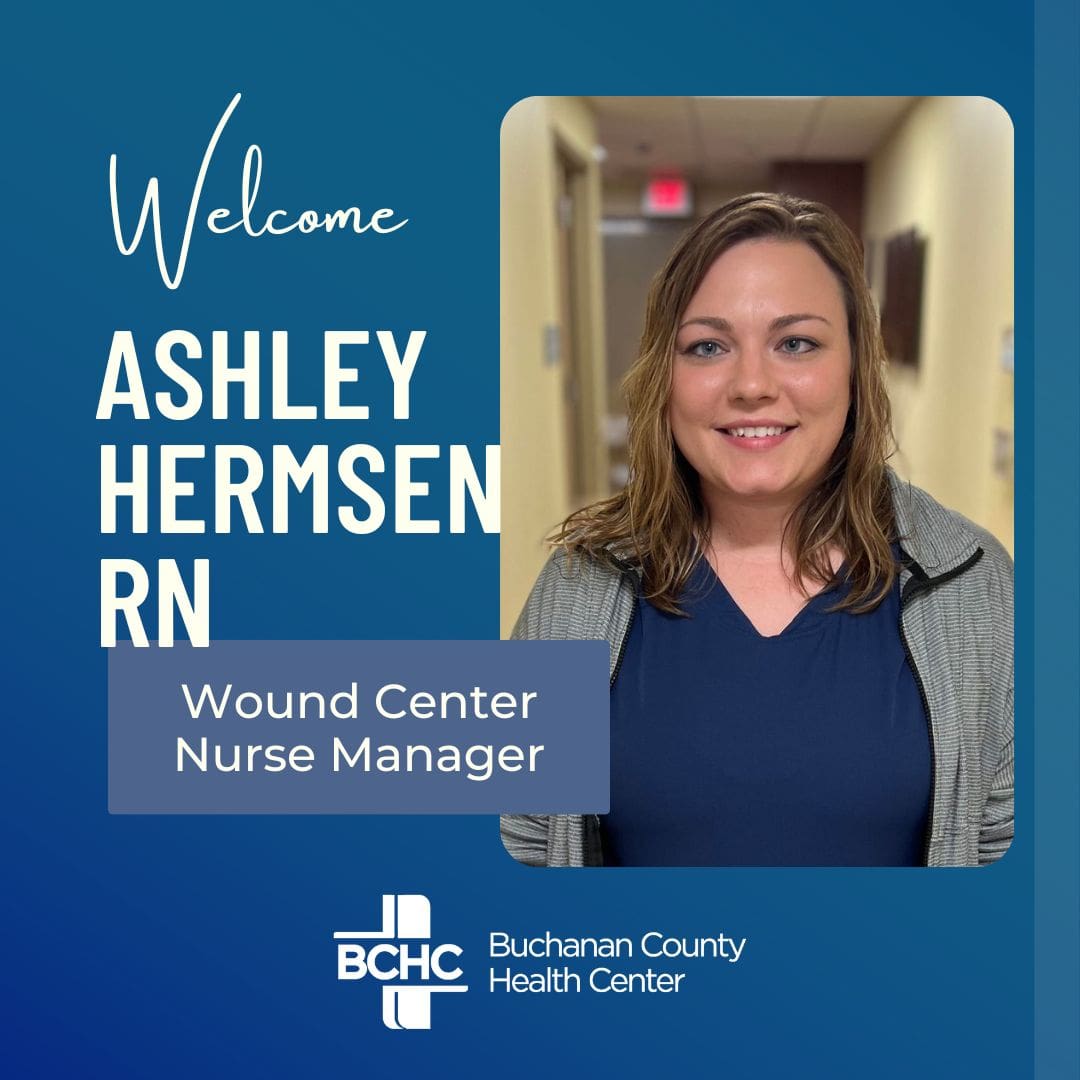 BCHC Welcomes Wound Center Manager, Ashley Hermsen RN
Last December, Buchanan County Health Center welcomed Ashley Hermsen RN to the role of Wound Center Manager.  Beginning her nursing career at BCHC working as a CNA at Lexington Estate during high school, Ashley is pleased to be back serving in this new role at the Center for Wound Healing & Hyperbaric Medicine.
Ashley received her nursing degree from Hawkeye Community College in 2018.  Throughout her nursing career, Ashley has worked in geriatrics, home care, hospice, and mental health.  Prior to joining the wound care team at BCHC, Ashley served as a nursing supervisor at the Independence Mental Health Institute.
When asked what she enjoys most about working in wound care, Ashley responded, "I enjoy working in the Wound Center because we see most of our patients on a weekly basis, allowing us to build close relationships with them.  It is very rewarding to be part of their healing journey, and even through we specialize in wound care, I believe we make a huge impact on our patients' overall health status too.  My coworkers are extraordinary individuals, and I feel blessed to be a part of this team."
Ashley resides on a small acreage with her husband, Mike, and their two Boxer dogs.  Outside of work, Ashley enjoys caring for her farm animals, gardening and being outdoors, traveling, and spending time with family and friends.
The Center for Wound Healing & Hyperbaric Medicine opened at BCHC in 2015.  The Wound Center specializes in treating chronic and non-healing wounds, surgical wounds, trauma wounds, soft tissue wounds, and ulcers through dressing changes, biological skin applications, debridement, compression therapy, negative wound therapy, and hyperbaric oxygen therapy.
To learn more about the Wound Center at BCHC, please call 319-332-0937.  To learn more about open positions at BCHC, please visit BCHealth.org/careers.  To stay up-to-date on the latest news and announcements from BCHC, please follow Buchanan County Health Center on Facebook, or visit BCHealth.org