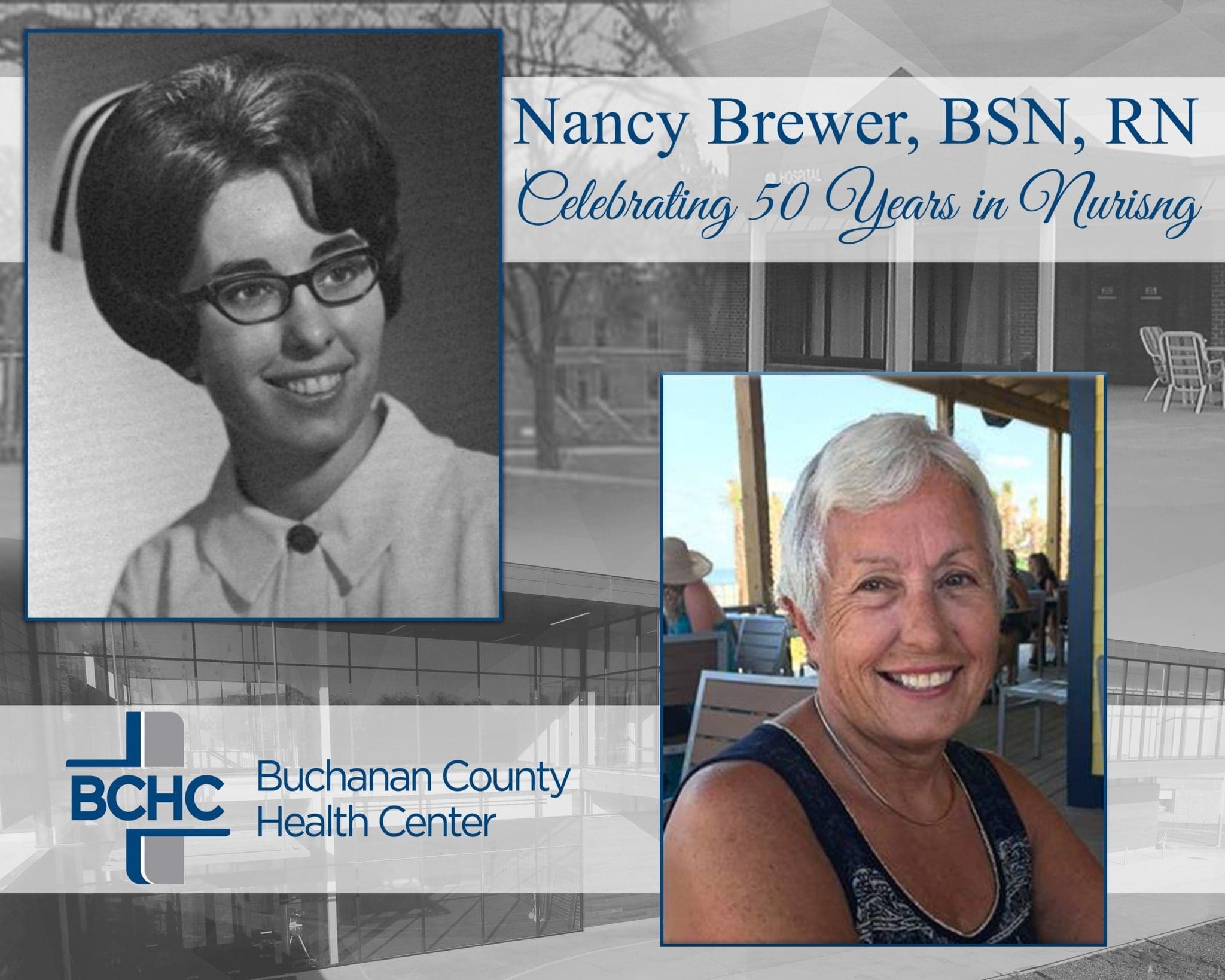 Buchanan County Health Center Nurse Spends a Half-Century in Profession
Each year, National Nurses Week serves as an opportunity to recognize outstanding nurses who provide the highest level of quality care to their patients' each and every day.  With over 3.4 million active nurses living in the United States, the employment of registered nurses is expected to grow 16% by 2024 according to the United States Department of Labor.
Buchanan County Health Center is proud to employ over 100 nursing professionals.  A long-time employee of BCHC, Nancy Brewer, BSN, RN has been providing compassionate care to her patients as a registered nurse for 50 years.  Nancy graduated from Broadlawns Medical Center in 1968 and received her state licensure as an RN.   A native of South Dakota, Nancy moved to Independence after graduation to receive training in psychiatric nursing at the Mental Health Institute and was from there hired by Peoples' Memorial Hospital as a shift nurse, where she has been employed for the past 50 years.
"I started as a shift nurse and eventually became a supervisor working in the emergency room and OB department and now I work part-time on a call-in basis for the ambulatory surgery, commented Brewer.   I liked working in OB and postpartum along with the newborn nursery.  I have also enjoyed working in the ER, as it was exciting as you never knew what was going to be coming in the door.  You had to have your wits about you.  I still like working as a triage nurse now helping patients relax and lower their anxiety as they prepare to go into their procedure and also helping them as they wake up and recover from their procedure."
An ever changing field, Nancy has never stopped learning over the years. "Technology changes have been a big thing with computer charting.  There is also more of an emphasis on patient and family education now, rather than before where we treated the patient, got them better, and sent them home.  Now we try to educate them on how to stay well.  There is also more focus on patient satisfaction.  We work towards the goal of having patients satisfied with their experience.  It's now more of a well-rounded experience," Nancy explained.   After several years of working in the nursing profession, Nancy developed a desire to learn more and further her skills in nursing by returning to school in the late 1980's and receiving her Bachelor of Science in Nursing from Coe College.
With no end in sight, Nancy reflected on her years spent in nursing.  "I've enjoyed the many changes over the years and learning new things.  You're never too old to learn.  I still learn new things when I go to work.  I think it keeps you alert and not stagnant," Nancy commented.  Nancy is also a substitute school nurse at Don Bosco High School and at the Independence Community School District.
"Nancy has been a pleasure to work with as a member of our surgical services staff. Nancy has impressed me with her laid back, attentive attitude, commented BCHC Surgical Services Manager, Jennie Goos, BSN, RN   She has such a compassionate personality and has a natural way of putting nervous patients at ease. All of us here admire Nancy for working simply because she loves the work she does. Nancy is an inspiration to us all!"
BCHC would like to thank all nurses and hospital staff for their dedication and quality care they provide to patients and guests during National Nurses and Hospital Week.  Buchanan County Health Center is proud to support the needs of their employees and nurses by offering attractive benefits, including, but not limited to, IPERS, 403b retirement planning, medical, dental, and vision insurance, and tuition assistance.  Actively hiring for nursing professionals, interested individuals may view open positions at BChealth.org/Careers.  Students interested in learning more about professions in healthcare may inquire about volunteering or interning by contacting (319) 332-0914.  For all other information, please visit www.BChealth.org or follow Buchanan County Health Center on Facebook.