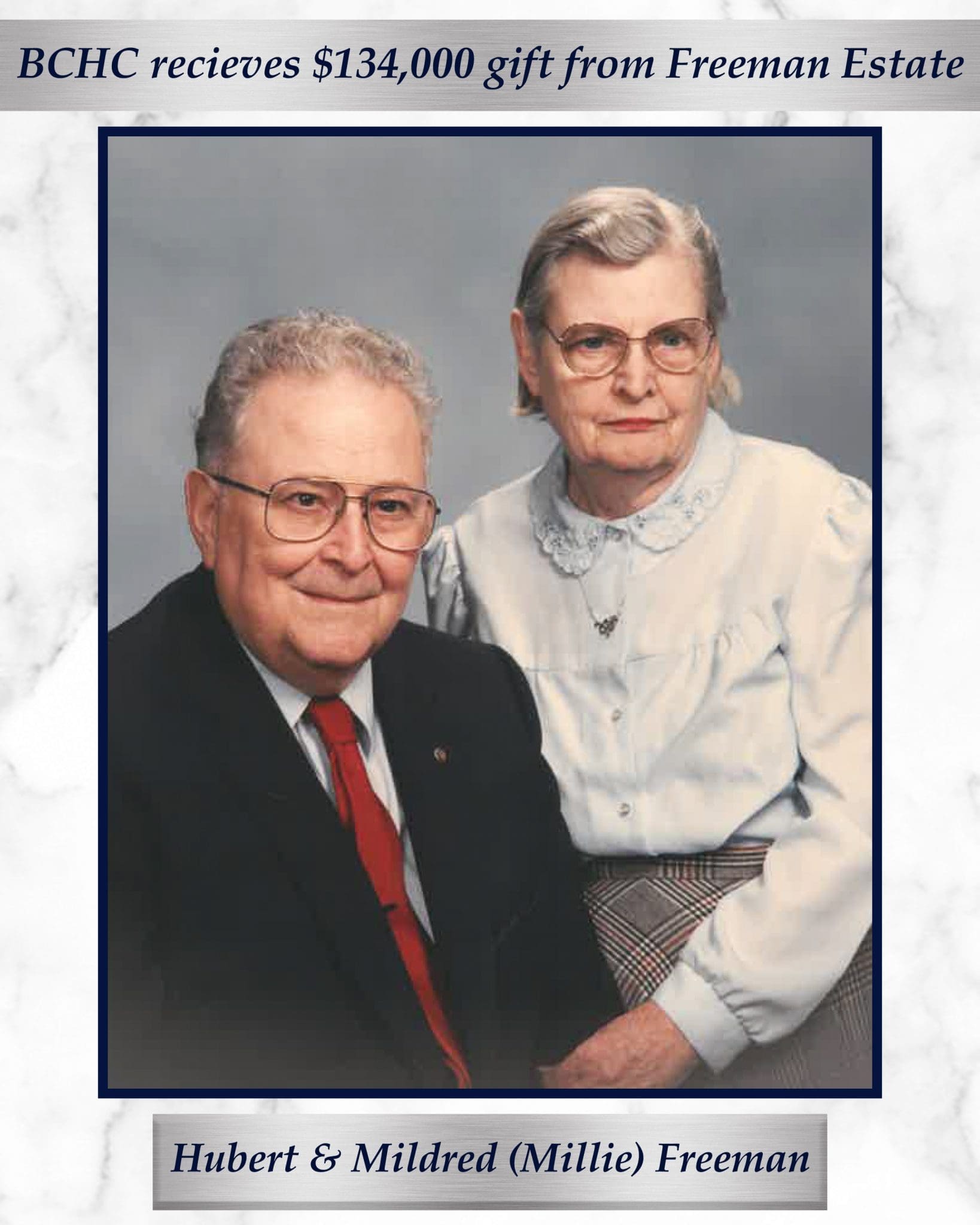 Buchanan County Health Center Receives $130,000 Gift from the Estate of Hubert & Mildred (Millie) Freeman
Buchanan County Health Center (BCHC) is honored to be among the recipients of an over $134,000 gift from the estate of Hubert and Mildred (Millie) Freeman.
Lifelong residents of Buchanan County, Hubert and Millie (Wilson) Freeman were active business leaders in the Independence community, owning and operating Freeman's Sporting Goods from the late 1950's to the 1980's.  A successful small business, Freeman's Sporting Goods was located across from the Malek Theatre in downtown Independence and was described as a "mini-Cabela's" by relative, Harold Freeman.  Freeman's Sporting Goods featured athletic wear and equipment, hunting and fishing supplies, and cameras.  United in marriage on August 21st of 1938, Hubert passed away in 1999 and Millie recently passed away in March of 2018.
Remembered as a frugal, yet giving couple, Hubert and Millie's legacy will continue to live on in the communities of Buchanan County through their generosity.  "Hubert and Millie had no children of their own, but they treated all of the children in the family like their own," reflected Harold Freeman, family member of the late Hubert and Millie Freeman.  "My father, Bud and Hubert were first cousins and were very close.  Hubert and Millie vacationed with our family, came to all of our birthday parties, our children's birthday parties, and celebrated the holidays with us throughout the years."
"This gift was an incredible and welcome surprise," commented Steve Slessor, CEO.  "This gift will help us immensely in improving the facility and its equipment during our next five year capital budget to continue to serve our patients in the best possible way."
BCHC is among several other beneficiaries of the Hubert and Mildred Freeman estate, including the Independence Fire Department, Red Cross of Buchanan County, Cedar Valley Hospice – Independence, First United Methodist Church, and the Dollars for Scholars program of the Independence Community School District.
For more information about BCHC and its services, please visit BCHealth.org.  To stay up-to-date on the latest news and announcements from BCHC, follow "Buchanan County Health Center" on Facebook.