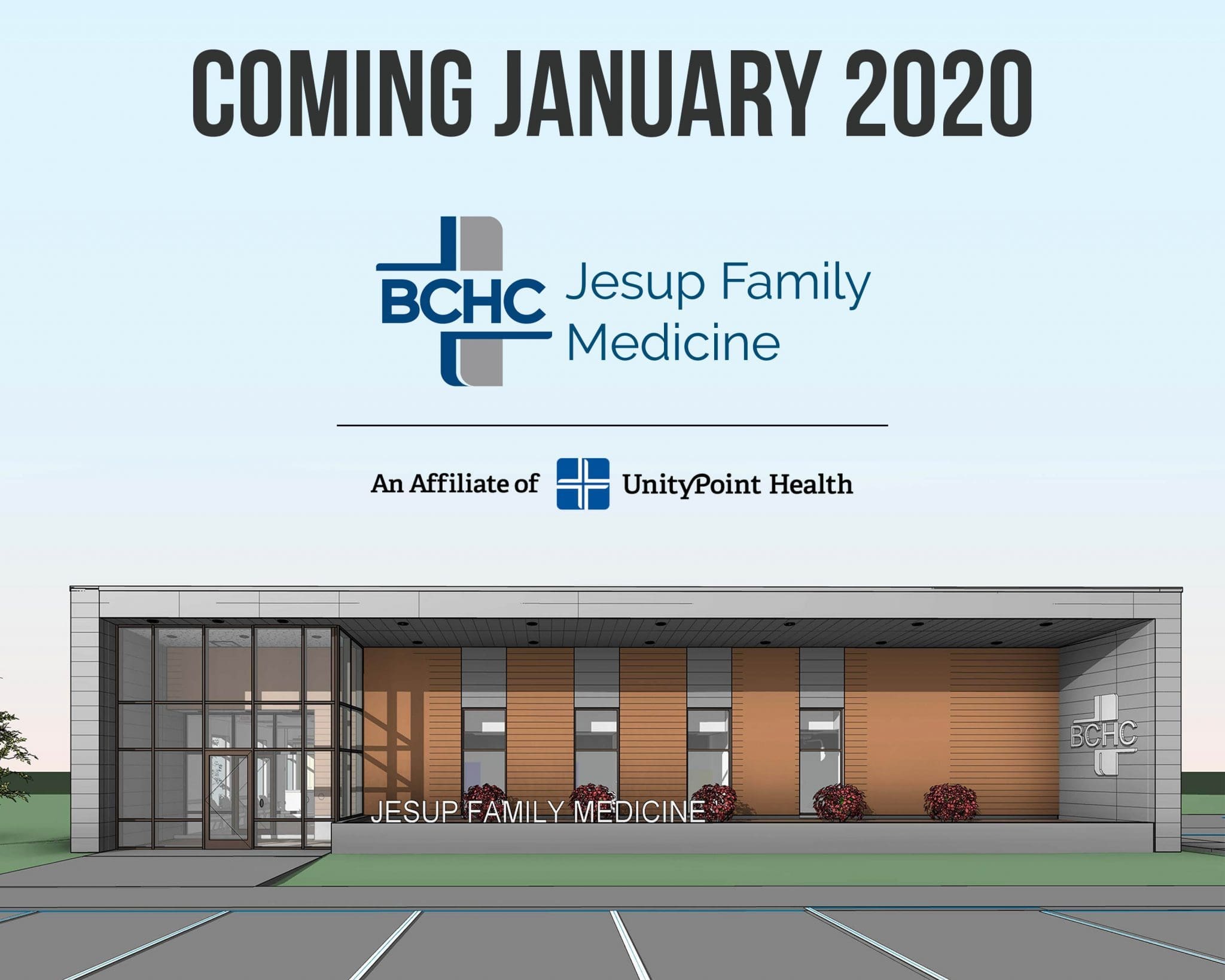 Buchanan County Health Center to Open Family Medicine Clinic in Jesup
Buchanan County Health Center (BCHC) is pleased to announce its plans to open a new family practice office in Jesup at the beginning of 2020.  BCHC Jesup Family Medicine will break ground in the early summer along South Street West, across from the new Dollar General Store.
This 4,525 square foot medical building will provide the residents of Jesup and surrounding communities with additional local access to primary care services.  BCHC Jesup Family Medicine will operate in partnership as an affiliate of UnityPoint Health.  Through this partnership, BCHC Jesup Family Medicine will benefit from UnityPoint Health's broad expertise in operating family practice clinics.  This partnership will also provide the new family practice clinic access to the use of EPIC for its electronic medical record, which will allow for easy information sharing with BCHC and UnityPoint Health facilities.
"We have been fortunate to see an influx of the Jesup community utilizing BCHC services over the last few years.  However, to more effectively serve this rapidly growing community and provide increased local access that the Jesup community desires, having a family medicine clinic presence in Jesup is crucial," commented BCHC CEO, Steve Slessor.  "With BCHC and UnityPoint Health working in conjunction on this project, we look forward to providing the Jesup community with exceptional care in a great, new facility.
BCHC Jesup Family Medicine will offer patients with the opportunity for same-day appointments, annual wellness exams, disease prevention and management, and diagnosis treatment for common illness and injuries.  The clinic will also feature lab and X-ray services.  BCHC Jesup Family Medicine will be staffed from 7am-7pm on Monday-Thursday and 8am-4:30pm on Fridays.
Patients will have the opportunity to establish their care with five providers, including Jesup natives, Sarah DeVore, ARNP and Christy Weber, ARNP.  David Fahey, DO and William Schmitt, DO will also see patients at the family medicine clinic weekly, along with continuing their primary practice at Medical Associates of BCHC.  BCHC is currently recruiting for an additional provider to serve Jesup full time.  Patients who currently see Sarah DeVore, ARNP at Medical Associates of BCHC in Independence may choose to continue their care with Sarah at the beginning of 2020 in the new Jesup location, or may continue to see providers at Medical Associates of BCHC.
"I am excited and humbled to be joining a great team of professionals who plan to serve Jesup and the surrounding communities through healthcare," commented Sarah (Weber) DeVore, ARNP.  "Having grown up in rural Jesup and currently residing in this community, I look forward to becoming reacquainted with members of our fine city and meeting many new families and residents.  I also welcome current patients to continue their care with me in Jesup after the beginning of the new year at our Jesup location."
In addition to the services provided at the BCHC Jesup Family Medicine clinic, Ryan Pharmacy, based out of Independence, will provide daily prescription medication drop-off at the clinic and will also offer free home delivery of medications to Jesup residents.
For more information about BCHC, please visit BCHealth.org or follow "Buchanan County Health Center on Facebook to stay up-to-date with the latest news and announcements.