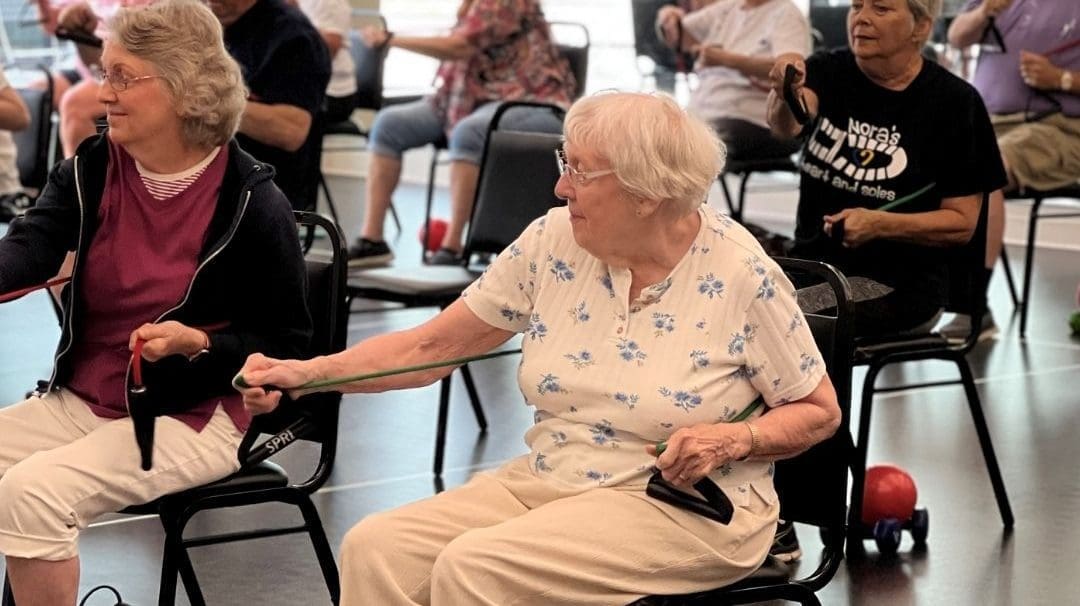 Eleanor Hand Celebrates 90 Years by Staying Active with Silver Sneakers at BCHC
On Monday, July 31st, Lexington Estate resident, Eleanor Hand celebrated her 90th birthday with her Silver Sneakers friends at BCHC.  Attributing her good health to remaining active throughout her life, Eleanor was treated to a weekend of celebration by her family, followed by a surprise party hosted by her fellow Silver Sneakers classmates.
Silver Sneakers is a group fitness class designed for seniors to increase strength, range of movement, and activities for daily living.  Instructed by Health Promotions Specialist, Sara Hawkins, every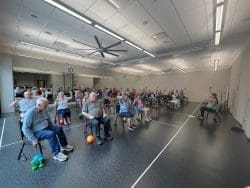 class utilizes elastic bands, hand-held weights, and a small ball for resistance.  With upbeat music in a high-energy and welcoming atmosphere, attendees enjoy socializing together while reaping the benefits of light cardio and strength training.
Eleanor Hand joined Silver Sneakers after moving into Lexington Estate at BCHC four years ago.  "I participated in our weekly fitness class at Lexington Estate, but was told that I could do more, so I started going to Silver Sneakers at the Wellness Center," commented Hand.  "Fitness is an important part of aging.  I feel better when I exercise."
Prior to moving to Lexington Estate, Eleanor led an active lifestyle through gardening, mowing her lawn, working on her family farm, delivering meals on wheels, and instructing fitness classes at the Buchanan County Senior Center.  "You can turn anything into exercise.  Whether you're climbing a ladder or riding a bike.  Do something!" encouraged Hand.
Although Eleanor suffered a shoulder injury earlier in the year, she attributes her recovery to physical therapy exercises and Silver Sneakers.  When she's not participating in Silver Sneakers or the fitness class that is offered at Lexington Estate, Eleanor exercises on a recumbent bike and commits herself to being physically active each day.
Silver Sneakers is held from 10:30-11:15am on Mondays, Wednesdays, and Fridays in the Wellness Studios at BCHC. For more information on Silver Sneakers, please contact the Wellness Center at 319-332-0850.  To stay up-to-date with the latest news and announcements from BCHC, please visit BCHealth.org, or follow Buchanan County Health Center on Facebook.