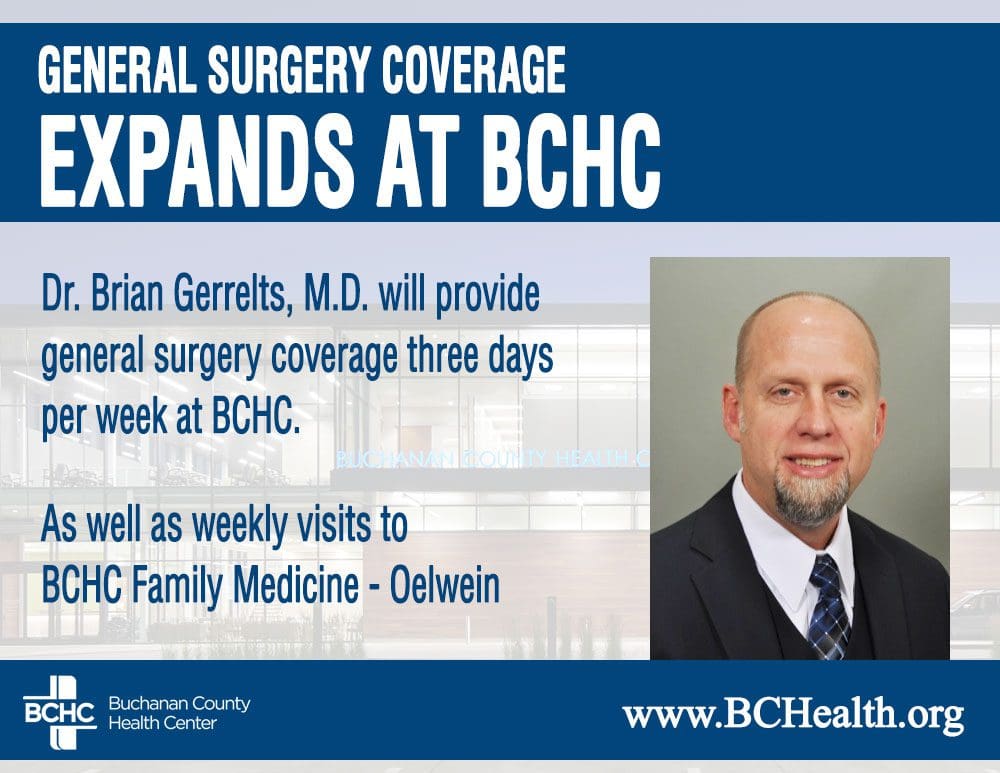 General Surgery Coverage Expands At BCHC
(Independence, IA) –Through a partnership with Cedar Valley Medical Specialists, BCHC has expanded general surgery coverage in Independence. Dr. Brian Gerrelts, M.D. will provide general surgery coverage three days per week at BCHC.
In conjunction with the expansion in Independence, Dr. Gerrelts will also provide weekly general surgery coverage at BCHC Family Medicine – Oelwein. There he will see patients in the office as well perform some minor procedures.
BCHC CEO Steve Slessor states, "BCHC and the communities it serves should feel absolutely blessed to have Dr. Gerrelts expand his time in Independence and Oelwein.  Dr. Gerrelts is a physician that I would recommend to anyone needing surgical care. He has a huge amount of surgical experience and his skill set is top notch."
Under this agreement, Dr. Gerrelts will still retain privileges at UnityPoint Allen. This will allow him to perform some complex cases robotically in Waterloo if needed.
Dr. Gerrelts has been offering his services to BCHC since 2006. Expanding his services is a great opportunity for the surrounding communities. This new partnership with Dr. Gerrelts began on May 3rd 2021.
For more information, or to stay up-to-date on the latest news and announcements from BCHC, please visit BCHealth.org, or follow "Buchanan County Health Center" on Facebook.