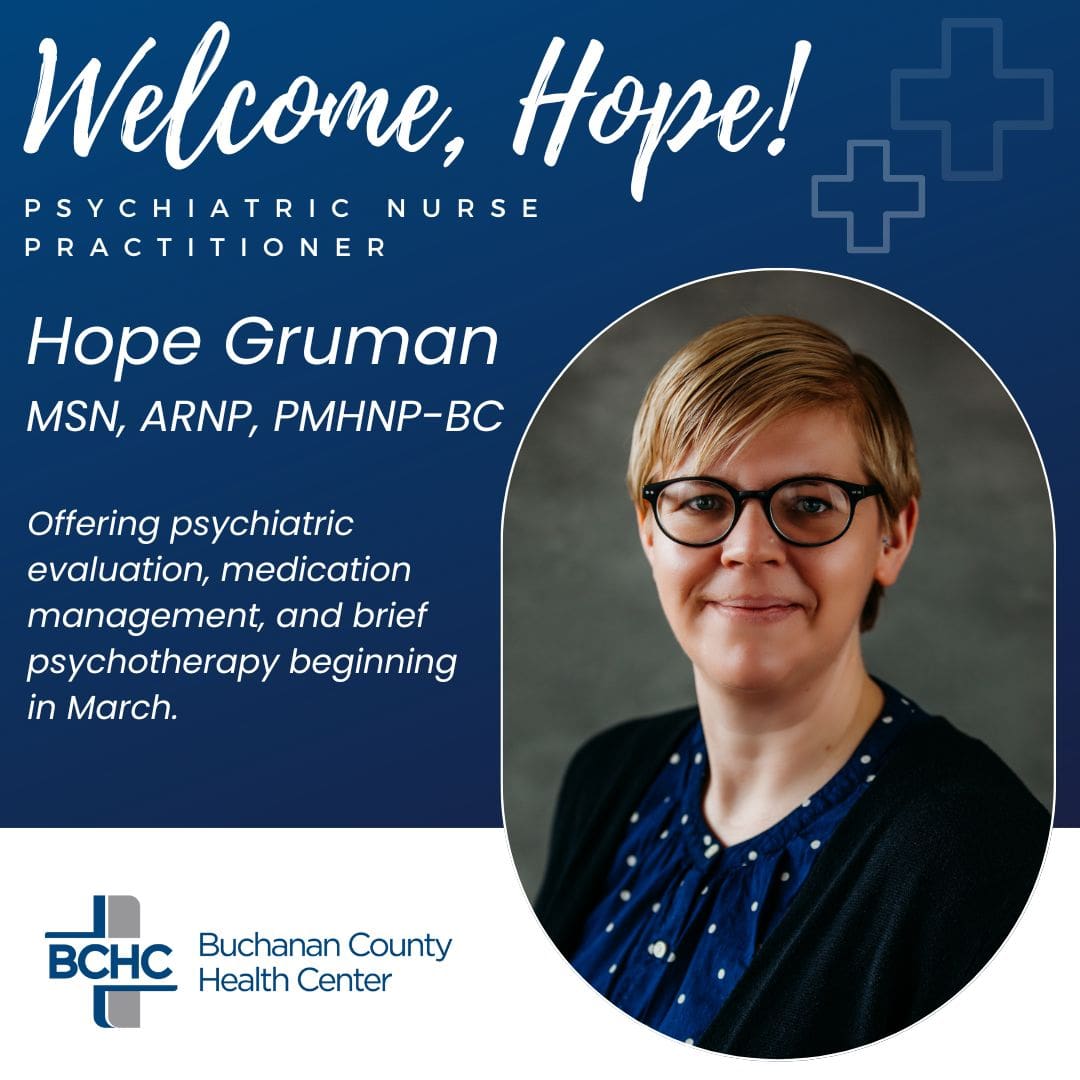 Hope Gruman, MSN, ARNP, PMHNP-BC to provide Psychiatric Medicine through BCHC Primary Care Clinics
Buchanan County Health Center (BCHC) is instilling its commitment to provide local access to mental health services by welcoming psychiatric nurse practitioner, Hope Gruman, MSN, ARNP, PMHNP-BCH, to the team of mental health providers. Hope will practice alongside Miranda Frank, MSN, ARNP, PMHNP-BC at Medical Associates of BCHC and BCHC Family Medicine – Oelwein to help diagnosis and treat anxiety, PTSD, schizophrenia, substance abuse, and psychotic spectrum related disorders through psychiatric evaluations and medication management.
Coming to BCHC from UnityPoint Health/Abbe Health Services (Manchester) and Associates for Behavioral Health (Hiawatha), Hope brings 16 years of health care experience including to BCHC and has practiced as a psychiatric nurse practitioner since 2020.  Hope received her MSN in Leadership in Healthcare Delivery in 2018, followed by her Post Graduate Certification as a Psychiatric Mental Health Nurse Practitioner in 2020 from Allen College of Nursing.
Specializing in the diagnosis and treatment of depression, anxiety, PTSD, ADHD, schizophrenia, bipolar disorder, and substance abuse for teenagers, adults, and geriatrics, Hope has special interest in treating PTSD, trauma, and sleep disorders. Hope will also collaborate with BCHC's mental health counselor, Dan McElory, LISW to establish counseling services for her patients and help monitor their progress.
Born and raised in the surrounding area, Hope enjoys spending time with her family, reading, biking, weightlifting, and learning new things.
Hope will begin to see patients in late March through Medical Associates of BCHC and BCHC Family Medicine – Oelwein.  To make an appointment with Hope, please contact Medical Associates at 319-334-2541, BCHC Family Medicine – Oelwein at 319-283-1565, or consult with your primary care provider.  You do not need to be an established patient at a BCHC primary care clinic to receive treatment.
For more information, or to stay up-to-date on the latest news and announcements from BCHC, please follow "Buchanan County Health Center" on Facebook, or visit BCHealth.org.