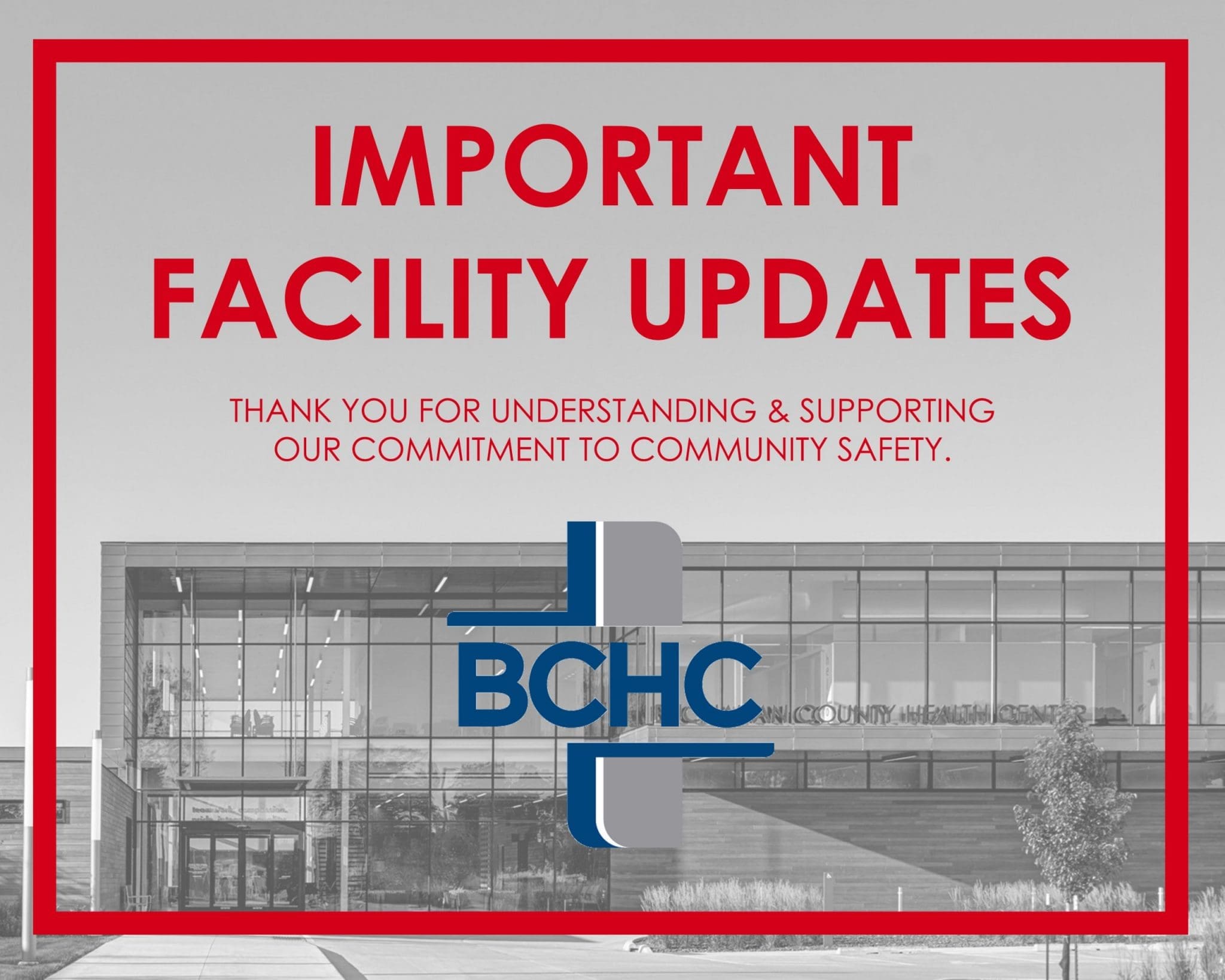 Important Facility Updates – 3.17.2020
BCHC has been working diligently to keep our patients, community, and staff to reduce the potential spread of COVID-19.  Because of this, we would like to provide you with several important updates.
We are now limiting visitors to one, healthy adult over the age of 18 per patient at a time for all services with limited exceptions
We will be establishing reduced entrances.  The ER entrance will remain open at all times.  The south, main entrance will remain open during weekdays from 6AM – 6PM and Saturdays from 8AM-1PM. The Wound Center/Urgent Care entrance will be closed during daytime hours, but will open for Urgent Care operating hours on weeknights and weekend days.
All patients and visitors will be screened during high traffic times and will have temperature readings prior to entering the facility by a BCHC staff member.
Call before you come for any service if you are experiencing at least two of the following concerns: Have a fever, cough, or difficulty breathing, have traveled outside of the country or have been on a cruise in the past month, and have had contact with someone who may have COVID-19.
Practice the Three C's – Cover your cough, clean your hands, contain or stay home when sick.  The IDPH suggests staying home as much as possible during this time even if you are not ill and practice social distancing.
Receive information about COVID-19 from reliable sources like the CDC or Iowa Department of Public Health.  The IDPH now has a resource number, 2-1-1, that you may dial or text to receive information and have questions answered about COVID-19.
Thank you for understanding and supporting our commitment to community safety.
For more ways to protect against the spread of COVID-19 and seasonal influenza, and for the latest updates and guidance in this rapidly evolving situation, please visit the websites of the Centers for Disease Control and Prevention at www.cdc.gov or Iowa Department of Public Health at www.idph.gov.