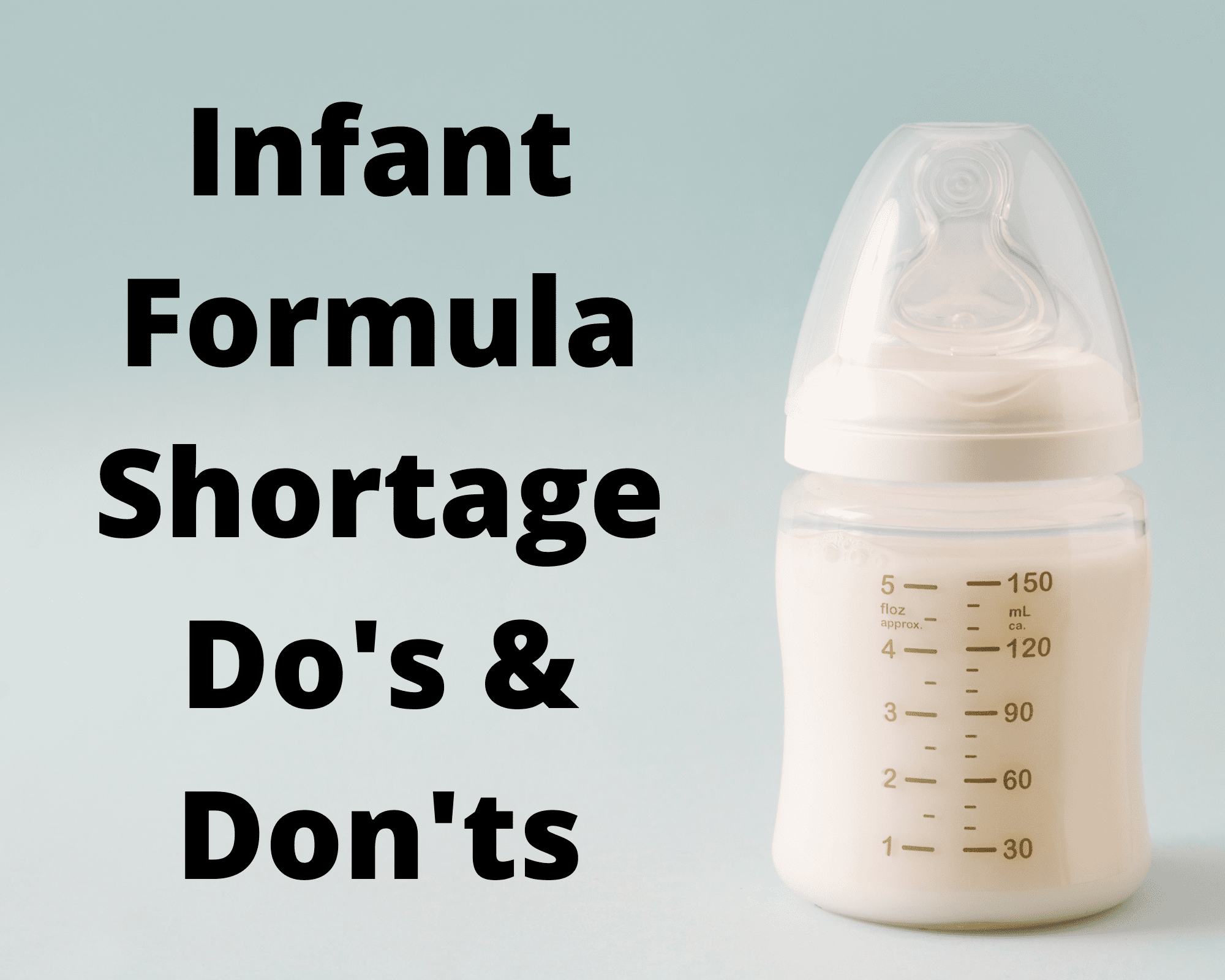 Infant Formula Shortage Resources
Currently, there is a national infant formula shortage.  The most significant infant formulas shortage at this time is the specialty formulas prescribed and prepared/distributed from pharmacies; however, all infant formula, although available, is in a much shorter supply than usual. Do NOT hoard infant formula, stores are likely only receiving partial shipments, be prepared to shop for formula more frequently rather than hoarding.  Parents should consider use of available alternative name brand formula or other similar store brand formulas.
Babies need certain amounts of vitamins and minerals for their bodies and brains to grow. If they don't get the right nutrition, they could have long-term health and learning problems.
Do not attempt to make your own formula.  Homemade formula may not have the right amount of the nutrition babies need to grow and could cause babies to become ill from infections or from not getting the right vitamins and minerals.
Do not water-down formula.  There is the right amount of nutrition in each bottle when made according to the directions, if more water is added, the amount of nutrition in the bottle is lower than your baby needs
Do 

not

feed your baby cow's milk or other non-dairy milks until 1 year old, unless you've talked to your child's pediatrician.
Do not feed your baby less often.  Feed your baby as often as you have been directed by their doctor, if you do not have enough formula, use the resources listed below for help getting safe alternatives.
Do check with your primary care provider for advice, education, and resources on how to safely feed your baby during this shortage
Do contact your baby's doctor if you have concerns about your baby's nutrition
Do look into using other brands of formula if you cannot get the one you were feeding your baby – all formula sold in American stores meet the same FDA requirements, including store brands (do not buy online from other countries)

If your baby was using Similac Alimentum, Similac Elecare or Similac PM 60/40  or other specialty formulas and you cannot find it, ask your doctor about safe substitutes.

Do reach out for help – If you are having trouble paying for formula available on the shelves

Check with your local food bank
Contact WIC to see if you qualify for assistance
Contact support agencies
Contact your baby's doctor
If your infant currently uses a formula for a sensitive tummy, please keep in mind that these preparations are generally milk based formula. If this formula is not available, parents should consider the non-sensitive
preparations and be aware that your baby may have more spit up or gas than usual. Spit up and gas is not a concern as long as the baby continues to gain weight and continue normal growth. Check with your baby's
healthcare provider with questions.
https://www.fns.usda.gov/blog/keeping-infants-safe
https://www.fda.gov/consumers/consumer-updates/infant-formula-safety-dos-and-donts
https://www.fda.gov/food/alerts-advisories-safety-information/fda-advises-parents-and-caregivers-not-make-or-feed-homemade-infant-formula-infants
https://idph.iowa.gov/Portals/1/userfiles/204/WIC%20Foods/Formula_Tips_Final.pdf
https://idph.iowa.gov/Portals/1/userfiles/204/WIC%20Foods/Formula%20Other/Formula_Tips_Esp%20_Final.pdf