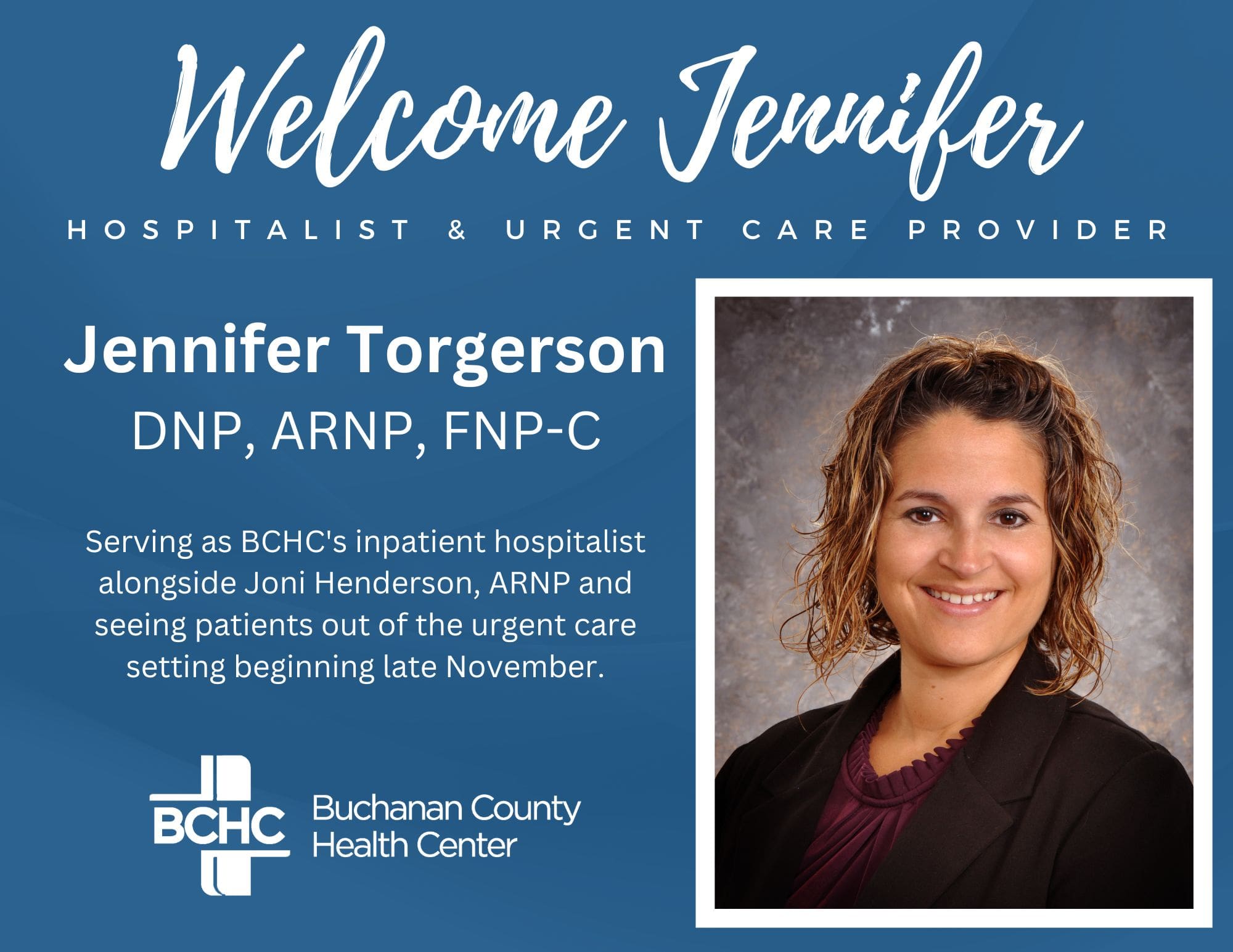 Jennifer Torgerson, DNP, ARNP, FNP-C Joining BCHC as Inpatient Hospitalist & Urgent Care Provider
Buchanan County Health Center (BCHC) is pleased to welcome Jennifer Torgerson, DNP, ARNP, FNP-C to its team of medical providers.  Jennifer will serve as BCHC's inpatient hospitalist alongside Joni Henderson, ARNP, and will also see patients through the urgent care setting. Jennifer will join BCHC on Monday, November 28th.
Jennifer received her BSN from the University of Iowa in 2006 and her Doctorate in Nursing Practice from the University of Iowa in 2017.  Jennifer comes to BCHC from her most recent position at MercyOne Cardiology in Waterloo with five years of experience in the inpatient and outpatient setting with special interest in acute care and cardiology.
"My desire to work for BCHC comes from wanting to serve my community and to be among highly skilled colleagues.  I am committed to providing high quality, compassionate care for those patients under my care in the hospital and urgent care setting," Jennifer commented.
Jennifer resides in Independence with her husband, Greg, and their two children and cat. In her spare time, Jennifer enjoys spending time with her family and friends, reading, playing competitive tennis, crafting, and cheering on the Iowa Hawkeyes.
To stay up-to-date on the latest news and announcements from BCHC, please follow "Buchanan County Health Center" on Facebook, or visit BCHealth.org.