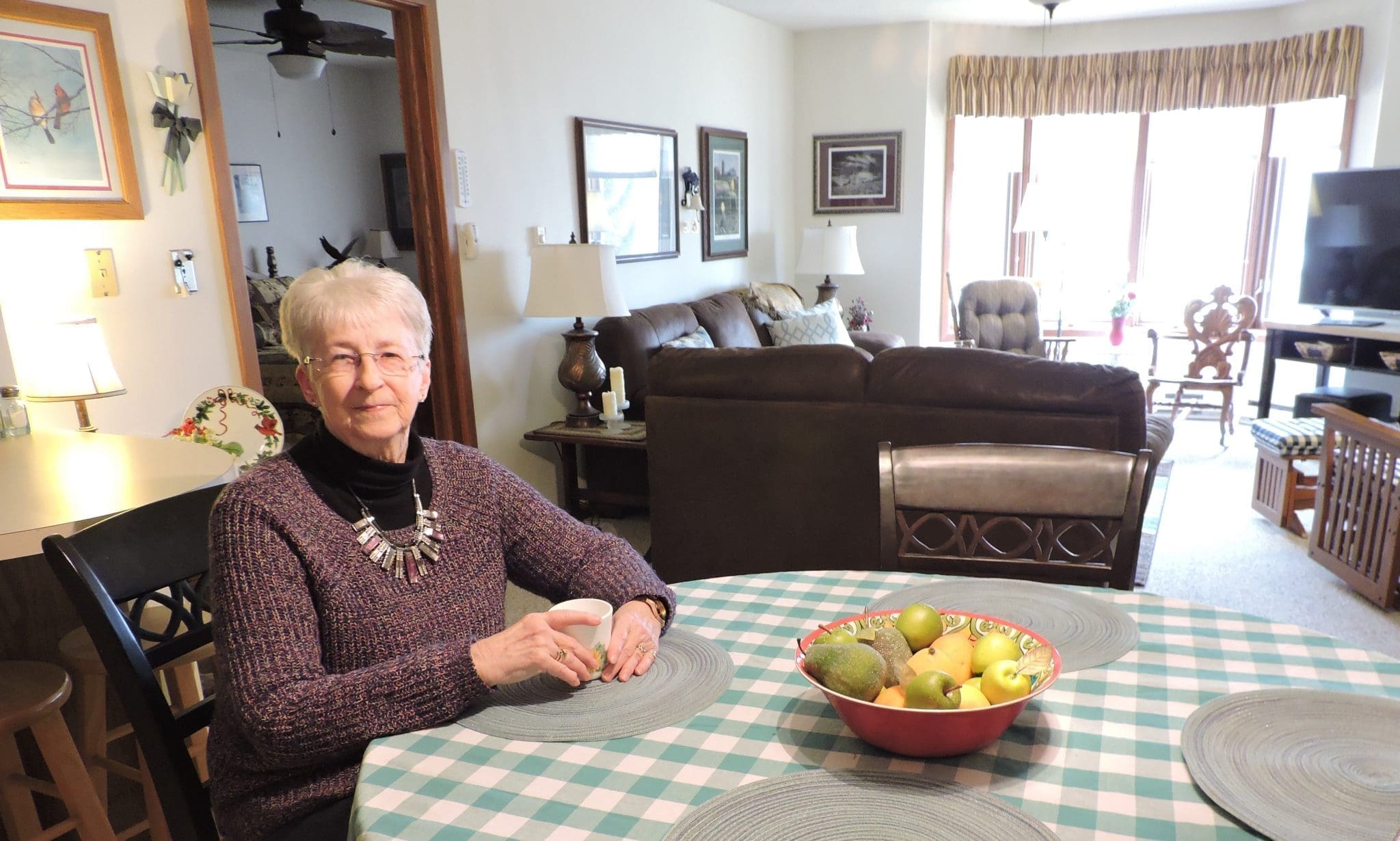 "It was just a match." Local couple finds the comfort of home at Buchanan County Health Center
When Marlys Miller moved to Oak View in May of 2016, she knew right away that it was just a match. "You know when you drive by a place 50,000 times and never really stop to think what is all inside?  That's what it was like for me when I drove by Oak View day after day for many years," commented Marlys.  Marlys and her husband Lee owned and operated their family farm southeast of Winthrop for over fifty years.  When Lee's health began to decline in 2013, Marlys and Lee made the decision to move to an assisted living community. When Lee's health took a critical turn in 2016, Lee was moved to Lexington Estate at BCHC and Marlys returned home to the farm.  Driving to Independence every day to spend time with Lee, the travel was taking a toll on Marlys.  "I was driving every day from the farm to see Lee in all weather conditions.  It was hard to take care of our acreage with snow removal and lawn care.  It was time to sell the acreage and look for something closer to Lee," commented Marlys.  After searching high and low for an apartment to rent in Independence and coming up empty handed, Marlys' daughter told her of an opening at Oak View and that she should look into it.  "I had no idea all that Oak View had to offer.  The expense was no worse than purchasing a small home but without all of the extra expenses that come along with home ownership.  The apartments included all appliances, maintenance, and housekeeping.  I loved the idea of having a climate-controlled basement garage and storage unit, two bedrooms for family to come and stay, and a great view.  I can still see a cornfield from my apartment window!" Marlys exclaimed.  "I was welcomed right away by the friendly staff of Oak View and the homeowners.  It's been a blessing to be able to visit Lee every day, as we are only a hallway away from each other.  I can come back to my apartment to take care of things and have lunch when he's napping and can return to be with him in the afternoon and evening," Marlys commented.
When Marlys isn't spending time with her husband at Lexington Estate, she enjoys partaking in the many activities that Oak View has to offer. "We have game nights, meals, celebrate holidays together, and go to concerts, shopping trips, and other outings. It's also nice to be right here at the hospital.  I don't have to travel to see my doctor.  Everything is here.  And I love shopping at the Auxiliary Gift Shop!" commented Marlys.  Although Marlys and Lee had no choice but to move, Marlys couldn't be happier that they did.
Oak View is an independent living community located on the campus of Buchanan County Health Center.  With a variety of services and amenities, Oak View features one and two-bedroom apartments, ranging in 750 square-feet to 1,250 square-feet.  Making senior living more enjoyable, Oak View takes the stress and hassle out of home maintenance, providing on-call maintenance services, housekeeping, daily breakfast, transportation, and more.  Ages 60+ welcome, to arrange a tour of Oak View, please call (319) 332-0940.  For more information, please visit bchealth.org/oakview.