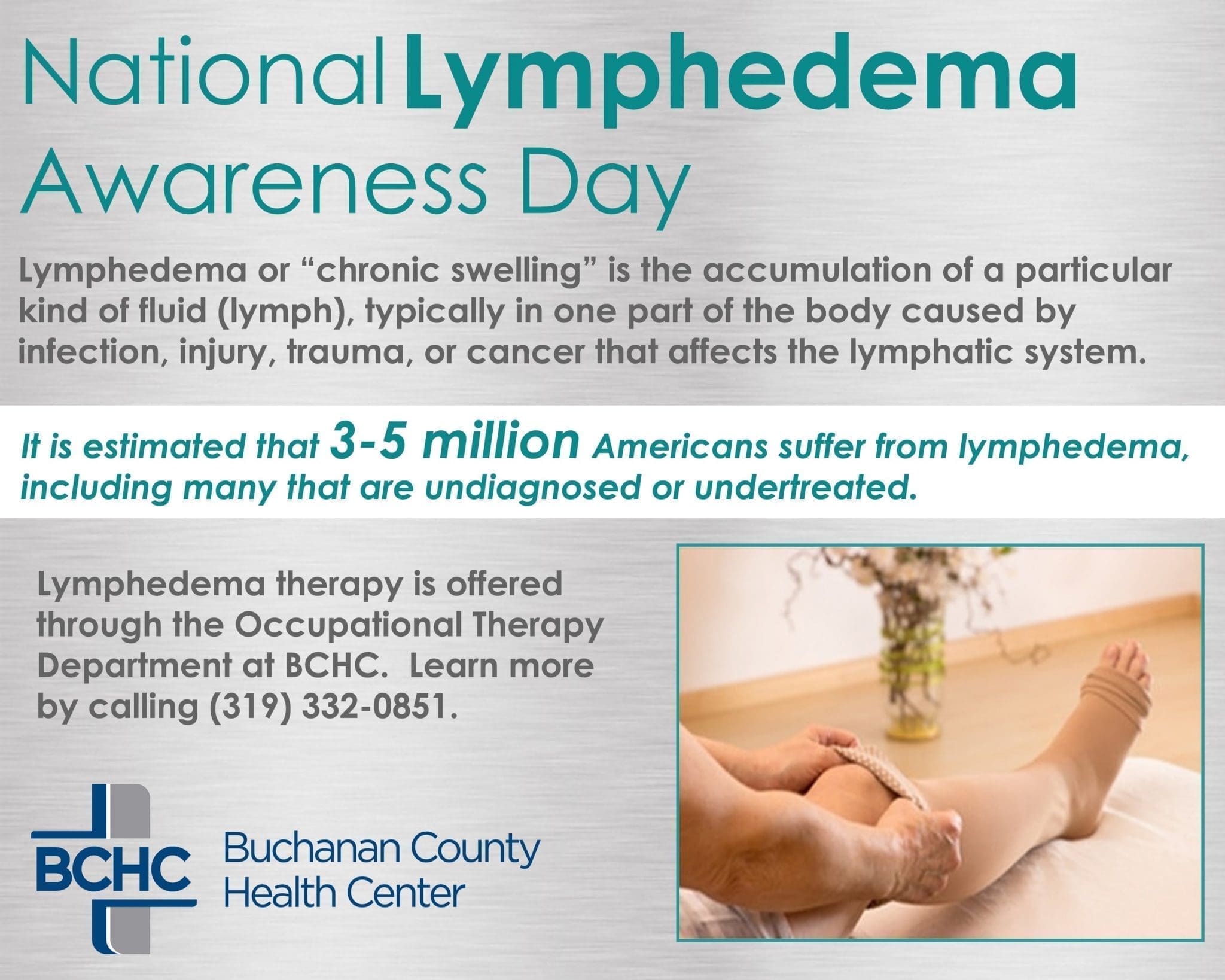 March 6th is Lymphedema Awareness Day
What exactly is lymphedema? Lymphedema or "Chronic swelling" is the accumulation of a particular kind of fluid (lymph), typically in one part of the body.
What is the lymphatic system: Our lymphatic system is made up of lymph nodes, lymph fluid, and lymphatic vessels. The purpose of the lymphatic system is to maintain the balance of fluid between the blood and tissues, assist with your body's immune system, and facilitate absorption of fats and fat-soluble nutrients in the digestive system.
Why is the lymphatic system important? The lymphatic system is part of the immune system. It fulfills the function of 'immune trafficking,' the process whereby infection-fighting cells can be mobilized to the tissues that require assistance. When the lymphatic system is compromised the affected part of the body is prone to recurrent infection because of the faulty surveillance mechanism.
Where in our body does lymphedema occur?: Lymphedema can affect the head/neck, arms, legs, breast, back, abdomen, groin, genitalia and/or internal organs.
What can be done for those who have lymphedema or "chronic swelling"? Over the last several years, advances have been made in the understanding, treatment and management of the condition. Here at Buchanan County Health Center, our certified lymphedema therapist, Sara Elledge OTR/L, CLT can assist you in developing a home program to manage and control your lymphedema through manual techniques, exercises, compression garments, improved diet and lifestyle choices, and obtainment of a pneumatic compression pump for long term management of the lymphedema.
What can happen to my body if my lymphedema or chronic swelling goes undiagnosed or not treated?:  Over the course of time, untreated swelling can turn into thickened protein rich fluid within the affected limb causing "pitting" edema. This thick gel-like fluid will harden causing fibrosis or extremely hard tissues.  Reoccurring and hard to treat wounds, skin discoloration, and texture changes are some of the ailments that are very common in those suffering from undiagnosed or untreated lymphedema and chronic swelling.
How can I get started in treating my chronic swelling and lymphedema issues?: A visit to your primary care physician to obtain a referral for occupational therapy regarding lymphedema is all one needs to start the journey to an improved quality of life.
Lymphedema therapy is offered through the Occupational Therapy Department at BCHC.  Learn more by calling (319) 332-0851.