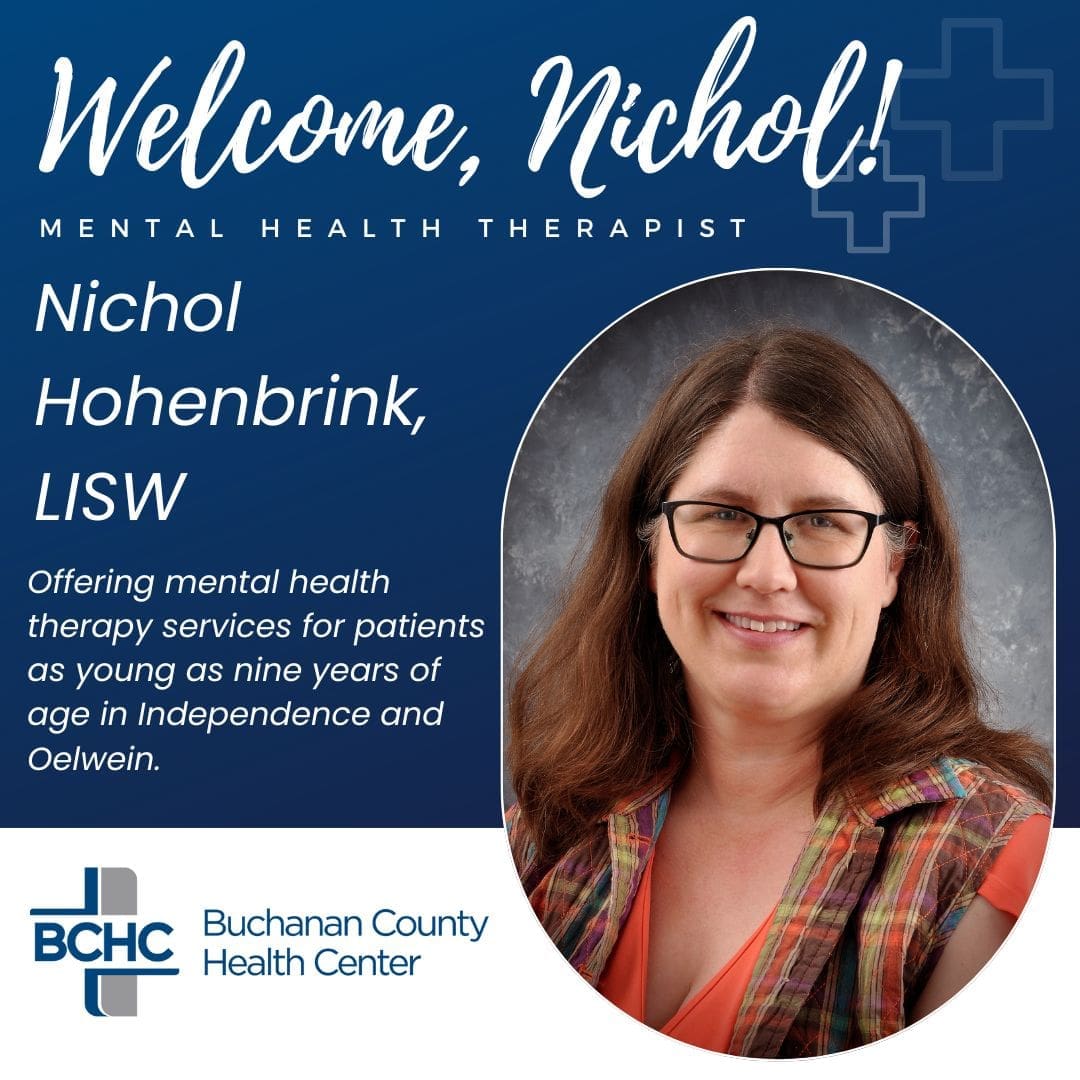 Nichol Hohenbrink, LISW Joins Team of Mental Health Professionals at BCHC
Buchanan County Health Center (BCHC) is pleased to welcome Nichol Hohenbrink, LISW to its team of mental health professionals. Nichol will offer therapy services to patients as young as nine years of age in Independence and Oelwein.
Coming to BCHC with over 10 years of experience in mental health counseling, Nichol comes to BCHC from her most recent position as a therapist at Northeast Iowa Behavioral Health in Decorah. Nichol specializes in trauma, anxiety and depression, EMDR (Eye Movement Desensitization and Reprocessing), DBT (Dialectical Behavior Therapy, and CBT (Cognitive Behavioral Therapy). Joining fellow mental health therapist Dan McElroy, LISW, and psychiatric nurse practitioners, Miranda Frank, ARNP, PMHNP-BC and Hope Gruman, ARNP, PMHNP-BC, Nichol looks forward to helping individuals within the BCHC service area navigate their paths in life.
In her spare time, Nichol enjoys spending time with her husband and six children, in addition to spending time with family and friends, walking along nature trails, reading, doing logic puzzles, and cooking.
To make an appointment with Nichol, please contact Medical Associates at 319-334-2541, BCHC Family Medicine – Oelwein at 319-283-1565.  You do not need to be an established patient at a BCHC primary care clinic to receive mental health therapy services.
For more information, or to stay up-to-date on the latest news and announcements from BCHC, please follow "Buchanan County Health Center" on Facebook, or visit BCHealth.org.