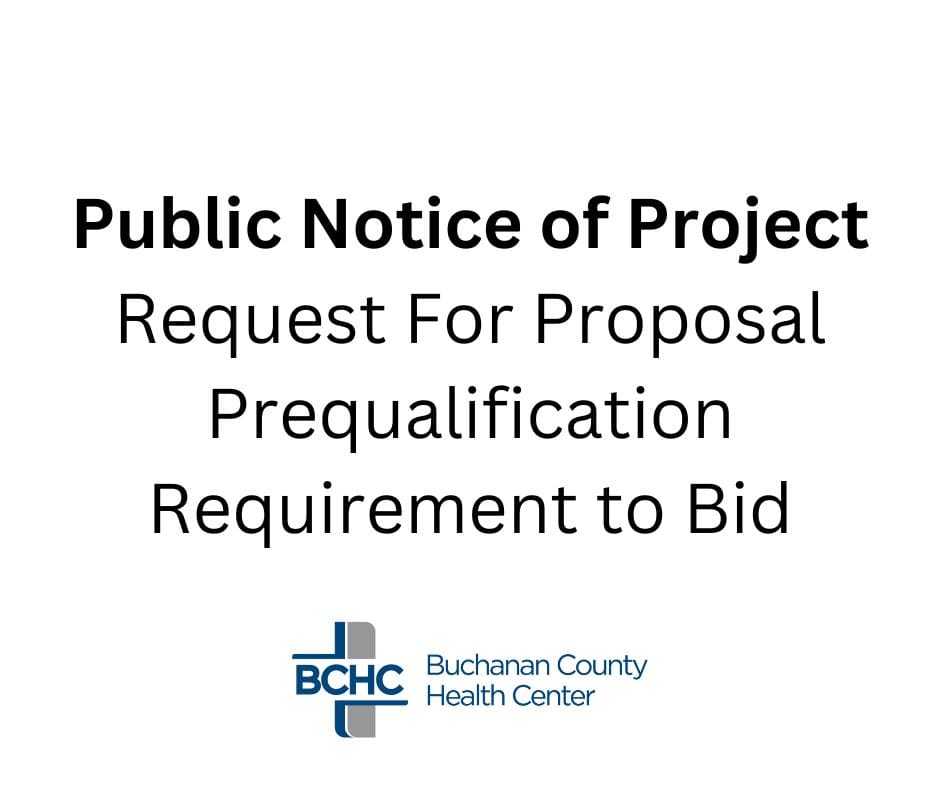 Public Notice of Project – Request For Proposal – Prequalification Requirement to Bid
Click here to download the Public Notice RFP
Public Notice of Project
Request For Proposal
Prequalification Requirement to Bid:
Buchanan County Health Center Inpatient Addition and Renovation Project
1600 First Street East, Independence, Iowa
We invite Subcontractors to respond to an RFQ/RFP Bidding opportunity using a guaranteed maximum price contract with Larson Construction Company, Inc., Construction Manager at Risk.
.
A. CONTACT INFORMATION
Construction Manager:
Larson Construction Company, Inc.
Telephone: (319) 334-7061
Email: bids@larsonconst.com
B. PROJECT SCHEDULE MILESTONES
Notice of Project
Public Notice of Project RFP: 5/8/2023
Subcontractors Prebid Qualifications:
RFQ Issued to Bidders: 5/22/2023
RFQ Bidder Submission Due: 5/29/2023
RFQ Results Issued: 6/1/2023
Bid:
RFP (Request for Bid) Issued: 5/29/2023
RFP (Bids Due): 6/20/2023
C. SCOPE OF PROJECT
The planned phased new construction of a two-story addition with basement and the minor renovation of existing hospital. The project is planned to be released in multiple bid packages to contractors.
The scope includes site alterations in preparation for the new construction (site utilities, rough grading, parking modifications demolition of the existing dialysis building and portions of the existing inpatient wing. (Basement) new mechanical space, air-handling unit, water and sprinkler service, domestic water heating, and electrical services serving the addition and general hospital storage.
(First floor) Connections to the existing hospital and vertical circulation to the second floor. Most of the floor area will be shelled for future development. (Second floor) New inpatient unit is comprised of 12 inpatient rooms, staff support spaces, and an outdoor elevated patio. (Hospital Renovation) Includes approximately 3,700 square feet of the Hospital inpatient unit.
Bid Package 1 Building Concrete
Bid Package 2 Masonry
Bid Package 3 Metals
Bid Package 4 General Construction
Bid Package 5 Building Envelope
Bid Package 6 Roofing System
Bid Package 7 Firestopping and Joint Sealants
Bid Package 8 Aluminum and Glazing
Bid Package 9 Cold Metal Framing/Drywall
Bid package 10 Suspended Ceiling Systems
Bid Package 11 Tiling/Carpet/Base
Bid Package 12 Painting
Bid Package 13 Elevator
Bid Package 14 Fire Suppression
Bid Package 15 Mechanical Complete (Plumbing/HVAC/Med Gas)
Bid Package 16 Electrical Complete (Electrical/Communications/Safety and Security)
Bid Package 17 Earthwork and Demolition
Bid Package 18 Landscaping/Site Improvements
Bid Package 19 Site Paving/Marking
D. SELECTION CRITERIA
Section 1.0: Firms experience as a contractor
Section 2.0: Capacity of Key Personnel
Section 3.0: Technical competence
Section 4.0: Capability to perform
Section 5.0: Past performance of the firm and firms employees
Section 6.0: Firms Safety record and compliance with State and Federal law
Section 7.0: Familiarity with the location of the project subject to bid
E. QUESTIONS
Please direct any questions to:
CMaR, Larson Construction Company, Inc.
Attn: Cory Kress, Project Manager
Telephone: (319) 334-7061
Email: bids@larsonconst.com