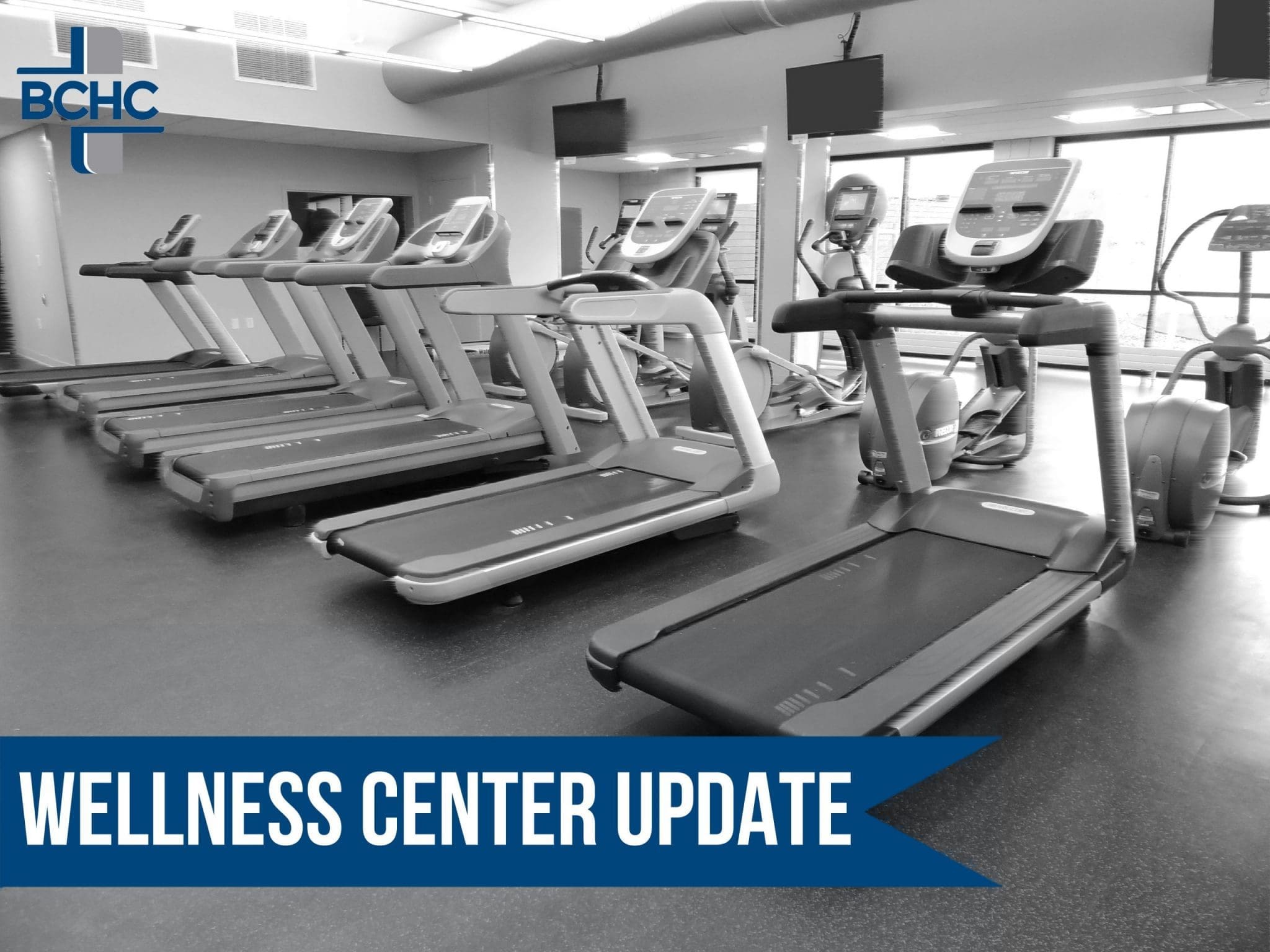 The Wellness Center at BCHC to Re-open on June 10th – Facility Guidelines Released
On Wednesday, June 10th, the Wellness Center at BCHC will re-open after being temporarily closed since March 17th due to the COVID-19 pandemic.  Although Governor Kim Reynolds signed a proclamation allowing fitness centers to re-open on May 1st, Buchanan County Health Center chose continue to monitor the trends of COVID-19 in its service area and kept its Wellness Center closed out of concern for community, patient, and staff safety.
Over the past several weeks, BCHC has closely evaluated how to re-open the Wellness Center safely and effectively with the health and safety of its members, patients, and staff at the very forefront.  The following guidelines will go into effect upon re-opening the Wellness Center on Wednesday, June 10th.
Temporary Hours
The Wellness Center's gym and lap pool will be open Monday-Friday from 5am to 7pm.  Only the gym will be available during the hours of 7am to 12pm Saturday-Sunday.   24/7 gym access will remain temporarily unavailable until further notice.  No group fitness classes or youth activities will be held until further notice and the pool will only be available for lap swim in 45 minute increments Monday-Friday by appointment only.  Swimmers must be 18 or older to use the pool, and may inquire with the front desk or call the Wellness Center at 319-332-0805 to reserve a time for lap swim.
Safety & Sanitation
To ensure the health and safety of all members, staff, and patients, all Wellness Center members and drop-ins must enter the facility through the Wellness Center entrance, located on the west side of BCHC.  All who enter will be screened by a BCHC employee with a temperature check and will be asked a series of questions regarding symptoms upon entrance.  Members should arrive with a mask each time they visit the Wellness Center, as masking will be required in public hallways, but can be removed in the gym or pool.  BCHC staff will conduct regular facility cleaning throughout the day, but will require members to sanitize equipment after each use.   Locker room access will be unavailable; however a family restroom will be open to all members.
Facility & Capacity Guidelines
Per State of Iowa guidelines, the Wellness Center will operate at 50% capacity and will abide by social distancing regulations.  Members are to limit gym use to 60 minutes per visit and 45 minutes for lap swim.
Membership
All member fees will remain on hold until July 1st, 2020.  Members will not be charged use of the facility until this date, and all memberships will be credited for the duration of the closure from March 17th – June 30th.  Drop-ins will be allowed.
The Wellness Center at BCHC is excited to welcome its members back and appreciates the patience and understanding that its membership base has had during the past three months. For the safety of members, staff, and patients, the Wellness Center asks that members stay home even if mildly ill, and do not return until symptoms have fully improved.  For more information, please call the Wellness Center at (319)332-0805, or follow "Buchanan County Health Center" on Facebook for the latest news and announcements.