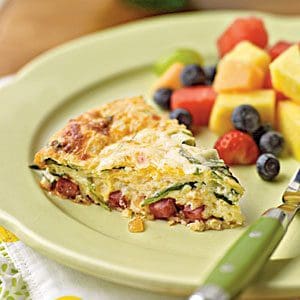 Turkey Vegetable Quiche
Turkey Vegetable Quiche
Have left over turkey from the holidays?  This recipe is great for those leftovers and makes a quick and healthy meal!
Turkey Vegetable Quiche
1 pie crust, unbaked (9 inches)
1/2 cup onion, diced
1/2 cup mushrooms, sliced
1/2 cup red bell pepper, diced
1 1/2 cups precooked turkey breast, cubed
4 eggs
1/2 cup nonfat milk
1 teaspoon dried seasoning (basil, garlic, parsley)
1/2 teaspoon ground black pepper
1/2 cup shredded cheese (cheddar, mozzarella, or Swiss)
Directions:
Preheat oven to 375°F.
Prepare pie crust as directed on package.
Heat a skillet to medium. Add onion, mushrooms, and red pepper to the skillet. Sauté for 2–3 minutes. Add vegetables and turkey to pie crust.
Whisk together eggs, milk, seasoning, and pepper in a bowl. Pour mixture into crust and top with shredded cheese.
Bake for 35 minutes or until a knife inserted in the center comes out clean.
Remove from oven. Let the quiche set up for about 5 minutes. Slice and serve.